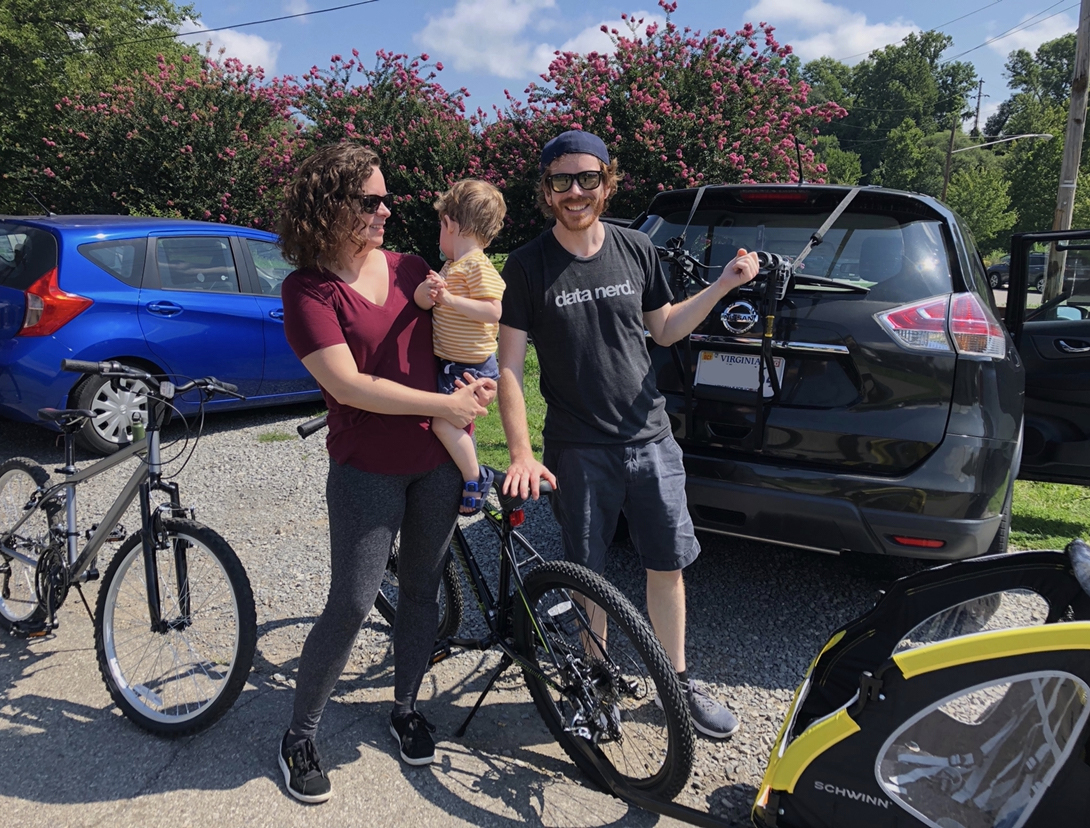 Oh boy. 2020.
Hello from only the fifth post I've made this year. Not a lot of blog-worthy stuff going on these past few months, which I'm sure everyone understands. I spent most of the early COVID quarantine days just trying to get through—trying to be a full-time mom with no reprieve, terrified to interact with anyone outside of my household, and desperately hoping Kroger would have flour and paper towels the next time we placed a pick-up order.
It's a strange thing, living through one of those years that makes such a remarkable impact on the world.
But isn't it strange how we adjusted? How we went from totally terrified to understanding the limits of what felt safe to us? How parenting non-stop moved from a source of panicked desperation and anxiety to just…how it is now? How we changed our expectations and took care of each other (some of us at least) and turned the way we interact with the world on its head? It has been hard, and it has been horrible, but many of us have learned new ways to carry on regardless. I wish I could say we all got through it, but this year has been traumatizing for some on levels I can't fathom. For that, I'm so sorry.
Despite it all, I couldn't not do a Year in Review post. I've been doing them for at least six years here, so I felt the urge to hop back on and recap, even if just for myself. (Most of this has always been for myself.)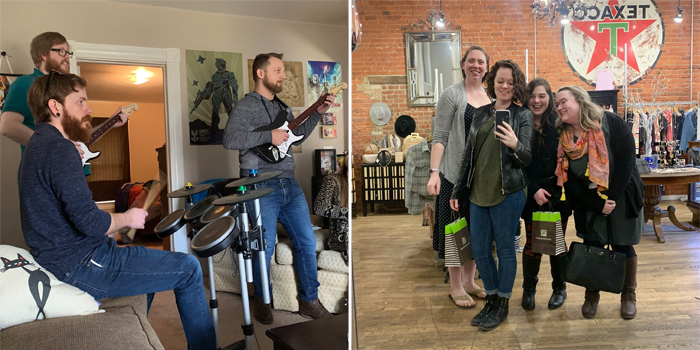 Pre-Corona Life
I started the year on such a high note. We spent New Year's Eve out at dinner with the GTC, as usual, followed by a late-night showing of the latest Star Wars movie, as has become tradition. We drove home from the theatre around 12:30am and I remember riding down 581 through downtown, looking up at the Roanoke Star and across the skyline at the neon signs and thinking, "this year is going to be such a turning point for me." Ha. Hahahahaha.
We visited Richmond in January for Dan's company's annual holiday dinner and I finally got to see Kehinde Wiley's Rumors of War at the VMFA. Then we went back a few weeks later to see The Reign of Kindo with our friends Kat and Blake. I kind of miss Richmond, especially the food.
We had a Good Times Crew Finer Things Club outing for brunch at River and Rail.
I was designing for myself for the first time in quite a while.
I had a Galentine's Night Out downtown with some girlfriends, old and new, and laughed so hard I cried.
Then the GTC all met up in Orlando, Florida to visit Star Wars Galaxy's Edge at Disney.
Life felt good. I finally felt like I had a grasp on being a mother—it all felt possible and so much easier than the really tough first year of Des' life. I was prioritizing myself more—therapy, girls' nights, date nights with Dan—and we'd just had the most fun trip with our friends.
But I remember seeing things in the news about COVID before we left Florida. I remember looking around at all of the people converging at MCO airport from all over the world, wondering, "Are we even safe to be here right now?" There was so much we didn't know, and it was supposedly only in the PNW at the time, but three weeks later we entered our first lockdown here in Virginia—but I spent the two of the weeks before that, directly after our flight, sick with a fever, sore throat, and never-ending cough. Thankfully, Dan and Des had very mild versions of the same that only lasted a couple of days.
I'll never know if we had a mild case of COVID or not, as so many claimed they might have in January and February, before it was "officially" here, but that certainly didn't stop me from avoiding every possible scenario that might have put me or my family at risk the rest of the year.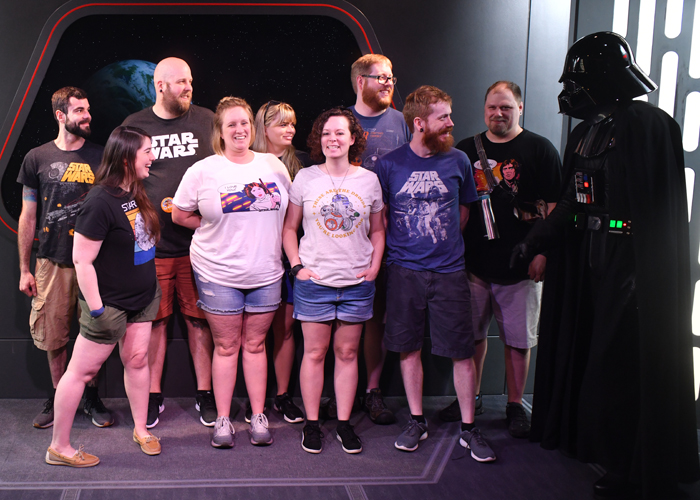 Since Quarantine Started
The rest of the year has been rough, but I'm finding time today to pick out the little wins.
We've spent plenty of time at home, so, like many, we've worked on a number of projects around the house that I've recapped nowhere. Here's a quick list: painted all but three walls (minus the one above the stairs and two in the kitchen;) rebuilt utility room storage system and work bench; had our foundation stucco repaired and then painted it; updated old lighting in some places; encapsulated lead paint (nightmare) in the kitchen; and adding new pantry cabinets in a formerly-empty corner of the kitchen. The biggest project we did this year, though, was a near-total renovation of the main hallway bathroom. Besides the old green tub, we replaced everything with identical pieces and fixtures like we used in our master bath reno. Maybe one day I'll get around to sharing pictures. Until then, most of it can be seen on my Instagram in my highlights.
Desmond turned two in October and we were lucky that case numbers had dropped dramatically, leaving us feeling safe enough to have his grandparents over—over two different weekends, after they quarantined—to celebrate with two little birthday parties. We had pizza and donuts with my parents, and pizza and cake with Dan's parents, and Des loved the sweets and attention from someone other than the two of us.
We also now go on regular outings just to drive down near the Norfolk Southern rail yard and the railroad lines that go directly through the middle of downtown Roanoke. This kid loves a "choo" and I can't say the word "downtown" without him getting excited we might see a train.
In August, we bought bikes and a little toddler trailer as a ten-year anniversary gift to ourselves and enjoyed riding them on the Roanoke River Greenway. We also started taking evening walks, which we loved until Daylight Savings ended.
Gosh, what else happened? The most stressful election of my entire life…amirite? We had one socially-distanced barbecue/outdoor movie (Borat 2) with our best friends to make up for the lack of our annual cabin party this year. We traveled to my hometown and stayed at my uncle's cabin for my birthday weekend. And we had the most peaceful, nice little holiday here just the three of us, and playing Santa this year was truly great. I also somehow read 18 books this year, which seems wild considering I didn't read any for months.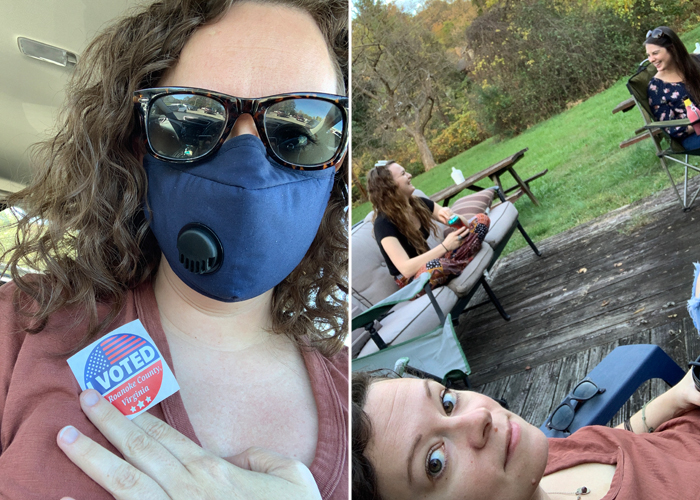 Writing!
My biggest win this year was that I've finally started writing my novel that I've been rolling around in my head for over six years. The first notes I ever made on it were from our couch in California, and despite Dan's continued encouragement, I was truly afraid it was something I'd never truly dive into. I can proudly say that I finally have—during one of the worst seasons imaginable, somehow.
I'm the first person to say to others, don't be ashamed if you felt like you didn't "do" anything this year, because good lord. Grace, friends. For me, as a stay-at-home mom, I need a project for myself, and with no date nights, girls' nights, or anything else to do in those few 'me' hours, writing became my escape—my way to disappear into the world I'm creating and forget the realities of the world we're currently living in.
While I hoped to finish the first draft by the end of the year, it isn't going to happen, but I'm pretty damn proud of myself regardless. I've written almost 45 out of a planned 50 (or 51) chapters—87,500 words so far. There's a long way to go (I already know what needs to change/be added/be moved, etc) and several drafts to finish before I can even think about querying for an agent, but I've rarely had passion for something the way I have had for writing this book. I've asked out loud repeatedly, "Why haven't I been doing this all along!?" I've always loved to write, creating little stories and books as far back as I can remember. It's about damn time. Plus, the discipline alone has shocked me…I'm taking a "vacation" this week and catching up on some of my fav TV shows and do things like this for the first time since the spring.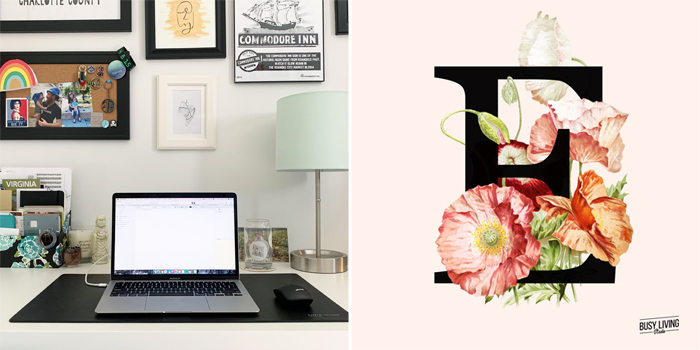 Thankful
I'm extremely grateful that nobody in my direct family or close friend group has been extremely sick from COVID (this year, at least.) I do have friends who have had it—mild, thankfully—and know many people whose friends or family have had it, including some who have passed away. My heart hurts for them, as it does for those who have had their world turned upside down by the loss of a job, loss of a home, or more. This entire year has been a loss for everyone in some way, be it small or the unimaginable.
I hope everyone out there is safe and doing okay…and remember, it's okay to not be okay. Things can only get better from here, right? (God, I hope I'm not jinxing us all.)