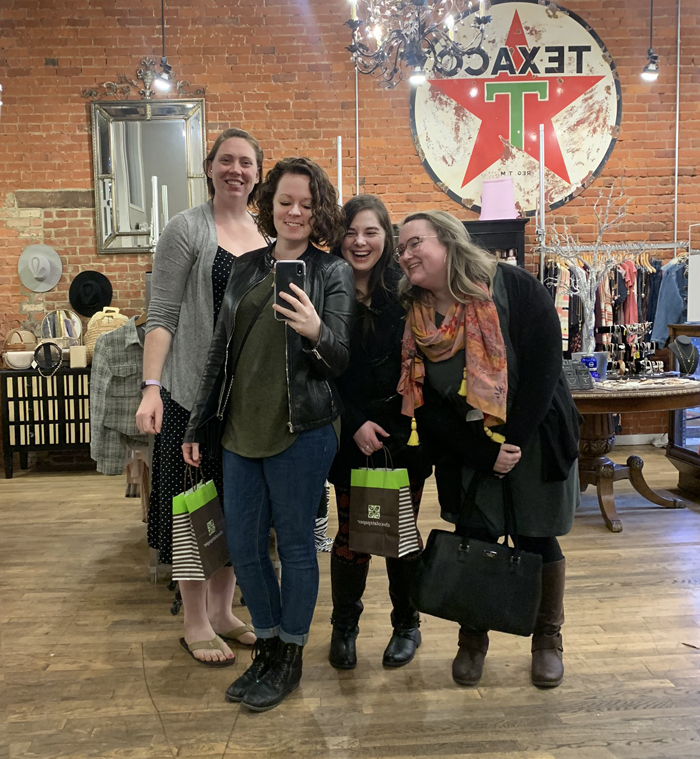 When I started seeing a new therapist in October, it was because I no longer felt like I could handle the disappointment I was feeling, over myself. "I just don't know who I am anymore," I told her, explaining how often I'd let myself down, how I couldn't follow through on any creative ideas, how my identities—as an individual, a designer, a friend, a wife, a mother—all felt like failures, never enough for myself or others. I told her how overwhelmed I felt, how lonely I was. How I was so very tired, all the time, and had no idea how I'd ever have enough energy or time to feel like I was accomplishing anything—for myself or anyone else.
The last few years of my life have truly been wonderful in very many ways, but they have also been extremely hard for me in others. Through various moves, fertility treatments, completely stopping working, pregnancy, and becoming a mother, I felt like I had truly lost so many parts of myself. I no longer created anything. I was physically separated from most of my family and friends. I would have ideas and never take them anywhere. I felt pretty down on myself most of the time.
And then life with a newborn…that hit me really hard, as grateful and blessed as I knew I was. Every day felt like a race, a series of tasks to accomplish in sequence to get to the end of the day, then repeat. Maybe it was PPD, or maybe it was just the reality of being a mom in our modern, disconnected society; either way, the first year felt impossible.
But…
Sometime in the past few months, the fog seems to have lifted. Therapy is helping, for sure. (I always have and will be a big proponent of therapy.) My child's increasing independence—his ability to do more for himself, to play independently, to sleep between five and seven hour stretches at a time—has also helped. And through all of this I have to also mention that my marriage has always been a consistent and wonderful source of love, support, friendship, and understanding.
What has changed? It feels like nearly everything has, in the best ways. I'm not even sure how I got here, but I'll take it. Of course there is still plenty of room for improvement, but I haven't felt this good—about myself or life in general—in a very long time.
The new year truly did feel like a fresh start for me; being mom and the primary homemaker was already starting to feel easier, but I just had to get through the holidays. Once the stress of all of the shopping, cooking, and running around was behind me, I was able to step back and really see how much easier my life was becoming. I had started cooking for enjoyment again, making new recipes from scratch and feeding my family and friends exciting and healthy new dishes (and some sinfully unhealthy yet delicious ones, too.) I started finding time in the evenings for myself, picking up reading before bed again or taking the time to catch up on a show. I started feeling more like myself; I started feeling like a good mom.
A lot of times we're reminded to "put on your oxygen mask before assisting others," a way to say to take care of yourself so that you have something left to give for everyone else in your life. Self-care can feel especially out of reach when you're a new mom, but it has proven absolutely necessary for me to pull myself out of whatever hole I had fallen into.
My best friend Di, a veteran mother of three, sent me someone's Instagram post at the beginning of the year and it really resonated with me. It was an illustrated checklist of "everything you should try to make sure is on your calendar each month." I really took it to heart, wondering what I would have on my ideal checklist that would improve my life. I started adding things to my mental checklist and started working on getting them onto my actual calendar. Regular date nights, girls' nights, very frequent play dates with my new friend and our kids, monthly "Finer Things Club" outings with our group of best friends, regular pedicures, a haircut (at least three or four times a year)…things I have put on the back burner the way I put myself on the back burner for far too long.
I got to work and started making those things happen, right now. I started telling myself we could absolutely afford for me to go out for half price pizza night with a girlfriend; we could absolutely afford for me to have coffee with my friend and her kid before the children's museum. And we can. I just had to stop telling myself those things weren't worth digging into our budget for, because it's not the pizza or the coffee that are worth the money…it's the friendships I'm building, the relationships I'm strengthening, and the opportunity to be social and recognized as a person worthy of spending time with.
I've started going out with a friend or friends at least one night every week and it has made a huge difference in my life. Dan and I have also made date nights more of a priority and I have also encouraged him to pick one night a week where he goes out and does something "of his own" himself. He has gotten back into climbing some and I know that it's something he needs; just one night where he doesn't have to worry about his duties as dad and can enjoy a hobby or some time out with friends.
With this new time investment in myself has come a great burst of creativity. I needed to create just to create; to make something just because I wanted to, without the pressure of making it a business or doing things a certain way to meet others' expectations. I found an incredible open source library of very old botanical illustrations and was inspired to make signs for my friend's daughters, weaving the flowers, vines, and petals around their names. From there I began creating the entire alphabet, which I decided to share on an Instagram account I had created years ago for another idea that I never followed through on. (You can follow that account and see my botanical letters here.) The response to these has been so inspiring. I've been designing at night after Des has gone to bed and I have an hour or two to do whatever I please. They don't take a very long time and aren't incredibly difficult, but to me they represent so much more than simple letters and flowers. I've even received a couple of commissions and have been contacted about additional, unrelated design work. Something has clicked and I'm suddenly out of my creative rut, which feels incredible.
Taking this time to myself, putting myself first sometimes, has made the greatest difference. I feel more like a well-rounded person. I find myself more excited to get out of bed every day, knowing that my life has more balance and isn't simply relegated to duties of a domestic and maternal nature. I have a new friend who is at the same place in life as I am and we can spend time together without our kids in tow sometimes, even if we end up spending a lot of that time talking about them. New energy is buzzing around me and I am soaking it up and putting it to good use. I have more patience with Des during the day and am more excited to spend time playing with him. I'm taking such better care of myself that I've even lost a little weight, even with more frequent glasses of wine out with the girls.
All of this absolutely makes me a better mom, a better wife, and a better friend. I would say that I wish it had all happened sooner, but it all happened just as soon as it could and in just the way that I needed it to. Thank goodness.