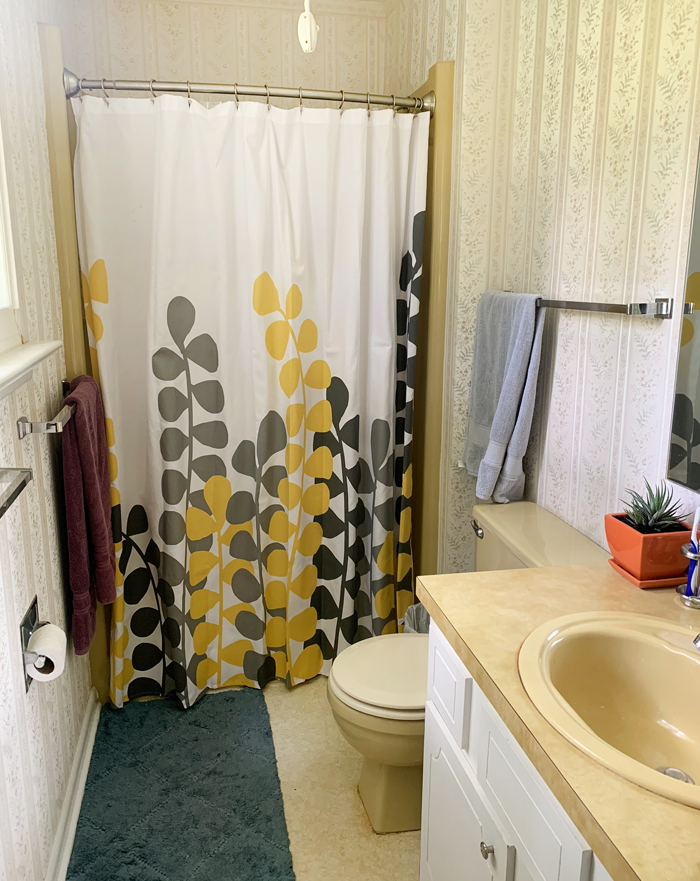 * Post contains Amazon affiliate links *
It's finally finished! This project has taken a while to feel (mostly) complete, simply because I had a hard time finding the right mirror. That was delivered this weekend and now the room is finally finished! (Besides the shower stall; more below.) We knew when we moved in that renovating our master bathroom would be at the top of our to-do list; it's a small bathroom, we use it every single day, and updated bathrooms can add a lot of value to a home when it comes time to sell.
We're not sure when this bathroom was last updated, but we do know that at least the flooring was updated at some point because we found some of the old linoleum under the toilet. The house was built in 1974 and some updates were completed in 1989, so that could be when that happened. Also, please ignore my horribly ugly blue rug; it worked well in our last house and I knew this reno was coming so I didn't update until after…it's not like our bathroom could have been much uglier, anyway.
We completed most of this project in November 2019, though I think I started pulling down some wallpaper in October. The only thing we have left to do, and plan to do this year, is to paint our old yellow shower stall with a specialty epoxy-based paint we found online. It will be white when completed. I will not be sorry to see the last bits of that yellow go!
Deconstruction and the Flooring
Taking down the wallpaper was the easy part, but it was a good first step that forced us to get started and complete this project. I barely had to use any product to remove the top layer and the bottom layer came off easily with a light appliance of Piranah (link). The harder part of tearing this room apart was taken care of by Daniel and our friend Jarrod. Together they took out the old yellow toilet, broke down the old vanity, and tore up the old floor.
While I originally wanted real (white) tile, we decided to forgo the expense for the time being. If we stay in this house forever and ever, I'll have tile someday; otherwise I'll leave it up to any future owners to update the flooring. We chose Lowe's Style Selections vinyl tile in Symphony Gray, a 12″ x 24″ peel-and-stick that is groutable (link).
I helped a bit by laying out a floor plan of the bathroom on my computer, including the holes for the air vent and toilet, and and by adjusting the location of the tiles until we found a configuration that would work and look best. We used that layout and those measurements to lay the actual tiles out on the floor and Dan cut them to size, put down primer, set them with tile spacers, and adhered them to the floor. He finished by grouting using a basic grey grout.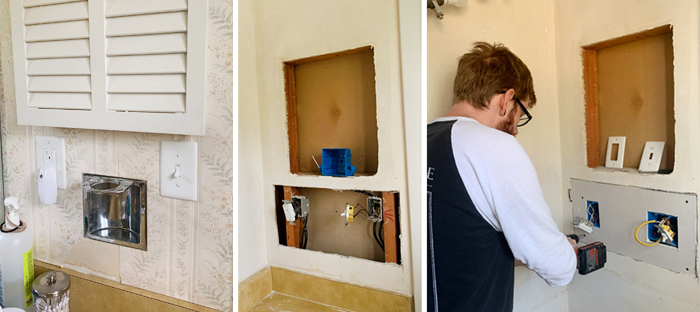 Every Change Was a Good Change
There were four challenging issues to contend with throughout the renovation. The first, while minor, was that there was a toilet paper roll holder and toothbrush holder inset into the walls that we wanted gone. Dan patched these areas with new drywall and you can't tell they were ever there. If only the other problems we came across were as simple to mitigate.

Wayward Wiring
The first glaring issue to deal with was that the previous owners had jury-rigged a switch into the vent fan in the ceiling. When we saw photos online we wondered what this hanging cord might be…a pull-down light switch? Pull-down attic access? (Can you imagine, in the bathroom?) Instead, we discovered at the inspection that the switch had been wired for the fan through the vanity lights so the previous owners could turn it on and off as wanted (the vanity lights and fan were both on one switch.) Needless to say, this was a major fire hazard and in no way up to code. You couldn't even walk through the bathroom without it hitting you. This sort of DIY wiring was the wildest thing that we found had been done (in a few places) when we bought the house.
Dan, Jarrod, and Tom worked together to install a new fan+light combo and run new wiring from the attic for an actual switch on the wall. We had a family friend with electrical experience(thanks Phillip!) come and do the final stages of this wiring for us. He was the only professional we hired for the entirety of the project.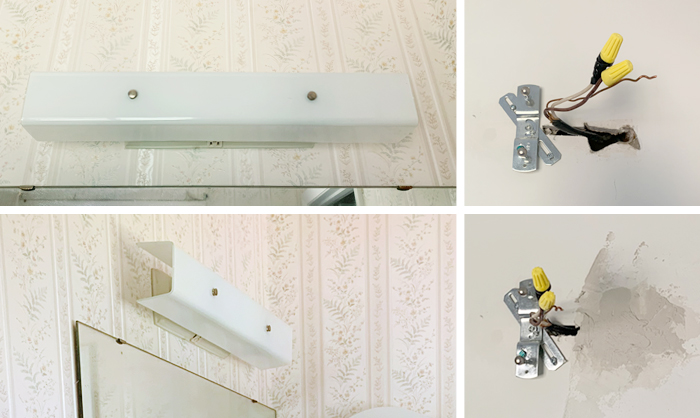 Another wiring-related issue we had was that the base of our new vanity light wasn't as wide as the previous light and that the hole cut into the drywall for the wiring to come through was much too large (and showed) when the new light was centered over our vanity. Dan managed to patch this successfully after a couple of tries; it was a hard hole to patch without cutting a larger one and putting in a new chunk of drywall there, but he made it work.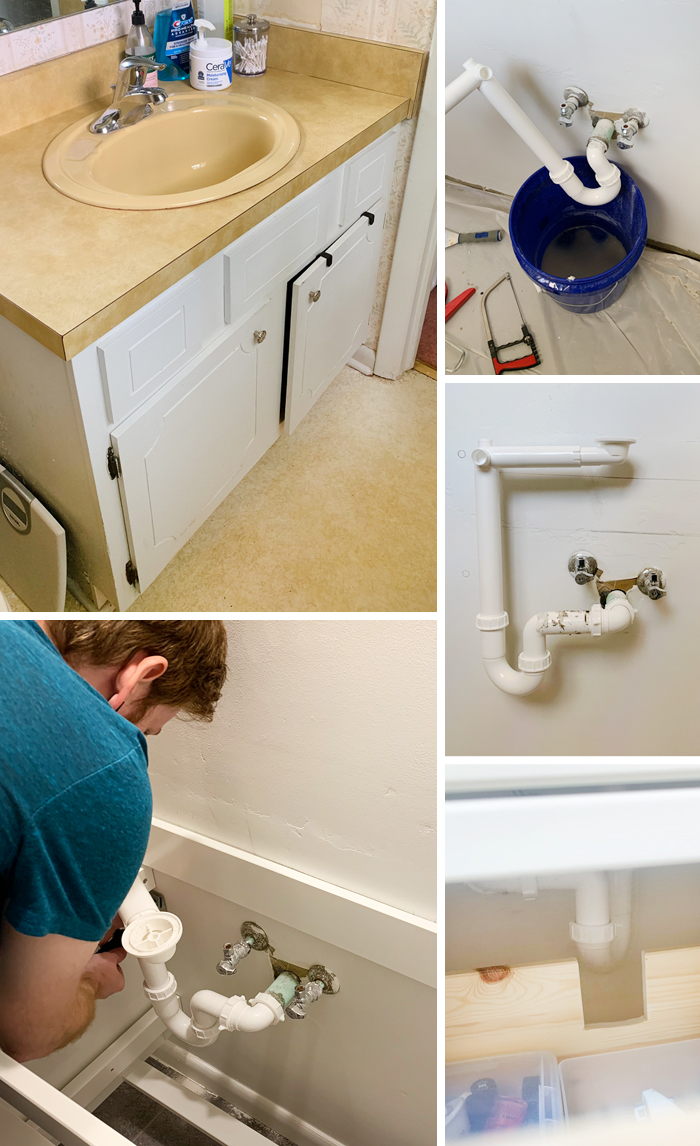 Installing Ikea's Hemnes Sink Vanity
Our final—and most frustrating—issue was the plumbing behind the vanity. I had fallen in love with the Hemnes two-drawer sink vanity from Ikea and was insistent on having it. (Thanks to John and Nicole for picking it up from the Ikea in Charlotte and bringing it to us when they came for Desi's birthday!) I love the drawers and how useful all of the space is. What I didn't know is that the specialty space-saving plumbing configuration built into the sink and vanity itself would require Dan to do some major rigging to our current plumbing to connect the two. With only 11cm to spare behind the drawers, there simply wasn't enough room behind the vanity to account for the pipes we already had coming out of the wall (without hiring a plumber.) After much contemplation, various configurations, and a bit of arguing between the two of us, Dan figured out a way to connect all of the plumbing with minimal damage done to the vanity drawers; only a small section of the back of the bottom drawer had to be cut out to make way for one of the larger pipes.
Dan is Awesome
Daniel seriously deserves all of the accolades on this project. While I took down all of the old wallpaper and applied all of the fresh paint to the walls, ceiling, and trim, he did nearly everything else. He tore up all of the old linoleum and took out the old vanity, sink, trim, and toilet with the help of our friend Jarrod. Then he installed all of the new flooring, grouted, caulked, cut and installed the new trim, patched screw holes everywhere, installed the new vanity and sink, installed the new lights, installed new light switches, patched drywall, installed a new medicine cabinet, installed the new toilet, did plumbing and electrical work (and spent a good amount of time crawling around in fiberglass installation in our attic to do so), installed all of the new fixtures, and finally, cut, painted, and installed the new shelves. Whew! Seriously, give this guy a medal. Who knew he could do all of these things, many of them with no previous experience, and do them really well? That makes it sound like I doubted him, but after nearly thirteen years with the guy I don't do much of that. He proves over and over again that he can figure out how to do just about anything.
As for my part of the work besides the wallpaper and painting… I picked out the vanity, fixtures, and other odds and ends and did a lot of pointing while Dan was working. While this makes me sound kind of useless, someone had to wrangle and tend to the one-year-old who wanted nothing more than to be in that bathroom to see what daddy was doing. (Dan's parents were a big help and watched Des a couple of weekends so I could paint.) Plus, if I hadn't started ripping the wallpaper down when I did, we may not have started on this project yet.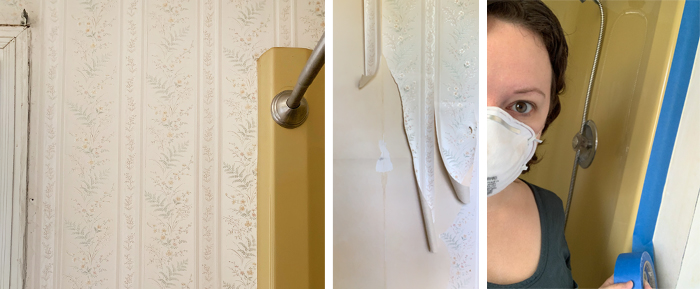 Products Used
I've already mentioned our use of Ikea's Hemnes two-drawer sink vanity, or cabinet, as they call it. Ours is the 32.5″ wide one in white. You can find it here. I contemplated the grey for a while but decided against it once we'd chosen a grey floor instead of white floor tiles. The sink is Ikea's Odensvik 32 5/8″ ceramic sink top, which you can find here. The faucet is Ikea's Dalskär (link).
The paint color is Valspar's Summer Gray (7006-17, link), but we used Sherwin-Williams Showcase paint (link) in eggshell. Only one coat was needed; it rolled on beautifully.
A few other fixtures include the new ceiling light+fan combo (link), the new vanity light (link), new towel hook (link) and bar (link), a fixed toilet paper roll holder (link), and the black metal brackets used for our shelves (link).
As for decor, I chose to add color to this very white room with a bright, fun shower curtain (link). The mirror I found on Amazon (link). I found most everything else at Target: this Nate Berkus textured stripe bath rug, a wire basket from the Magnolia collection (no longer available), and a fun concrete vase I found in the clearance section months ago that just happens to match the new floor. My succulent (Phil) now also has a bright new home out of reach of the kitty.
And Finally, the Result…