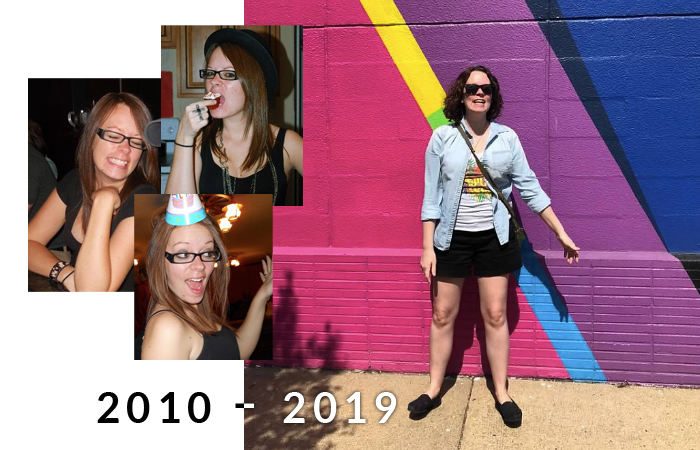 I love a good review post, so you know I couldn't resist going back and highlighting the most important moments and experiences of the past ten years. While I don't have all of those years recorded here on this blog, I did have them recorded on a previous blog and am sort of glad you can't see how I used to blog back then, ha! (I've been blogging since the MySpace days of 2005 on, so it's a good thing not all of that is still publicly available. So silly.)
A LOT of big things have happened for me in this decade, as it encompasses most of my twenties and the first few years of my thirties, which are probably the most heavily-changing years of anyone's lives. (Or perhaps I just don't have a clue yet.)
You remember how we were prompted in maybe middle school to write about what we imagined our life will be like ten years from that point? I remember writing that around the age of thirteen, and goodness I cannot be happier that my life turned out nothing like I thought it would back then! haha. The same could be said for what I imagined my life would look like today when I reached that "ten years from now" point—age twenty three—which is coincidentally how old I was at the start of this decade.
❋ ❋ ❋
2010
Looking back, the year 2010—one of the biggest for me so far. I was twenty three years old, heading into my final semester at university, and planning my summer wedding. Yes, I got married young, which seemed very normal to me at the time and as someone from a really small town; now that I'm thirty-three—with such greater perspective—I see it very differently! Thankfully, it has worked out very well.
Our friend group was coalescing in a way that hasn't much changed since that time as well, and it has been very fun to spend this past decade with this wonderful group of people. We started doing a lot of fun things together in 2010: Salem Red Sox baseball games ($1 beer nights!), we had our first camping trip together, we started Tuesdays at Tom's, we watched the last season of Lost together (and had a Lost finale party), we had the first Good Times Crew Cabin Party that October, then we had a really fun Tacky Sweater Christmas potluck party (featuring surprise Batman and a very undercooked deep fried turkey.)
The rest of 2010: I graduated with my Bachelor of Fine Arts in Graphic Design and landed two dream internships, one of which became my first "adult" job. My best friend Diana, who I'd met the summer prior at Parsons, came to stay for several weeks in the summer to meet all of my friends and to be a bridesmaid in our wedding. Daniel and I got married in July. Chels, Nicole, Liz, Ashleigh, and I went to see Lady Gaga then partied in downtown Charlotte with Semi Precious Weapons. Nicole and John got married in November and that was a fun weekend in South Carolina with our crew.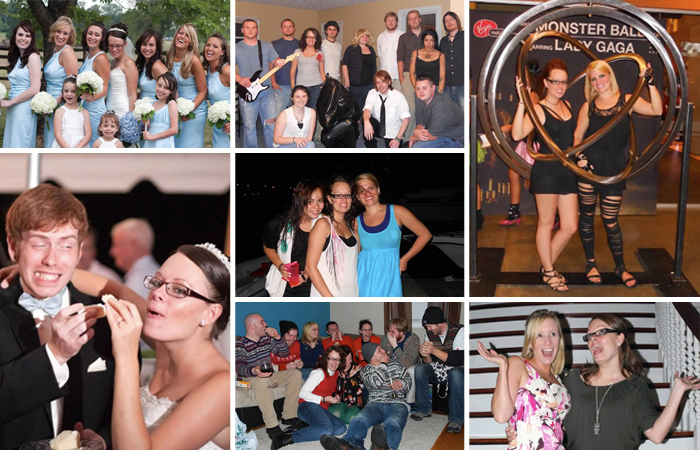 2011
I did a lot of traveling in 2011, from visiting New York to see and meet up with friends several times to visiting Europe for the first time. Di's family invited me to their favorite vacation destination in the Swiss Alps and then we drove back to their home in The Netherlands for a few days. It was magical.
The Good Times Crew had the most epic camping trip ever, which was never covered on this blog but is worthy of a quick story. We camped at a campground by a lake where my parents and their friends spend a lot of time, so we went from overly hot and sticky to having the best possible weekend unexpectedly. It all started when my parents' friend picked us up on his pontoon and took us to a private beach where all of the parents were hanging out. Then we went from leisurely floating around to going tubing, then another friend showed up on his boat with a margarita machine. Then another friend showed up with his helicopter and started giving us all rides over the lake. We ended the night at a party at one of the friend's lake house…things had developed far past our previous night of s'mores and mosquitos!
The second annual cabin party weekend may have been the most fun one yet; I think there may have been close to thirty people in attendance, all in fun costumes and ready to dance all night.
Okay, so 2011 set the bar pretty high.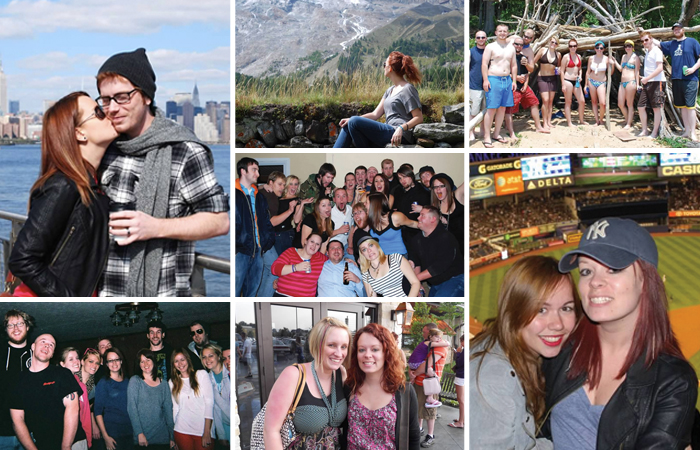 2012
2012 was the year Chelsea and I started our business and published the first three issues of our magazine. I never had more fun and have never been more happy with my work. I told my therapist recently that I'm afraid that this was where I peaked creatively, ha!
Literally days after the first magazine hit the racks, I was off to Kansas City to meet Di for our friend Kavill's graduation from KU. We flew back into Charlotte together then proceeded to road trip to Miami and back. You can read more about that trip here.
The rest of the year: I planned a trip to New York for my mom and some of her friends and she got to meet the cast of Good Morning America. Another blast of a weekend at the cabin. Our friend Chase got married and we had the absolute best time (but I think Scuba had the best time.)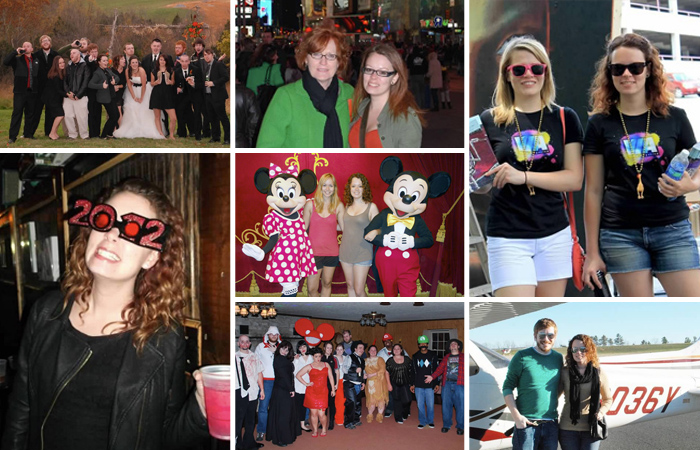 2013
This was the year that I started fresh with blogging and started posting here. My first posts came just as we decided to drop everything and move across the country to California. Chels and I closed up shop on the magazine and she decided she would move with us, so Dan and I took on a roommate in Orange County. It was nice being close to Dan's family in San Diego and getting to know them while we lived out there.
Before the move though, it had been another few big months for my family. My maternal grandmother, my last grandparent, passed away that January at the age of 92. My parents' dog died in March. In May, on our last weekend in Virginia, my brother got married. (It was a rough year for my mom, clearly…so much change and only the wedding was a high note.)
You can read about our cross-country road trip (for our move) here.
Diana visited us for a few weeks around my birthday and we road tripped to Joshua Tree and then Solvang. My parents came and spent Thanksgiving with us. Chelsea adopted her kitty Audrey and we all quickly fell in love. We finished the year at home in Virginia for the holidays.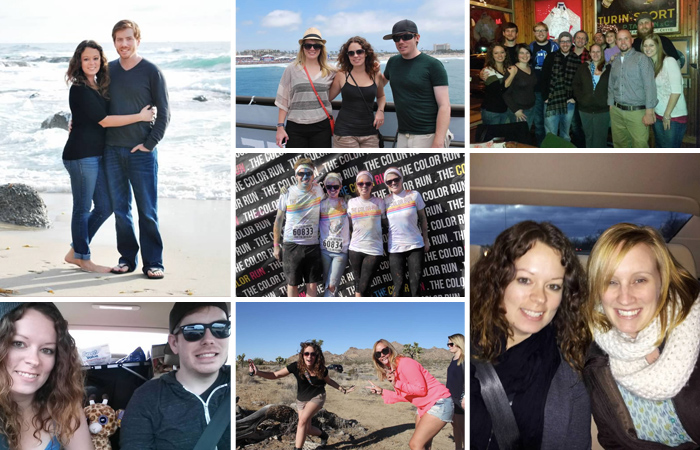 2014
We lived in California for the entirety of 2014. We road tripped on weekends to check out the places around us and really tried to take it all in. We spent some time with friends we'd made, like our annual Independence Day spent in Huntington Beach with James and Laura and their friends. Dan always brags that he was able to witness the lead singer of a band I won't mention call "bullshit" on a nine year old, which was surreal and hilarious, as here we were having burgers and lighting sparklers with a man who regularly performed in front of thousands worldwide and he's here arguing with a nine year old over something irrelevant. #californialife
We flew back to Virginia in the summer for my friend Ann Marie's wedding, which was a big hometown "family" reunion of sorts for me. Dan's grandfather flew into town one weekend and took us up in his plane for some flying lessons and lunch in Big Bear. Dan and I spent Labor Day weekend in San Francisco, then flew to his grandfather's in Fairbanks, Alaska for Thanksgiving. Again, we spent Christmas and New Year's in Virginia.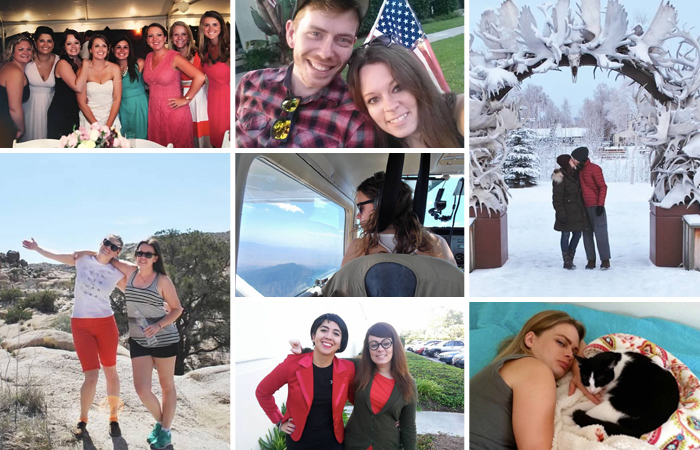 2015
Whew, 2015 was a big year of changes. I left my job early in the year and started planning our departure from California (yet enjoying it immensely with all of my spare time.) Chels and I started going to all of the places we could when she also had a day off. She and her kitty Audrey left for their new life in New Jersey in June.
I started the year with a long weekend trip to meet Di in Vancouver. We sloshed around in the rain together for a couple of days and I absolutely loved that city. We flew to Phoenix, Arizona and road tripped with my parents to Sedona, Arizona in April. Sedona is easily one of my top favorite destinations in the US, for sure.
Dan and I celebrated our last day as Orange County residents, and our fifth wedding anniversary, with a trip to Disneyland. We drove away in the U-haul the next day, stopping for a night with his family in San Diego, then off we went back across the country.
We lived in Virginia for a couple of months, helping his sister prepare for her wedding and catching up with family and friends. Soon, I'd landed a job and our "transfer" to New York City was complete. We lived in the city for around two months while Dan helped with some things as his company moved offices, then we decided we wanted to be closer to family for good. We spent the last month of the year living with our families and looking for jobs in Richmond.
You can read a more in-depth 2015 Year in Review here.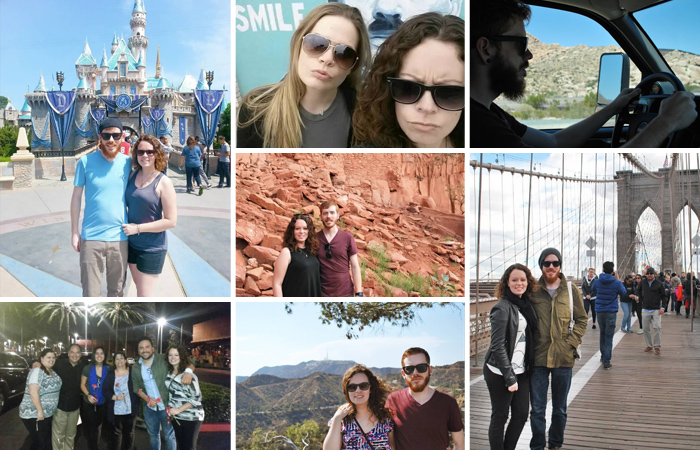 2016
We moved to Richmond in January and Daniel started his job with his current company. We took full advantage of being so close to everyone we loved again for the first time in years, spending most of our weekends everywhere except Richmond. We started going to more concerts than ever thanks to downtown living and walking proximity to great venues. I worked at a nearby coffeeshop, then landed a dreadful contract position as a designer at a factory half an hour out of town. (The money was great, but I was so happy to leave that place in September.)
In June we flew to Amsterdam and spent several days in the Dutch countryside with Di and her family. Then we took a train to Belgium to meet and stay with a friend I'd known online for years and we all became fast friends (and nobody was a murderer!) More about that trip here.
In September, after a few months of testing, I started fertility treatments.
We spent a fun weekend in Raleigh with friends for a Periphery show. Tom and Janel got married and didn't tell anyone for a month. I took the train and spent a weekend in Philadelphia with Chelsea. Then we had our fourth "annual" Cabin Party Weekend, even though we'd skipped a few years in there while we were across the country. It was so good to be back with our people and to celebrate in such a fun way.
You can read my full 2016 Year in Review here.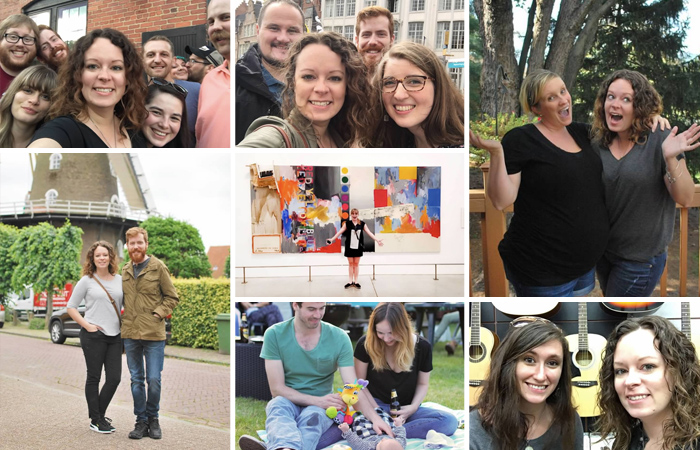 2017
We spent half of the weekends of 2017 out of town (I counted.) We traveled for shows, we went to the beach, we explored locally, and Maggie and Dan got married, then Dana and Davy got married, and there were parties and showers all around.
I had an ectopic pregnancy and emergency surgery in March—coincidentally the day before Diana and her family arrived from the Netherlands, which made that visit memorable in interesting ways.
Dan and I celebrated ten years together (and seven years married) that summer.
I spent the last few months of the year having as much fun with friends as possible, knowing I could have a few tough months ahead in the new year… I took the train to New Jersey and spent a long weekend with Chelsea there and in NYC in September. A few friends came and went with us to Busch Gardens in October. We had the most epic Cabin Party Weekend in years in November. Then Dan and I took my cousin Sarah to NYC for the first time in December.
You can read my 2017 Year in Review here.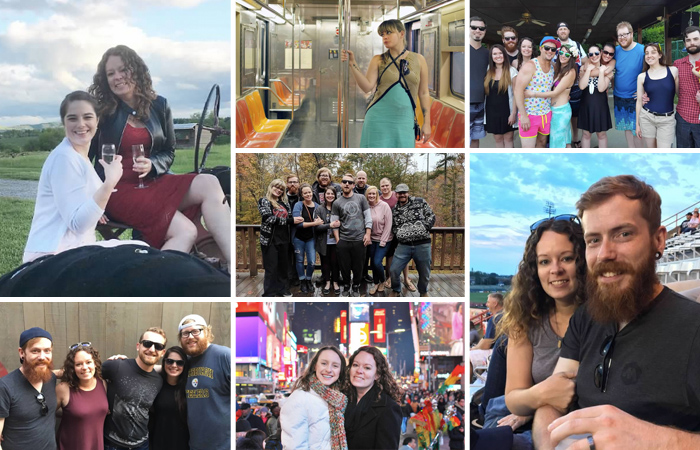 2018
As we had hoped and wished, 2018 was all about pregnancy and having a baby! After sneaking in fertility treatments and an egg retrieval surgery amongst the fun times we were having at the end of 2017, our first IVF embryo transfer at the beginning of January worked!
I announced my pregnancy in April and then began sharing my infertility experience through a series of posts you can find here.
We had several wonderful baby showers over the summer and felt so loved. Then we went to the beach with our friends John and Nicole and their kids, which was exhausting yet fun at eight months pregnant. Most of the rest of the year centered around being pregnant (and being sick from pregnancy).
And then, October 10, baby Desmond was born! And I just realized that I never got around to writing and sharing about that experience, so here's the short version: 10 days overdue, tried everything, induction, 32 hours of labor, c-section, hemorrhage, everything-that-could-happen-did scenario…but we're so grateful he's here and so wonderful!
You can read more about 2018 in my Year in Review.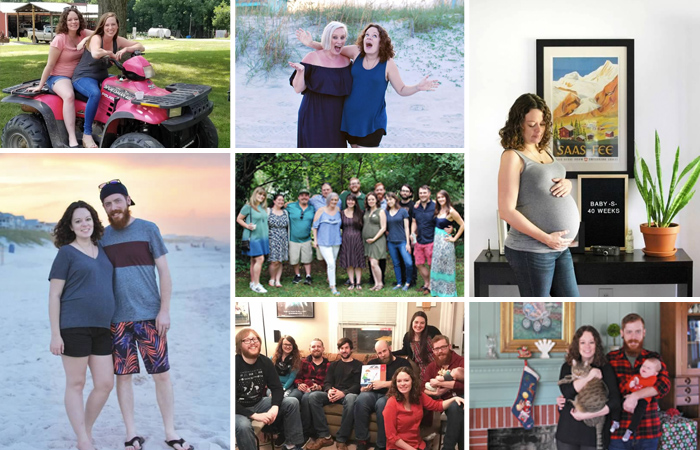 2019
2019 has been another huge year for us. I spent the winter months adjusting to motherhood and getting acquainted with my little guy. (Having a baby right before the cold weather and flu season is rough, y'all.) In May we bought our first house and moved from Richmond to Roanoke. It has been a good year and I have a lot more to share, but you know I want to do an official "2019 Year in Review," so I won't go into too much depth here. Just know that life feels good right now and we are happy.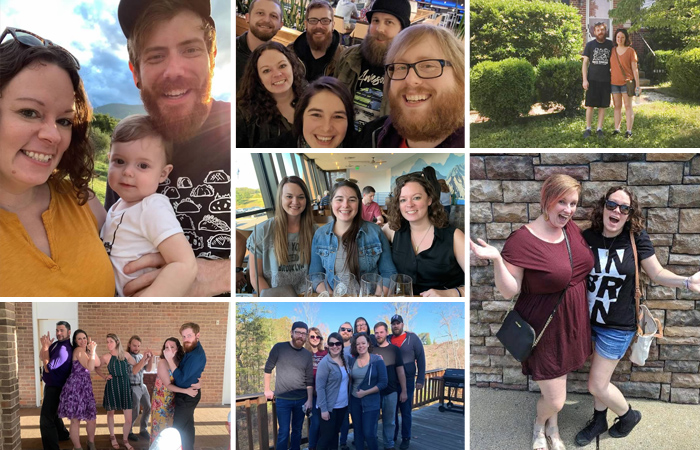 Recapping my life over the past decade this way has really put how privileged and fortunate I am into perspective. I truly have been incredibly lucky over these past ten years…in love, in friendship, in travel and experiences. I have been to places and even lived in places some people only dream of and I do not take that for granted. This is something I have to remember when I feel frustrated that we're not on the go more or when I feel like I'm not doing enough.
Just look at the people I get to spend my life with! My husband and son. Our families. The Good Times Crew. I am so, so very blessed and thankful and grateful. I could never begin to say that enough. I am so grateful.
❋
To those of you who have stuck around and followed along with me through some of these years, thank you. I have made some great friendships through this blog and appreciate it more than you know. For those of you who follow along silently, I appreciate you too…say hello sometime! There's no such thing as too many friends.