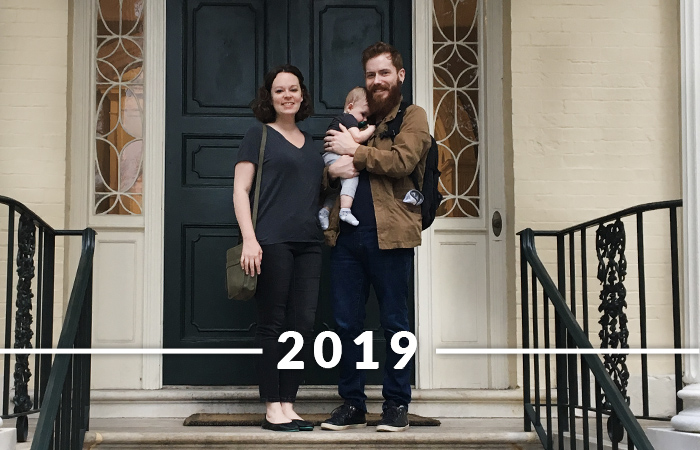 When I first think about 2019, I think of it as a quiet year…and then I remember that this is the year that we bought our house and moved back to Roanoke, so not as laid back as I'd like to think. While my everyday life is relatively simple, full of the responsibilities of motherhood and our home, this year as a whole has had its share of big moments.
I love writing this post every year. You can read my previous years' posts here.
2019 in Numbers
We lived in Richmond for five months. We lived in Roanoke for seven.
We went to only one concert, but it was one of the bests.
I read seven eight books.
Top Moments of the Year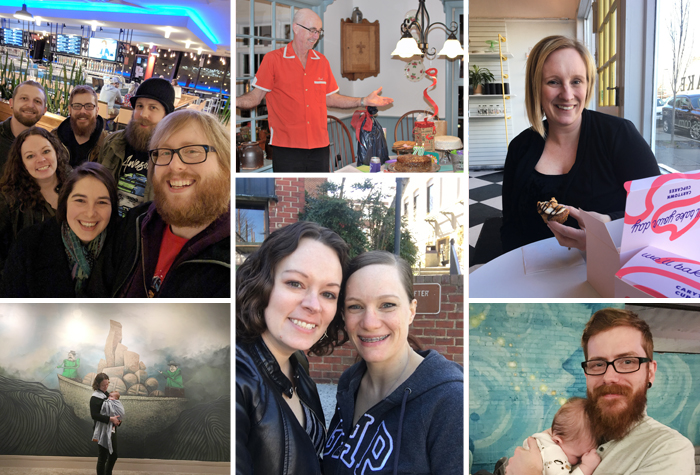 Nicole visited from South Carolina to meet Desi and stay a few days with us in January. We went and got takeout from all of my favorite restaurants that I hadn't been to in months and it was so special to spend that time with her. My dad turned 70 in February and my mom threw him a "70's Party." Everyone wore 70's attire and had a blast.
Around March we started going out more; after months of cold weather, flu season, and the general insecurity of taking a newborn baby out of the house to do things, it finally started warming up and we started feeling more confident as parents. We started going out to eat again, visiting with friends, and having play dates with Katherine and her boys. I reconnected with my friend Kelly; it had been nearly seven years since we'd seen each other. My cousin Sarah and I started spending as much time together as possible, knowing that us both living in Richmond at the same time was coming to a close. Desmond had the honor of meeting the governor and we were given a private tour of the Governor's Mansion.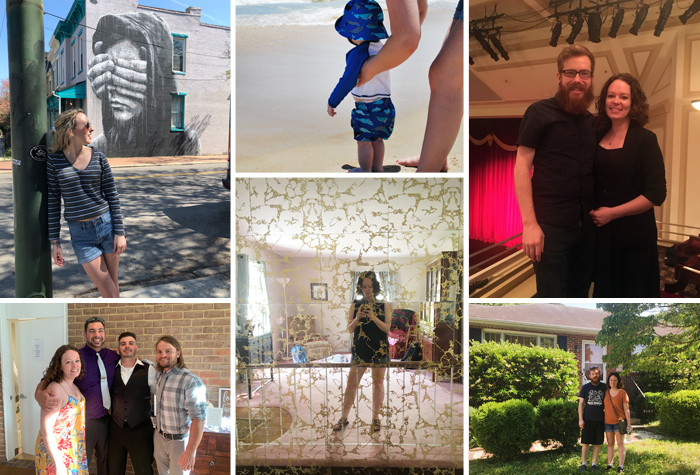 By April we had made several whirlwind trips to Roanoke to look at houses and put in an offer on three. The third one accepted our offer and we visited it for the first time for our inspection, because we're a little bit crazy. (Truly, we could not stop our lives and get to Roanoke fast enough to view houses because they were selling within days of hitting the market, if not hours. The only way we were going to get one in our situation was to really trust our realtor and buy one sight-unseen.) I started packing and doing all of the Richmond things we could.
May was another month we filled by enjoying our favorite Richmond things and finished with our move. We said lots of goodbyes and then our best friends showed up to move us out of our Richmond house and into our new Roanoke house.
We spent June settling in, fixing a few high-priority things in the house, and dreaming up what we want to do to make this place feel like home. We spent a few days at Virginia Beach with my parents and got to show Desi the ocean for the first time (but he much preferred the pool.) We had our first "GTC Finer Things Club" outing with Jarrod for Lebanese food and the Roanoke Ballet Theater's performance of Giselle. My friend Jake got married at the end of June and it was a fun night out for Dan and I (our first away from Des) and a great reunion of my high school best friends. It was also Dan's birthday weekend.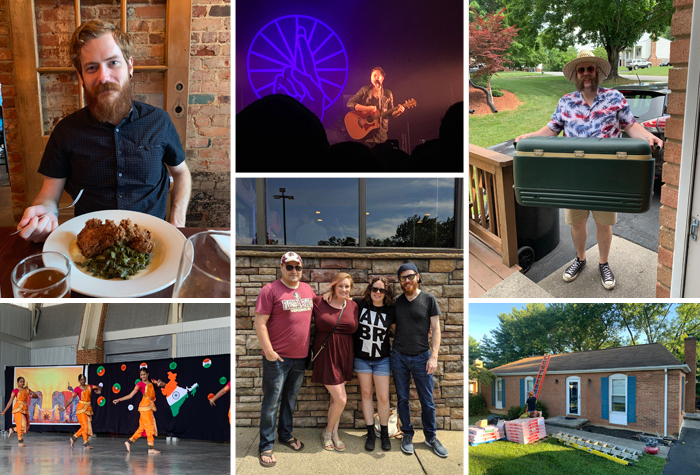 We hosted a July Fourth celebration at our house, which made me so happy. Chelsea was also in town for the entire week. Chelsea's other BFF, Liz, a friend of ours from college, stopped by on her way East from Indiana and it was so great to see her after so many years. We spent one weekend of July in Raleigh with our friends John and Nicole; we left Des with Dan's parents, booked a hotel, and went to see Anberlin on their reunion tour. It was my sixth Anberlin show and I definitely cried in the middle of it. At the end of July a hail storm destroyed our (very old) roof, which was actually a good thing.
We spent a (childless) night in Richmond in August and got to spend time in our old neighborhood downtown. Janel and I attended the Festival of India in downtown Roanoke and ate lots of tasty food. Our friends Georgia and James met us at a brewery and our boys (same age) had fun investigating each other. My parents were honored at their church during homecoming, which was a surprise for them, as was my getting up to speak and having our entire family in attendance.
In September we got to work on the house. Daniel's best childhood friend Brennan is in construction and replaced our roof (thank you hail storm and homeowners' insurance.) Jarrod helped us paint our front door and shutters grey to match the roof and our house immediately looked better. We still have a long way to go, but it was a great start.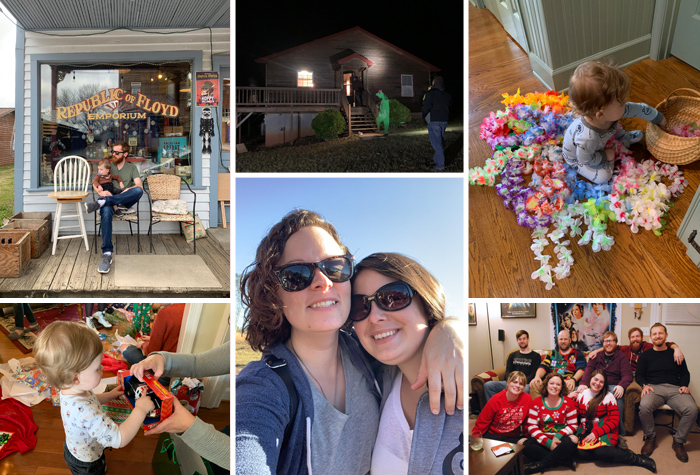 We did a lot of birthday celebrating in October. Des turned one and we had a Lost themed birthday party at our house and invited all of our Roanoke family and friends. John and Nicole came all the way from SC with their girls and stayed the entire weekend. I met some new mom friends and started taking Desi out for play dates, which were play dates for me as well. Dan's office had an Oktoberfest party and we all headed to Richmond for the day, including a stop at our former fertility clinic to introduce Des to our doctor there. We then celebrated his birthday again, at my parents' with our family there. I turned thirty-three and we celebrated by taking a day trip to the nearby town of Floyd, which I highly recommend to anyone. For Halloween, I saw Rocky Horror at the Grandin with one of my new mom friends, Olivia.
November is always so fun. The Cabin Weekend was the first weekend of the month and it was a blast as always. We (and by "we" I mean mostly Dan) completely renovated our master bathroom (and I promise I'll share more about that soon). We had to really nice Thanksgiving get-togethers with our families and had plenty of time and energy to enjoy them both immensely. A night out with some of my high school best friends was tossed in there in the midst of all that.
December has been another really joyful month. We had another "Finer Things Club" outing with Jarrod: Indian fusion for lunch at a new spot followed by The Nutcracker performed by the Roanoke Ballet Theatre. Dan and I took Desi to see the Christmas trees decorated at the Hotel Roanoke. Then we had five Christmas celebrations over the course of a week: 1) I hosted and made lunch for my parents, brother, and sister-in-law; 2) we traveled to my hometown for Christmas morning brunch with my extended family; 3) we had Christmas evening dinner with Daniel's immediate family; 4) we had a taco-themed potluck and gift exchange with our best friends; 5) we had Christmas dinner with Dan's extended family. Our friend Caleb, in from California, spent the week with us and Chelsea was in town with her parents as well, so we had lots of friends in and out over the course of the last couple of weeks of the month.
And, as has been tradition many years in recent history, we'll be celebrating New Year's Eve tonight by going out to dinner with our crew and then heading in for a very late viewing of the most recent Star Wars movie.
– – – – –
As always, I've had a great time looking back over my year to write up this little recap even if nobody on the planet reads it. It has been a great year and I hope that 2020 will be really wonderful as well. Moving back closer to friends has already made an incredible impact on our lives and I'm so grateful. I'm grateful for everything that has happened for us this year.
I hope you had a wonderful 2019, and if you didn't that's okay…I hope 2020 will be better. It's a new decade after all…does that mean it's even more powerful of a fresh start than most new years? Maybe so.