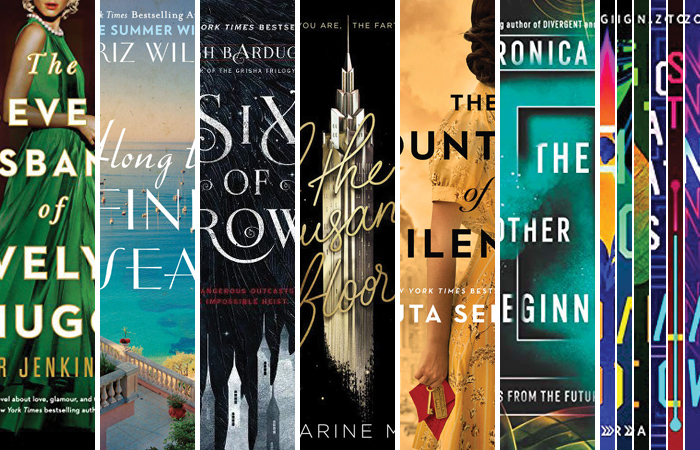 I am in no way surprised that reading fell to the back burner after Des was born, but I'm also not all that worried about it. I didn't pressure myself this year with reading goals or by trying to keep up with authors and releases the way I used to. Not only did the time I put into reading change, but the way I read changed drastically as well.
After over a decade of having this "must buy every single book I read and then keep it for my future library" sort of thing going on, I barely bought any books at all this year (and then I didn't read most of the ones I did buy.) I joined the Roanoke County Library and started checking out books, and while I admit I have the urge to add a couple to my permanent collection, it was good for me (and our budget.) I also read ebooks for the first time; it wasn't the worst thing, but I don't know that I need another reason to be on my phone any longer.
I read seven books this year, two of which were technically collections of short stories.
* Post contains Amazon affiliate links *
– – – – –
The Seven Husbands of Evelyn Hugo by Taylor Jenkins Reid
I had read so many raving reviews of this story last year that I couldn't wait to read it myself. I completely understand the hype now and absolutely loved Evelyn Hugo.
Hugo is a fictional Marilyn Monroe-esque figure in this story: a Hollywood bombshell who came from nothing and captured the love and attention of people the world over through her long life in the spotlight. Throughout her life she had seven husbands and one huge secret, which she is ready to share with an up-and-coming writer who is granted exclusive rights to interview and write about Hugo after years of no press being allowed access.
Evelyn Hugo does not apologize and I love her for it. She is not sorry that she lived her life exactly the way she did and it was so refreshing. Every woman needs to be a little bit more like Evelyn Hugo, I think. I know I do.
A TV series adaptation for the network Freeform is in development. I hope this will make its way over to Hulu or Netflix shortly after, or my parents are going to have to share their DirecTV log-in.
– – – – –
Along the Infinite Sea by Beatriz Williams
I did not know this book was the third of a series (The Schuyler Sisters) when I picked it up, but it was fine as a stand-alone story. It switches between two points of view, Pepper Schuyler's in 1966 and Annabelle Dommerich's during WWII.
Annabelle's story is the star of this book and it is as full of twists and turns as it is a powerful love story. After suddenly falling in love with a Jewish man at the beginning of the war, the realities of life push Annabelle into a hesitant marriage to a Nazi officer, though every step she takes is with the hope of reuniting with her true love. I was swept up in their love story and completely shocked by the series of twists that carry this story along. I did not see the ending coming and was eager to see how Pepper and Annabelle's lives could be so affected by one another.
 – – – – –
The Thousandth Floor by Katharine McGee
I read this book alongside others as it was Influenced the Podcast's September Book Club pick. This was the first time I've ever committed to reading with a book club, though I've "joined" many online before, and it was really fun to listen to the podcast's episode on it even though I couldn't join in on the conversation the way you would in person. There was a lot less pressure associated with it this way, which is maybe why I went along with it.
I really enjoyed this story, and I went into it knowing very little about the synopsis. Some have described it as a "futuristic Gossip Girl," which is a description I'm glad I hadn't heard before reading it because it may have kept me away. (Not that I'm above GG, but it just never interested me in any way. I might have missed out on what a fun read this was.)
This story took place in such a fascinating world, which is something I truly appreciate in a book. The characters within live their lives almost completely inside a one thousand story tower built in Manhattan one hundred years in the future; the bottom floor covers several square blocks, including the entirety of Central Park, while the very top floor belongs to the most wealthy inhabitants, the parents of one of our main characters. There are several points of view shared, switching between different characters per chapter, and together they weave a dramatic story about wealth vs the lack of, the differences in experiences across that spectrum, and how the secrets that everyone keep can turn each others' worlds upside down.
There is a second book to this series (and a third) and while I do think I'll eventually get around to reading them, I have quite a few others in a TBR pile that I'd rather work my way through first.
– – – – –
Six of Crows by Leigh Bardugo
I cannot remember which friend pointed this book out to me in a bookstore, but it came highly recommended. I was unaware when I started reading it that it was a spin-off of another of Bardugo's series, but you didn't need to have read the other series to follow along and appreciate this one.
This story takes place in a fictional, magical world set in the past, but several of the words, names, and descriptions of the city of Ketterdam quickly stoked my loose familiarity with the Dutch language and Amsterdam, on which it's based. In fact, several of the characters who were not from Ketterdam could be easily placed in real-world countries based on descriptions, which helped with understanding them based on how we associated with those places.
I appreciated that this heist story was full of action and was clearly written for those of us who can handle a bit of violence and gore; this author trusts that YA readers are exactly that: adults. While some of the characters are not exactly good people, you do get to see the good in them and recognize that there is good and bad in all of us.
This series, alongside her original series Shadow and Bone, has been picked up by Netflix and already has an exciting list of producers, language specialists, and writers, including Bardugo herself. The show will be 50/50 split between the two series' stories, so perhaps I should get into Shadow and Bone before it comes out.
EDIT: I read Shadow and Bone in 2013 and did not remember! What?!
– – – – –
The Fountains of Silence by Ruta Sepetys
I love Ruta Sepetys. She has consistently been one of my favorite writers over the past few years and her books are always both incredibly informative and emotionally powerful. I feel like she has taught me more about some true-life historical events that I ever learned about them otherwise. This story was no different.
Fountains of Silence takes place a couple of decades after the Spanish Civil War and opens the eyes of one main character as she opened my own to the reality of lives lived there during the reign and terror of General Franco. When Daniel, an American, arrives with his family on business, he begins to understand the history of these events and how the repercussions are still so deeply affecting the lives of Spain's citizens. Through a secretive friendship with Ana, a hotel maid and Madrid resident, he begins to uncover hidden truths through his photography. Daniel's surprising personal connection to an orphanage there changes everything about this story in a way I didn't see coming.
– – – – –
The End and Other Beginnings: Stories from the Future by Veronica Roth
I will never miss out on one of Veronica Roth's stories, whether it be a series as big as Divergent (which I loved) or as short and small as her addition to the Forward Collection below. She is such a strong, descriptive, real storyteller and I need everyone to know it.
You know those little moments in life that you experience and think nothing of, but that essentially make up the human experience? Roth has a way of sharing those moments in ways that feel real and significant. This is special; I do not take her talents for sharing these things for granted.
This book is technically a collection of six short stories, ranging from slightly futuristic to absolute science fiction. Two of these stories take place in the same universe as her Carve the Mark series. I love how the book's blurb succinctly states, "for all the advances in these futuristic lands, the people still must confront deeply human problems." While I won't try to describe or review each story here, just trust that they are definitely worth the read.
– – – – –
FORWARD Collection
I have never reviewed a collection of stories quite like this, so bear with me. Forward is a series of six original short stories curated by author Blake Crouch and produced by Amazon for Kindle, which is the only place you can read or listen to them. (While I haven't listened yet, I do think I'll go back and give them a go because the narrator choices are great. Audiobooks are yet another form of taking in stories that I haven't tried.)
Here is a bit about each of the stories and parts of their blurbs, in the order arranged by Amazon. I describe the experience as a whole as "like reading an episode of Netflix's Black Mirror."
Ark by Veronica Roth
"It's only two weeks before an asteroid turns home to dust. Though most of Earth has already been evacuated, it's Samantha's job to catalog plant samples for the survivors' unknowable journey beyond. Preparing to stay behind and watch the world end, she makes a final human connection."
This story was quietly heartbreaking and surprisingly full of hope. It was the first I read in this collection and may be my favorite. Once again, Veronica Roth's storytelling takes my breath away.
Summer Frost by Blake Crouch
"A video game developer becomes obsessed with a willful character in her new project, in a mind-bending exploration of what it means to be human…" "the minor non-player character in the world Riley is building makes her own impossible decision—veering wildly off course and exploring the boundaries of the map. When the curious Riley extracts her code for closer examination, an emotional relationship develops between them."
In true Blake Crouch fashion, this story makes you concerned for where technology is taking us, possibly not too far into our future.
Emergency Skin by N.K. Jemisin
"An explorer returns to gather information from a climate-ravaged Earth that his ancestors, and others among the planet's finest, fled centuries ago. The mission comes with a warning: a graveyard world awaits him. But so do those left behind—hopeless and unbeautiful wastes of humanity who should have died out eons ago."
This story truly surprised me, as it did its main character. What a twist!
You Have Arrived at Your Destination by Amor Towles
"When Sam's wife first tells him about Vitek, a twenty-first-century fertility lab, he sees it as the natural next step in trying to help their future child get a "leg up" in a competitive world. But the more Sam considers the lives that his child could lead, the more he begins to question his own relationships and the choices he has made in his life."
I'm just glad we're not at this point yet and the biggest decision we had to make concerning my assisted-fertility pregnancy was whether or not we wanted to choose the gender.
The Last Conversation by Paul Tremblay
"Imagine you've woken up in an unfamiliar room with no memory of who you are, how you got there, or where you were before. All you have is the disconnected voice of an attentive caretaker. Dr. Kuhn is there to help you—physically, emotionally, and psychologically."
I am not okay with Dr. Kuhn.
Randomize by Andy Weir
"In the near future, if Vegas games are ingeniously scam-proof, then the heists have to be too, in this imaginative and whip-smart story…" "An IT whiz at the Babylon Casino is enlisted to upgrade security for the game of keno and its random-number generator. The new quantum computer system is foolproof. But someone on the inside is no fool."
This story was a lot of fun. Weir always understands every possibility with the tech in his stories and I am glad that I can usually, sort of, keep up.
 – – – – –
I have a pretty big stack of books I bought throughout the year and haven't read yet, including some I bought after Christmas 2018. I have a lot of catching up to do and hope 2020 will bring me a bit more time to spend inside the pages. If you have anything you read in 2019 that you highly recommend, please let me know! I'm always keeping an eye out for new reads, even if I don't have time for them all.