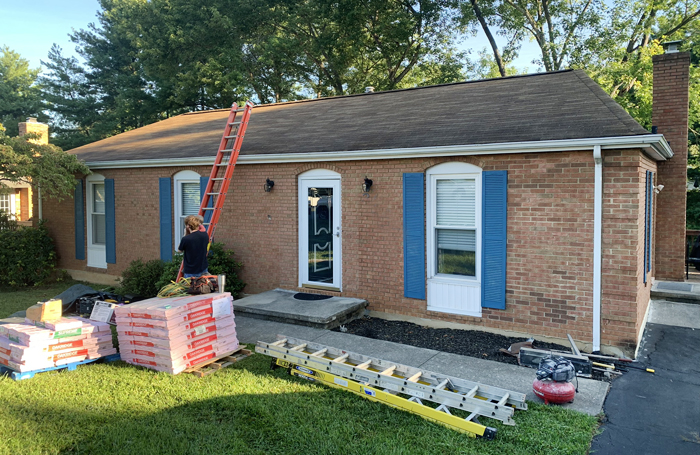 The front of our home is looking much better this week than it did the week before! It's amazing what a few days can do for the overall look of your house.
I mentioned last week that we had a pretty major hail storm about a month ago that did major damage to our cars and the roof of our house. While we knew the roof would need to be replaced eventually, it wasn't very high on our list of renovation priorities. After all, we still have front to back pink carpet and that mirror wall. Thanks to the hail storm the roof got moved to the top of the list, and thanks to homeowner's insurance we only had to pay 1/5 of the cost to replace it. Not a bad deal for us!
We went with Owens Corning architectural shingles in Estate Grey, which was a wonderful, modern update from the brown ones we had.
One of Daniel's childhood best friends, Brennan, is a contractor and we knew he'd do a fantastic job replacing the roof (and also not overcharge for the work…he quoted us at least $800 less than the other two companies who gave us estimates!) I was surprised when he was able to start so quickly and so happy for him and his team that we had relatively cool weather for a few days over this Labor Day Weekend. Dan even spent part of one day on the roof with him slinging shingles and getting a wicked sunburn.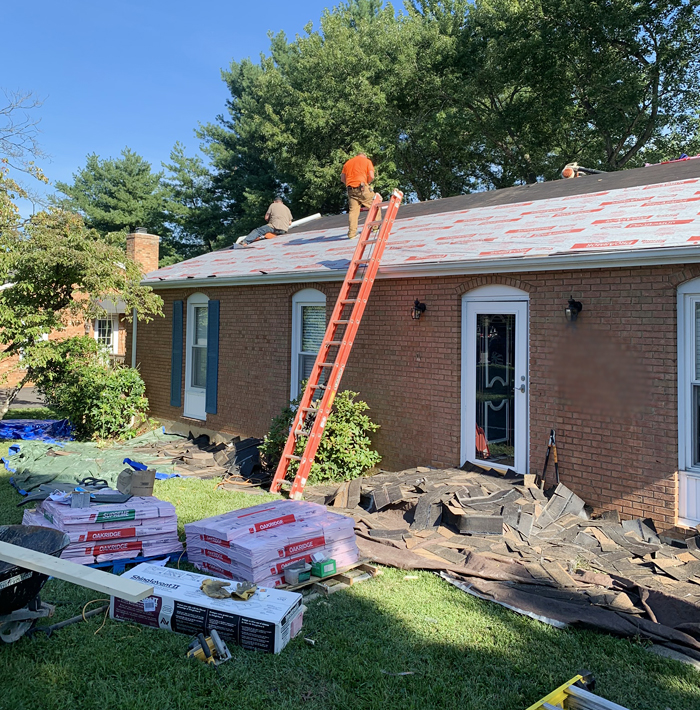 With the bright blue shutters and front door to match, I had already been nudging Dan that we should take them all down and paint them, even if a new roof wouldn't follow anytime soon. Once we knew the roof was happening, I couldn't get over to Lowe's to pick up paint for the shutters and door fast enough!
The shutters are acrylic (and not the best quality, but they're something to maybe update at another time,) so I picked up a few cans of Krylon COLORmaxx Paint + Primer in the color Matte Deep Grey for those. The guy at the paint desk was able to color match for us and we bought a quart of Valspar Door & Trim paint for the front and side door in the same grey. I think all together the paint cost us around $50. Not bad for such a great update!
When our friend Jarrod offered to help on Saturday we quickly took him up on it. We managed to spray paint all of the shutters and he and Dan painted a couple of layers on the front door. (Eventually I want to totally replace the front door…maybe something with a few panes of glass at the top.) Our side door is currently still blue, but it is wooden and has windows so we want to take our time with that one and make sure we do a nice job. I think it can last us quite a few more years so I don't want to rush that one. Maybe we can tackle it this coming weekend (if the hurricane doesn't bring us a ton of rain).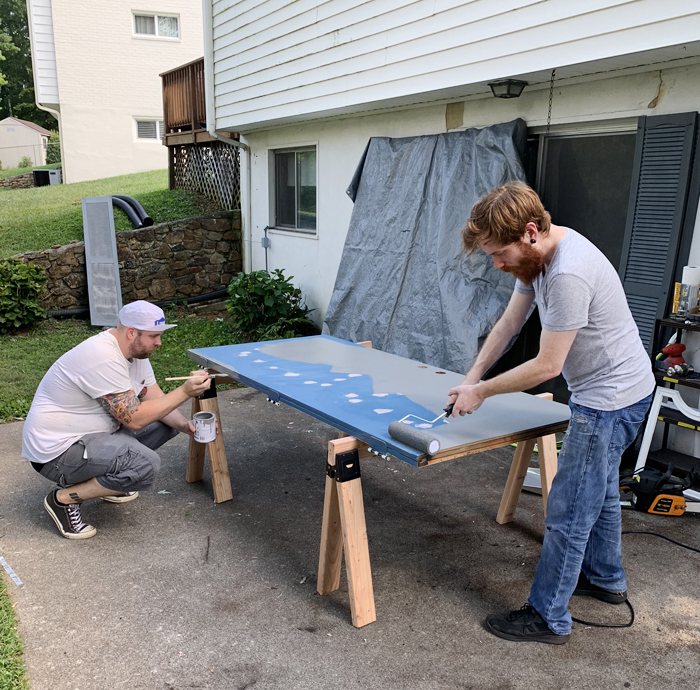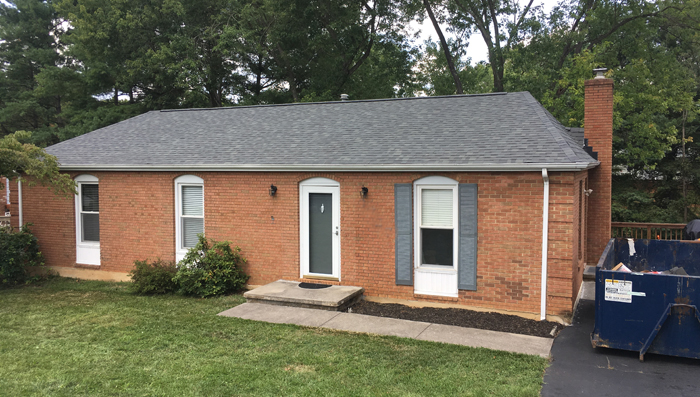 I'm completely thrilled with how much of a difference the new roof and new colors have made for the curb appeal of our home. We still have a few things to do to the outside, but it may be a while before we can get to those. One major update will be removing the concrete stoop and replacing it with a wooden stoop and portico; this is fairly high priority because the concrete stoop is the culprit behind the water issues and mold we in the basement upon moving in. I also need some help with landscaping. We want to lay brick edgers and raise up the bed on the left end of the house, but we need to deal with the water situation before all that. Also, some new lights fixtures are coming soon. We're also thinking a pop of color would be nice when we do replace the front door; I love the grey, but there is a lot of grey now. I can't wait to share an update to this update!