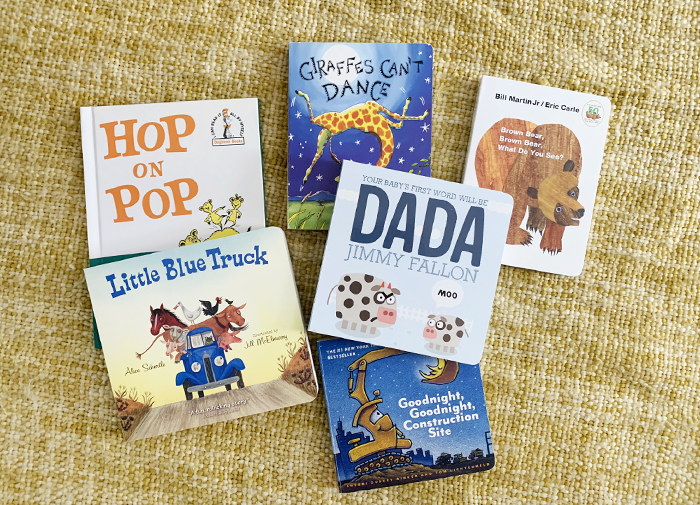 When I mentioned earlier this summer that I haven't been reading much since Desmond was born, what I really meant was that I haven't been reading many adult books. While they're not the titles I would necessarily choose to entertain myself, I have been reading plenty!
I'm so grateful that Des seems to love books just as much as his mama. We read several books before bedtime and many more throughout each day, especially before naps. He has even begun to choose which one to read first if I present him with two options…so cute! Sometimes he even lets me know that he is not done reading yet. Ten months old and he already has a serious opinion on how many books is enough books.
While I don't have many grown up books to round up and review for you, I couldn't resist sharing a list of what Des has really enjoyed lately.
* Post contains Amazon affiliate links *
– – – – –
Brown Bear, Brown Bear, What Do You See? by Bill Martin Jr. & Eric Carle
This was the first book I began reading to Des when I thought a book might hold his attention and it has remained one of his favorites. He points it out on his shelf and loves to pat the animals. I have started integrating the animals' sounds to hold his attention with this one a bit longer…I think he's starting to want something with a bit more story.
Even so, I think I'll be adding more of this duo's books to Des' shelf this autumn. Polar Bear, Polar Bear, What Do You Hear? and Panda Bear, Panda Bear, What Do You See? will add some fun new animals to the mix.
– – – – –
Your Baby's First Word Will be DADA by Jimmy Fallon
If you've flipped through this one, you'll know that pretty much the only word inside is "DADA." This doesn't make for a great story for a child under a year old (and it could maybe even be confusing to point to animals and say "dada," I think,) but I've made up for it by simply turning each page and making each animal's sound. He thinks this is hilarious.
Fallon also has a book called Everything is MAMA, which we also have, but that one hasn't seemed to capture Des' attention quite the same way yet. (How do you make a penguin noise?)
– – – – –
Goodnight, Goodnight Construction Site by Sherri Duskey Rinker
I know very little about heavy equipment personally (ha!), but this story is really cute and Des has always loved it. We started reading it to him pretty early (my mom even said it was "too much for him that young,") but it always held his interest regardless. I blame the great rhyming verses and beautiful, colorful illustrations. I can read this one with my eyes closed at this point.
There are also Mighty, Mighty Construction Site, Steam Train, Dream Train, and several other companion stories I need to check out.
– – – – –
Little Blue Truck by Alice Schertle and Jill McElmurry
This is one of the newest books I've bought for Des and he always chooses it to read first. It's a perfect mix of narrative, animal noises, and different characters' voices, which makes it exciting for Des. (He has clapped at the end, not even joking!) Dan loves that there is a little passive aggressiveness in part of the story, haha. A little sass, I'd say. I haven't determined my feelings on this yet; if Des were older and understood more I may feel differently about it, but for now we're going with it.
There are a whole bunch of Little Blue Truck stories that I need to look into.
– – – – –
Giraffes Can't Dance by Giles Andreae and Guy Parker-Rees
Who hasn't seen this one everywhere? It took a few read-throughs for Des to get into this one, but now he seems to really love this rhyming story. He especially loves the pages with the moon in the background and seems mesmerized by the illustrations. Sometimes I'm worried some of the pages are a bit much for him to take in, but I'm guessing this book will stick around with us for quite a while.
There are a whole bunch of Giles Andreae books that I need to look into, but none of them as popular and well known (to me) as this one.
– – – – –
Hop on Pop by Dr. Seuss
This one is pretty self-explanatory…who isn't familiar and totally in love with Dr. Seuss' books? We have a bunch of these to make our way through over time. I love that the stories rhyme most of the time, but not always, and that they're silly and never too serious. I love the illustrations and silly made-up creatures and words. Reading these stories aloud is fun and Des seems to love the sounds.
We are also reading ABC: An Amazing Alphabet Book! and Mr. Brown Can Moo! Can You?. I've tried Oh, the Places You'll Go but I think it's a big much for Des right now.
– – – – –
I've already purchased a few new books to give Des over the next couple of months, especially around his first birthday. What books do your kids (or kids you know) really love? I could spend all of my money on them!