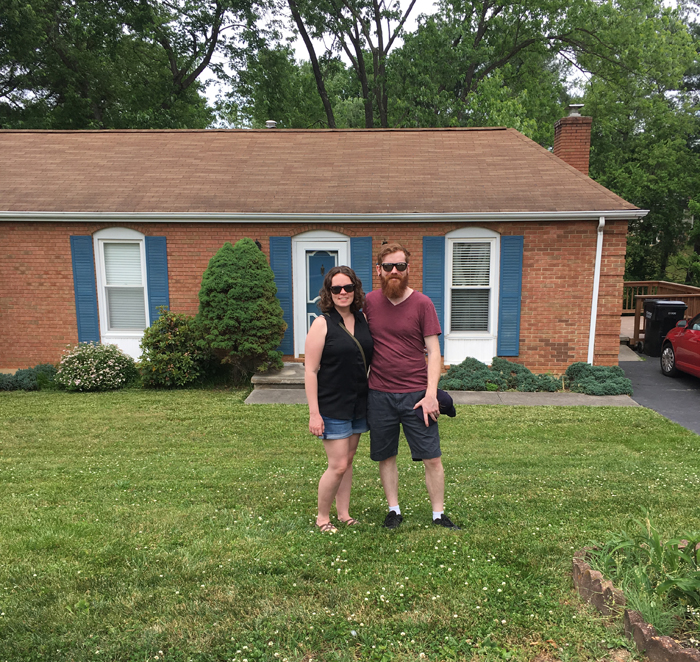 We moved into our new house in Roanoke exactly two weeks ago today, on Memorial Day, and we're finally feeling like we are living somewhat normally after weeks months of being surrounded by boxes.
Moving week and weekend felt totally insane. We were back and forth between Richmond, my hometown, and Roanoke (all two hours apart) several times as we came down for closing, passed Des and Rory around to caretakers, and made the actual move. I added it up and we drove 16 hours/685 miles over the course of a week, which I'm glad we'll never have to do again.
Thank the Lord for such good people in our lives who helped make it all possible. My mom, who went back and forth with us and took care of a sick Desmond on moving day. Jared and Rachel, who made the trip to Richmond to help us move out of the house there on a really hot, humid day. Jarrod and Tom, who were at the new house to help us unload before Dan even arrived with the U-Haul. Dan's parents, who helped us unload and made me take it easy when I inevitably strained a muscle in my back. My dad, for bringing additional things from their house on his truck and for tackling a few unruly bushes at the new house with his chainsaw before the first box was even unpacked.
We're here now and this house is ours. It's weird knowing that there's nobody to call when something goes wrong and that we're the only ones who can take care of the problems.
And lord are there problems.
We knew we were buying a fixer upper but we were fairly certain that most of the issues were cosmetic (it is so dated). The lady who lived here before us was in her 90s and moved to an assisted care facility, but it's clear she was unable to really take care of the place for quite a while before it became ours. General things—like deep cleaning and burnt out lightbulbs—we were totally prepared to handle…but our home inspector lead us to believe the specialized fixes were few. What he couldn't see was the mold and rotten wood behind the paneling in the basement, and he apparently missed a pretty important electrical issue on the breaker box. (Thank you Jared for helping Dan rip out most of the basement's wood paneling already.)
We've had an electrician over to fix a few of the previous owner's DIYs, then had to call the power company after our electricity inexplicably went off in half of the house and nobody else could figure out why. All of those issues seem to be fixed, for now, but we also have a foundation specialist on the calendar to look into the leaks, a plumber to check into some really old piping, and an exterminator to help us deal with a small infestation we've discovered. Oh, and the new washing machine I bought showed up completely crushed (inside a perfectly good box) so I finally carted all of our laundry (two weeks worth) to Dan's parents house and spent an entire day doing that.
It has been a stressful couple of weeks here between unpacking, dealing with these unexpected problems, and taking care of an eight-month-old. It's going to take time, but we're reminding ourselves daily that this house has good bones, everything is fixable, and it'll be fun to really make it ours. It has been so nice being back in this city and so near our dearest friends. I know it's all going to be totally worth the work. Many people have commented on how positive I've remained through all of this, but I just keep telling them, and myself, that we've got this.
I'll be taking lots of "before" photos soon and sharing them here along with a little tour. I'm excited to look back on this in a year and see how far we've come.