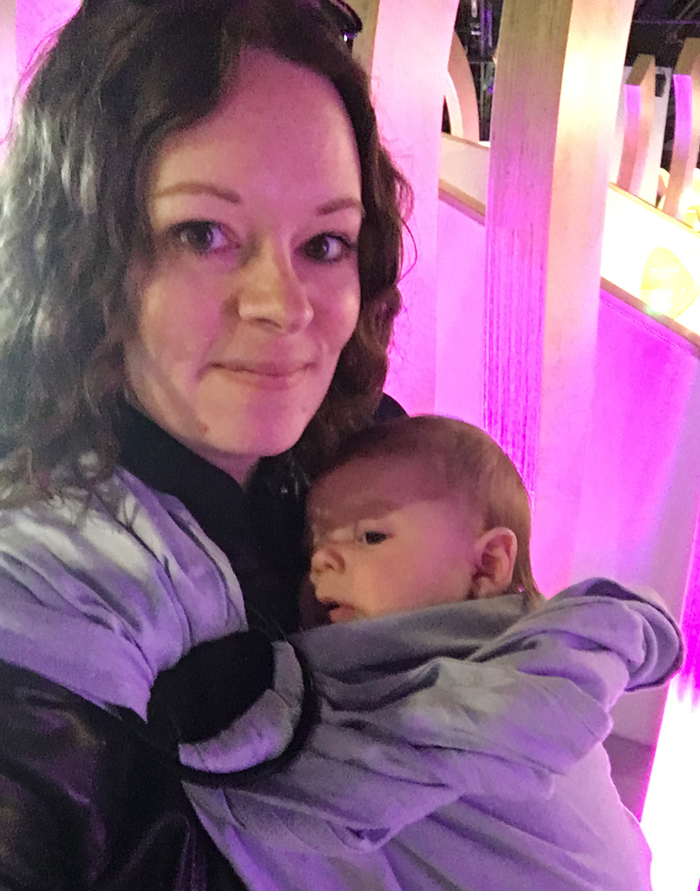 Desmond turned three months old yesterday, the 10th, which means we've officially crossed that invisible threshold ending the "fourth trimester." As if on cue, he started sleeping on a fairly predictable schedule a few days prior, giving us a 5-6 hour stretch before one middle-of-the-night wakeup to eat, then quickly going right back to sleep again until the morning. I'll take it!
There were days in the beginning when I couldn't imagine surviving until January. That sounds dramatic, but the first few days and weeks with a newborn are so jarring and exhausting that you truly do wonder if you'll be able to do it. First-time parenthood definitely gives you a new appreciation for those around you who are veteran parents, those who have multiples, and those who do this alone. My mind has frequently gone to those raising babies in developing countries or even just this country: mothers trying to do this without the privileges I'm accustomed to or the help I have at my disposal. Thank you Lord for the help in the form of friends and family. Thank you Lord for a husband who sees this as equally his responsibility and not that he's "helping" me or "babysitting" his own child. It takes a village, they say, and they ain't lying.
Having a new baby is hard. Being awakened every 2-3 hours (and then awake for one hour every time) in the night is hard. Being needed around the clock is hard. Motherhood is all-consuming in a way I don't think I ever stopped to imagine, nor that I could have. I used to really hate when people would say things like, "you can't truly understand until you're experiencing it," but it's the truth in this case. New moms obviously don't have a monopoly on exhaustion or busyness, but these feelings are valid.
I say all of this not to complain—not at all!—I simply want to be transparent about these realities.
Every day is getting easier. I'm feeling more confident in what I'm doing and how I'm doing it. I've learned Desi's cries and how to decipher or even predict his needs. He is such a content baby, so happy and always smiling. When he looks up at me and smiles—with those big dark eyes and long eyelashes—I melt into a puddle. My heart continues to grow bigger every day; I'm sure I'll run out of room in my chest soon and my ribcage will burst open. I love to see how excited he gets to see Daniel, and how excited Daniel is to get home from work to see him. Watching them love each other makes me love them both even more. We're a little triangle of exploding hearts.
Motherhood has been a lesson in letting go. I have to let go of the fact that my house isn't in perfect order, that the bathroom floor could use a good scrubbing and there's cat hair on that one spot on the back of the couch where Rory is always curled up. I have to let go of the fact that I've bought prepackaged sauces for meals instead of making them from scratch, because I'd rather know we have something tasty like that to eat every once in a while instead of the same old staples, no matter how much sodium might be lurking inside. I have to learn to be satisfied in the tasks I do accomplish each day, knowing that it won't always be like this. Thank goodness it won't always be like this, but oh how I'm sure my heart will break when it's no longer like this.
The past three months have been made up of milestones and survived by reaching each consecutive one. While struggling with breastfeeding in the first few weeks I used to beg and encourage myself, "Just make it to the six week mark." I was eager and determined to do just that, but I never imagined I'd still be nursing at week thirteen, much less that it would be going really well. I have no end goal for breastfeeding at this point, which is a reality I never saw in my future those first tough weeks.
Just last week Des discovered his hands. He's now starting to grab things on his own and investigate them. He can almost put his paci back in his mouth on his own, which I'll especially celebrate. He's getting so long that he's outgrowing clothes even though the next size up seems to swallow him whole. This means he's also close to outgrowing his bassinet; I think I'll have a harder time with him moving to his crib than he will. I may move into his room with him for a while. Not having him at arm's reach at night may break my heart.
We have a three-month-old baby. Sometimes we stop and actually say this out loud to one another. We have a baby. Where did this baby come from? Sometimes our years of treatments, my entire pregnancy, or even my labor and delivery experience seems surreal. Can you believe that really happened? Perhaps it's the lack of sleep, this Twilight Zone feeling we carry with us some days. We have to pinch ourselves that this is real, that we're currently living what we spent so many years hoping for.
He's absolutely worth it. Worth the wait, worth the work, worth it all.