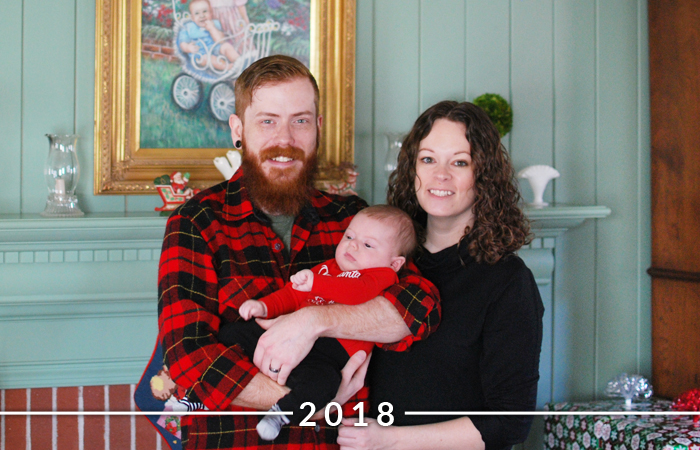 Last week I started looking back on posts I made at the end of 2017 and the very beginning of this year to see what kind of goals I'd shared, etc. This year has been the most different kind of year for me and I can't really recap it the way I usually would. Most of the year revolved around my pregnancy, the arrival of Desmond, and my experience of moving into motherhood, but I enjoyed looking back over my year and remembering all of the other things that happened throughout as well.
The Year in Numbers:
I read 19 books this year, falling short of my goal of 25. You can see what books I read this year on my Goodreads Reading Challenge page and read my reviews for them here.
I went to zero concerts this year, which is notable because it's the longest I've gone without going to a show since I started going to them in high school. Thirteen months with no live music: a sad new record. Thanks, pregnancy. (ha!)
2018's Most Notable Events
Most of my year revolved around pregnancy, as I mentioned above, but our story has been a bit different since Desmond was conceived via IVF. This meant we knew what was happening every step of the way. It was a nerve-wracking start to the year, for sure.
Shortly after announcing my pregnancy, I started sharing the back story of our struggle with infertility. I wrote posts on our experience with fertility treatments, the emotional aspects of this time, and the IVF process in detail. The post on IVF is probably the best post on what we went through to get Des here, but I hope they were all informative and even helpful to others who may be struggling with infertility.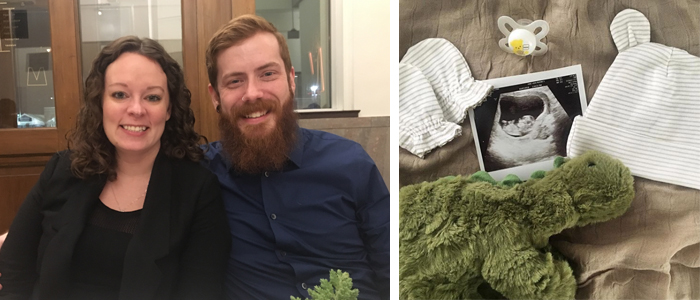 I was pretty sick through the first sixteen weeks of my pregnancy, but after that I started getting out and living again. I had a reunion with three of my best friends from high school one night in April. My cousin Amy spent part of her Spring Break here in Richmond with us. Our friend Jarrod visited one weekend and we went out for Richmond Restaurant Week. My childhood best friend Meredith got married and we celebrated with a big wedding brunch. Our Memorial Day Weekend plans were cancelled last minute, but we made the most of it.


Summer came and I started feeling relief from the all day "morning" sickness I'd had all spring. We spent a weekend in Roanoke for my friend Georgia's baby shower and got to see some of our friends. Dan and I celebrated 11 years together. A couple of weeks later Daniel flew to Michigan to spend time with our friend Caleb and I headed to my parents' for several days, which was a rare treat. I also spent a lot more time with my friend Katherine, who has taught me so much about motherhood.
Later in the summer we had three(!!!) baby showers: one thrown by our best friends in Roanoke, one thrown by Dan's mom and sister, and then one in my hometown. We also had maternity photos taken by my friend Lindsey.

We finished our summer with a trip to Carolina Beach, North Carolina with John and Nicole. After that I was feeling too heavy and uncomfortable to do much of anything. Rory turned two and we made her wear a little hat again. Later in August my cousin Sarah moved to Richmond to go to VCU, which has made it easy to hang out a lot more these past few months.
September was my "last" month of pregnancy and we spent our time getting the nursery ready, washing all of baby's clothes, and trying to buy a second vehicle to drive baby around in. (That was a situation, eesh.)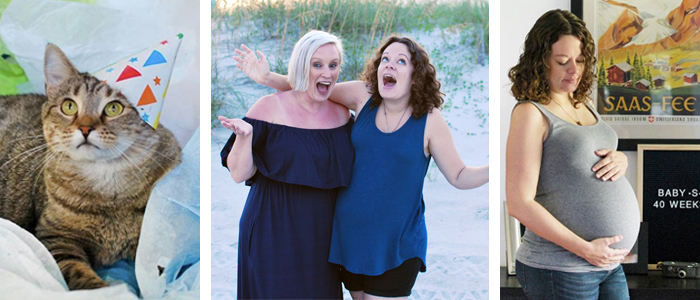 Ten days after my due date, Desmond was born! Parenthood hit us like a tornado and we spent the next month learning how to be a family of three. We had a very different kind of Cabin Party Weekend and then had our first Thanksgiving together, just the three of us. We also had some family portraits taken toward the end of the November.
Everything has been a new adventure since Des has been here. We spent the last few days of the year visiting my family and then Dan's for Christmas and New Year's. Des met all sorts of new people who will play such important roles in his life and we really enjoyed a few relaxing days with friends and family.


I'm so excited for 2019! I am looking forward to watching Desmond grow up over this next year and excited to see all of his little milestones play out. He has already changed so much in such little time; it will be so fun to see his personality develop!
Now that he's here and I'm settling into motherhood, I'm feeling the itch to start figuring out myself a little better in this new normal. I feel like I may finally have the creative energy to take on some of the projects I've repeatedly started and stopped over the past three years. I've had a few things rolling around in my mind lately, like redesigning my personal website, getting some designs on paper, and spending some time exploring writing courses. Baby steps, but they're big for me at this point. (It's been a while since my main goal in life wasn't "baby.")
2019 should also be the year that we finally make the move from Richmond back to Roanoke. We have been saying this since we moved here three years ago, but we continued to stay to be near my doctor. Our eyes are on the spring and we may be trying to buy a house, so that should be an adventure. Who knows what else the year might hold?
I hope your 2018 has treated you well, and if not, I hope 2019 is better. I love that we can all cross this invisible threshold together and start fresh, leaving the things we want to behind and setting new goals for ourselves. Thanks to all of my blog friends for following along and also for sharing your lives with me in return. (If you wrote a year in review post, please share your link below so I can check it out!) Happy new year to all of you!