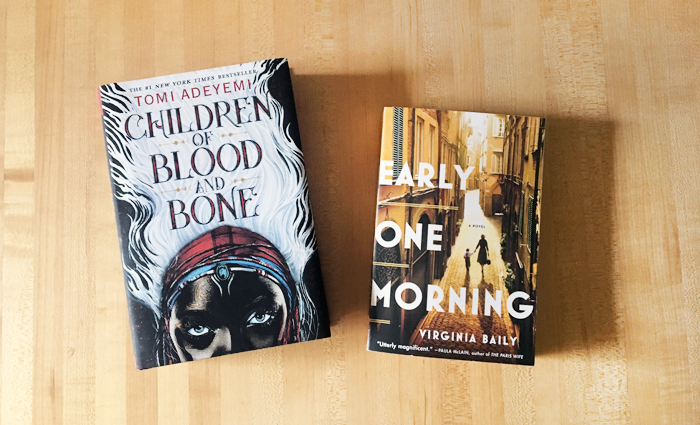 I finished two very different books in September, one a YA chart topper and one I found quite randomly. This brings my total number of books read this year to 19 of my goal of 25, so only six more books to go! We'll see how much reading I can get done once baby has arrived.
* Post contains Amazon affiliate links *
– – – – –
Children of Blood and Bone by Tomi Adeyemi
I don't think anyone who reads and enjoys YA fiction could claim to not have heard of this one. Adeyemi made headlines when she sold this (at the time, unfinished) book, two sequels, and the movie rights for millions, which was supposedly one of the largest deals in publishing history for a debut author. Of course I had it on my TBR list immediately! I'm so glad I finally got around to ordering and reading it.
Here's the blurb, from Goodreads:
Zélie Adebola remembers when the soil of Orïsha hummed with magic. Burners ignited flames, Tiders beckoned waves, and Zélie's Reaper mother summoned forth souls.

But everything changed the night magic disappeared. Under the orders of a ruthless king, maji were killed, leaving Zélie without a mother and her people without hope.

Now Zélie has one chance to bring back magic and strike against the monarchy. With the help of a rogue princess, Zélie must outwit and outrun the crown prince, who is hell-bent on eradicating magic for good.

Danger lurks in Orïsha, where snow leoponaires prowl and vengeful spirits wait in the waters. Yet the greatest danger may be Zélie herself as she struggles to control her powers and her growing feelings for an enemy.
I fell in love with Zélie and the other main characters of this story almost immediately. It was interesting to get to know them all as people from such different backgrounds, privileges, and perspectives, especially as the story progresses and they begin to understand each other and themselves so much better. You could feel their passion for their people, their history, and their futures as they take on a mission they never dreamed they'd hold the responsibility for.
I loved the fantasy aspect of this story and how west African mythology was woven throughout. I have much to learn about these legends from places around the world I'm less familiar with, so I'm grateful for stories like this from diverse authors like Adeyemi, who is Nigerian-American, who can bring them to life for new generations and audiences worldwide.
If you love exciting fantasy, magic, and incredible world building, this book is for you! I can't wait for the sequels.
– – – – –
Early One Morning by Virginia Baily
You know I can't walk into a Barnes & Noble without perusing the tables of $5 and up deals, which is how I came across this book. The blurb caught my attention, but the endorsement on the cover by Paula McLain (author of The Paris Wife) is what sealed the deal for me.
Here's the blurb, from Goodreads:
Chiara Ravello is about to flee occupied Rome when she locks eyes with a woman being herded on to a truck with her family.

Claiming the woman's son, Daniele, as her own nephew, Chiara demands his return; only as the trucks depart does she realize what she has done. She is twenty-seven, with a sister who needs her constant care, a hazardous journey ahead, and now a child in her charge.

Several decades later, Chiara lives alone in Rome, a self-contained woman working as a translator. Always in the background is the shadow of Daniele, whose absence and the havoc he wrought on Chiara's world haunt her. Then she receives a phone call from a teenager claiming to be his daughter, and Chiara knows it is time to face up to the past.
While the beginning of this story dove right into the action I was expecting, it took a different path than I anticipated, which made the story lull for me momentarily. As soon as I got over the change in expectations, I started truly appreciating the carefully crafted descriptions and wonderful writing that was worthy of McLain's praise.
Though I've read many WWII stories before, I believe this was the first one I've read that was set in Italy. Chiara's experience of watching cattle cars full of what she quickly realizes are people screaming for help was chilling. Her difficult emotions surrounding her impulsive choice to take on this young child at such a time is refreshingly honest and human. Like a person you are just getting to know in real life, we get to know Chiara's story slowly and only as she's comfortable revealing it, or sometimes only through the viewpoints of others who already know her truths.
I believe this would be a great read for anyone interested in WWII-era stories, but one with a very different story to tell than usual.
– – – – –
Any recommendations as I finish out this year of reading? I have several parenting books stacked up at the moment, but I don't think I'd enjoy them as much as some good fiction. There are a ton of great new books coming out this season…if only I had unlimited money to spend on them!