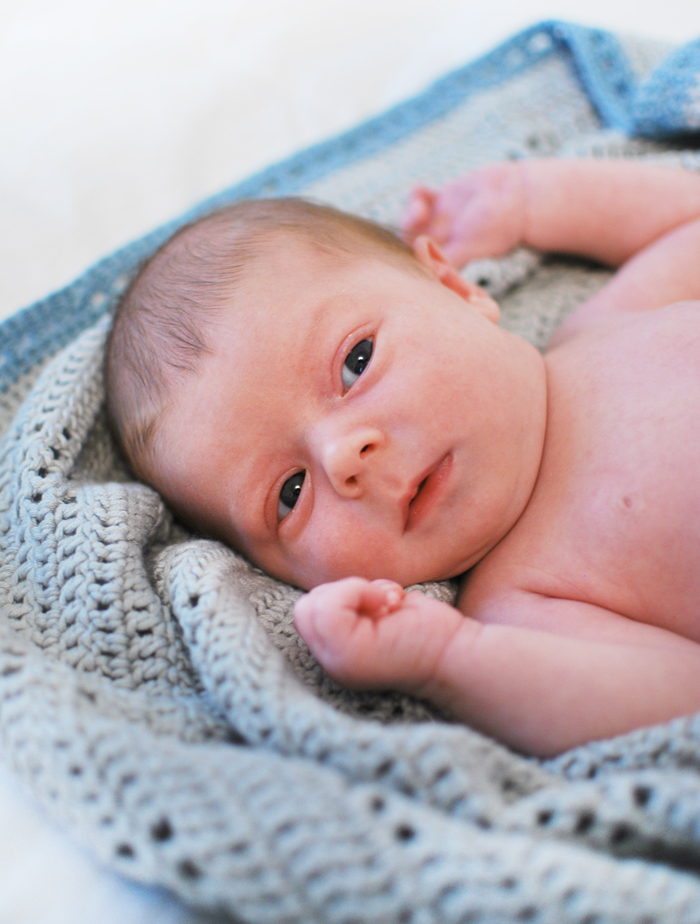 Here he is, guys! I finally had that baby I was starting to think would never come.
His name is Desmond Martin S(our last name) and he was born on 10/10 (ten days late) at 4:32 in the afternoon via cesarean after the longest two days of my life.
Dan and I chose his first name over eight years ago and only wavered on it for about five minutes over the summer…it was meant to be after knowing we wanted to use it for so long. This may sound silly, but we were so obsessed with the TV show Lost back then and got into watching the final season alongside our friends, even dressing up and having a Lost-themed party for the finale. We decided we liked the name Desmond while watching the show, based on the character Desmond Hume. We joked then (before we were even married) that when we had a son we'd name him Desmond, but it's not that much of a joke now, is it? I'm sure some friends can't believe we actually did it. We are those people.
As for the middle name, he shares that with his daddy, grandfather, great-grandfather, and even his great-great grandfather, whose first name was Martin.
My birth experience wasn't ideal…I'd even go as far as to say it was slightly traumatizing. As someone who had to use so many medical and scientific interventions to even get pregnant, I should have known that my body wasn't going to cooperate on this end of pregnancy either. (I may write more about this later.) It was a rough 32 hours, followed by a really tough first week as parents.
Having a newborn is hard, hard work, but I'm happy to report that at three weeks out we are all doing really well, both physically and mentally. Des is the sweetest little guy and we feel like we've figured out what we're doing for the most part. I could go for some more sleep, but couldn't we all? I am also so incredibly grateful for Daniel's job; he had over a week off for paternity leave, then used some vacation time, and now he's able to work from home whenever he needs or wants to. Having him home more often has been such a relief, as I'm able to do things like nap, clean, or take showers while Des sleeps in his rock-n-play by Dan's desk.
I will share another life update soon…it has been difficult to find the time to sit down with my computer (or to even want to when I have time) but October has been a busy month, clearly!