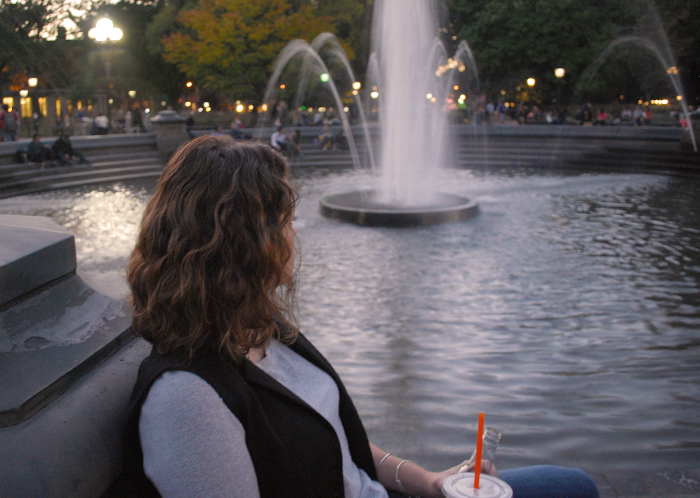 The chill in the air reminds me of the time when I didn't have any sweaters.
We had just moved from Southern California to New York City, and despite a seven week layover with family in Virginia, I had neglected to dig out the boxes of cool weather clothing I knew we'd shoved into the back of closets and under beds several years prior. With a sudden offer to start my new job the following Monday, we had booked Friday morning train tickets on a Wednesday night and scrambled to organize three suitcases and secure a temporary room in a five-story walkup.
We'll find somewhere permanent that first week, I decided. We'd be back within two to gather more belongings and take them up. Neither of those things ever happened. It was the first week of October and I didn't have any sweaters.
The chill in the air reminds me of how quickly the weather turned and how the rain would drip down my leather jacket and slosh up onto my ankles as I'd speedwalk to work. I found joy in the tiniest things, like splurging on a hot Starbucks latte and Lenny's To Go on Friday mornings and that someone singing on the street below could be heard so clearly, their voice echoing back and forth between buildings to reach my desk on the tenth floor. I spent half of my first paycheck on warmer clothes for us both, our lives so clearly the opposite of what they'd been just months before.
✳︎
Three years later, and none of those sweaters would fit me right now. My belly protrudes and I'm simply waiting for the other side of this journey, the unpredictability nearly unbearable. The chill and the dampness remind me of the autumns of my childhood, the opposite of all of the other lives I've lived elsewhere.
I am sitting in the exact moment that I only could have dreamed of from that temporary apartment. To think, that as my damp Doc Martins crossed the threshold of the A train doors, I wasn't exactly where I'd wanted to be after all.