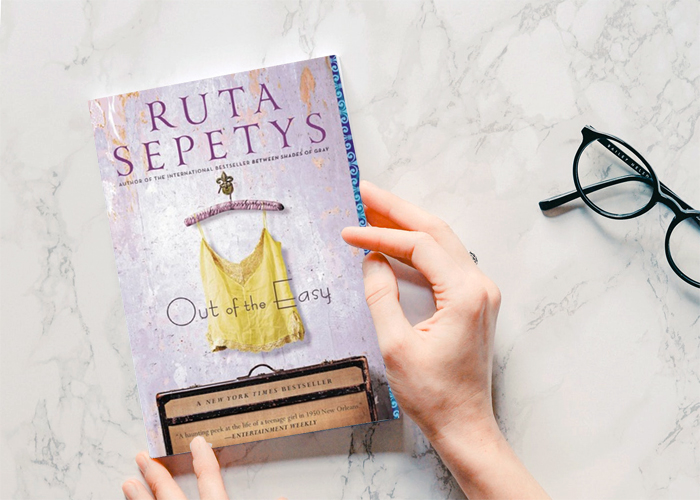 I completely forgot to post this at the end of August, so you're getting it now! (Pregnancy brain?!) I expected to read more books last month than just this one, but it somehow didn't happen. The addition of this one book brings me to a total of 17 this year out of my goal of 25. I have a lot of reading to do over the next four months!
* Post contains Amazon affiliate links *
– – – – –
Out of the Easy by Ruta Sepetys
From now on, I should just have anything that Ruta Sepetys writes on automatic preorder. Is that a thing? Amazon, get with it.
For some unknown reason, Out of the Easy was the only book by Sepetys that I had not read until now, which is kind of ridiculous because her other two books, Between Shades of Grey (review) and Salt to the Sea (review) are two of my favorite books of the past five years (if not ever.) Perhaps it was because the premise is so different than her other stories, or simply because I hadn't given it enough consideration. Either way, I'm glad this was the book I chose to read on vacation this summer.
Unlike Sepetys' other books, which were both based in Europe during WWII, this story is based in 1950's New Orleans and centered around the life of the daughter of a prostitute. Recently out of high school, main character Josie is simply working and trying to get through life, determined she isn't worthy of much more. When a wealthy man from out of town turns up dead in the French Quarter shortly after Josie had connected with him at the bookstore where she works, she immediately knows that there is more to the story than the press is telling. Between the brothel where her mother works, the madam there who treats her more like a daughter than her own mom, and the other characters of the Quarter who are much like family, Josie's own story and the mystery of this dead man begin to weave together with undeniable connection.
Much like Sepetys' other books, the research that went into making this story accurate to New Orleans at that time is evident; you can always tell how much the author has put into the details of her stories and that is something I truly appreciate. You also feel immediate connection and closeness to her characters; I want their stories to go on and on! I both couldn't read this book fast enough and then mourned that I had no more to read when it was over.
– – – – –
What are you reading this September?
I'm currently just starting in on "Children of Blood and Bone" by Tomi Adeyemi. Have you read it?