Hello (mid-)September! I have been anxiously waiting for you all year. For one, you bring on that exciting fall feeling I keep talking about. Everyone is unashamedly pulling out their fall decor, clothes, and flavors despite the fact that some days are still 90˚…but some mornings and evenings are starting to land in the 60s and that's one of the best things about this transitional time of year. More of that, please.
Besides ushering in my favorite time of year, September this year brings us our biggest prize yet…Baby S! Or at least I hope so; with him due on September 30th, we could have an October baby on our hands, but let's not go there yet.
As of today, I'm 37 weeks and 3 days pregnant, which means this guy is fully baked, or "full term." Now it's just up to him to decide when he's ready to make his entrance, although I'd be pretty happy for him to stay put a little longer. Everyone keeps asking me if I'm "over it" at this point and want him to just "get here already," and while I'm excited for him to come, I'm also facing some pretty huge life-altering things for that to happen, ya know? While I'm increasingly physically uncomfortable in some ways, I'm also aware that these are our last few days with life this way: our quiet evenings together on the couch; our easy weekend mornings; the ability to simply throw on some shoes and leave the house whenever, without much fuss or preparation. While I have no doubt that we'll take on all of the changes Baby S brings to our lives with love, I'm soaking up every last moment that I can and recognizing them for what they are right now.
I also have this scary thing called "childbirth" to go through and that is becoming increasingly intimidating as the days count down.
PS, one of the scariest things for this overly-obsessive planner is not knowing when things are going to go down. I don't like the idea that I have no control over the timing of this situation.
The best thing I can do to mitigate that panic is to be as prepared with everything else as I can be, which I think I am at this point. My mom came for four days last week to help me do a few last minute things. We went shopping and bought some last minute things on my list (a sports bra in case I want to use the birthing tub, some extra giant underwear that come up real high in case of a c-section scar, etc,) as well as the biggest grocery store haul I've probably ever brought home. We then spent two days cooking and preparing freezer meals that should last us around 20 meals after baby comes. My freezer is now full and I feel relieved to know we aren't going to starve due to exhaustion or the lack of decision making skills once we're back at home.
Having my mom here for those few days was really nice and I know I'll look back on that time fondly. I am so grateful she is close by and able to come help me do these things. Not only did we shop and cook, but we spent lots of time talking and laughing, making new memories and inside jokes. We also ended up in Old Navy at one point and now Baby S has quite a few more clothes than he already had, all of which we washed and sorted by size before putting them away in his dresser.
Dan and I have also each packed our hospital bags and made a list of things to grab or do on the way out the door (his phone charger, my pillow, make sure Rory's feeder is full, etc). We are as prepared as we can be!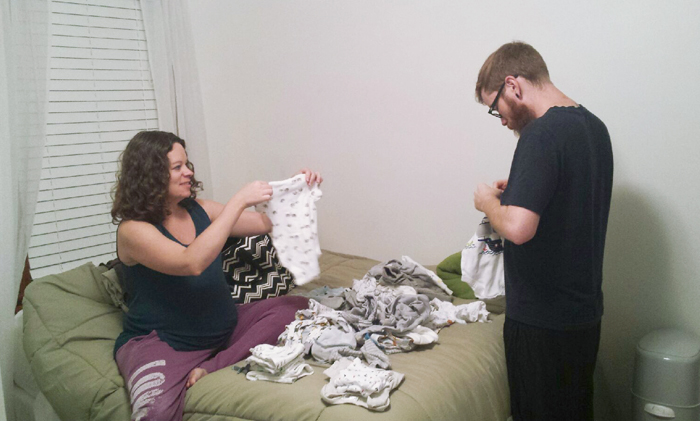 One last thing we've had on our to-do list for months now was to buy a second vehicle, preferably a small SUV. Dan joked to my mom that he was sure he could find a baby seat attachment for his motorcycle and I'm sure you can imagine the face she made at that idea. While the goal was to sell the bike and use that money as a down payment on a car, we haven't quite gotten around to the "sell the bike" part and are sort of running out of time, so we'll just be doing that process backwards. We test drove a few different vehicles over the past couple of weeks and finally settled on a 2015 Hyundai Tucson that we found at CarMax.
Working with CarMax was a better experience than I expected and we love the car, but there's a thump thump thump sound coming from the back of it when we drive that we thought they'd sorted out with maintenance before we left with it. They had believed it to be a tire balancing issue, so they not only rebalanced the tires but also put on new brake pads and rotors. (How nice!) Unfortunately we have to take it back to see what the issue is, which definitely casts a little shadow over how excited we had been to finally have a second car. Now, if they can just get it sorted before I spontaneously go into labor…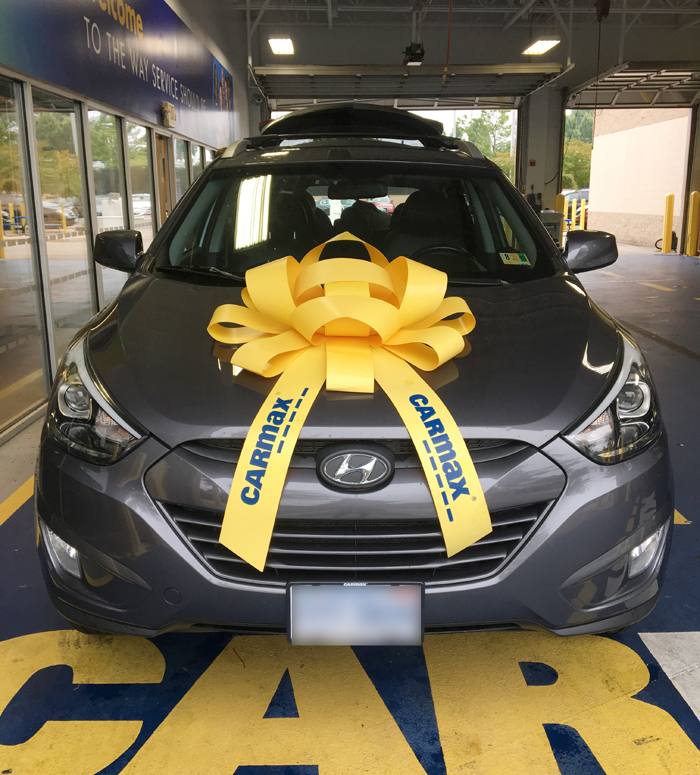 And can we talk about this hurricane for a moment? While Richmond shouldn't be directly impacted the way the coast may be, we will most likely lose trees, see some flooding downtown by the James River, and definitely lose power in our neighborhood. As I told a friend the other day, we lose power at this house every time a squirrel farts (which is the most country thing I've said in quite a while) so we're preparing for up to a week without it if things get really bad. Of course we'd lose power for multiple days right after I've stocked my freezer full of food, which is my biggest concern here honestly. While others are evacuating and boarding up their homes, I'm over here wondering if I should pack my cooler and drive all of these ziplocks of food to my parents' house where they have a generator. #priorities
Really though, I am concerned about the impact this storm may bring our region. I am worried about people who are deciding to "wait and see" instead of packing their pets and valuables and hitting the road right now. I'm worried about inland areas that have seen catastrophic flooding from stalled hurricanes before, like Harvey in Houston last year or even Roanoke in 1985. Freezer meals should be the least of anyone's worries; as long as we have food and water (which I stocked up on yesterday) I think we'll be okay to ride this thing out.
Now, if Baby S could just stay put until all of this Florence mess is over…