You guys…little dude is going to be here any minute! I have been saying for months that he was going to come with the full moon (which is tomorrow, the 25th,) so we'll see how close I called it. His due date is this coming Sunday, the 30th. Anyone want to place any bets?
(This may or may not be a scheduled post… is it possible he came over the weekend? Instagram would be the best place to stay up to date on that.)
I shared a little nursery tour here last week, but this week I wanted to share a few things that we've either purchased or had gifted to us by way of our registry to prepare for this guy. (I admit the title is a bit misleading in that regard.)
As I've mentioned before, we don't have a ton of space, but we're also minimalists in that we don't like to buy lots of "stuff." I was determined not to end up with every single thing that you're told you "must have" for baby, considering that we'll add more things if needed, but can probably make do with less. Of course, this list isn't representative of everything we have for him…just a few things that stand out to me that I'm excited about.
Disclosure: This post contains Amazon affiliate links. You can read my full disclosure policy here.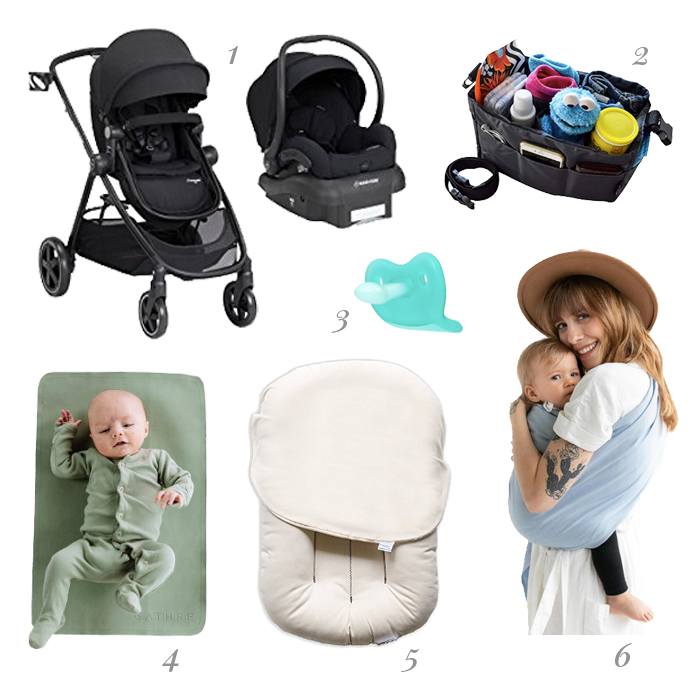 Maxi-Cosi Zelia Travel System | After doing a lot of research on strollers and car seats, I settled on Maxi-Cosi for how lightweight and multi-functional the whole system is. The Mico 30 carseat comes with newborn inserts and will last baby up until he's 35 pounds. The stroller is said to be one of the lightest on the market, which is important to me with the nerve damage I have in my shoulder. The carseat clicks into the stroller easily and will make transferring baby from the car to the stroller a breeze. Also included is the detachable bassinet, which will lay flat when baby is very little or sit up more like a traditional stroller seat (like shown above) when baby has outgrown the car seat.
Diaper Bag Insert | I decided earlier this summer that I would be using my newest 28L CabinZero backpack as our diaper bag. (You can read my review here!) While I love these bags, they are extremely simple and not full of pockets like some backpacks. Enter: this diaper bag insert from Amazon. It fits perfectly inside the 28L backpack and gives us so many pockets (12 actually) to organize bottles, diapers, creams, and other necessities in while we're out and about. My friend Georgia gifted this to us at one of our showers and I can't wait to see how to best organize it when we're actually using it.
Smilo Newborn Pacifiers | I had no idea what a big deal it is to find the right kind of pacifier for your baby, and I'm still torn on which ones are "the best." (I mean, they all are, according to each brand, ya know?) After reading up on Smilo's designs I knew I wanted to start our little guy off on their newborn paci and then go from there. According to their site, "The shape, fit, and response of a pacifier in your baby's mouth influence how their palate develops and, ultimately, how their teeth will come in." That's not a small thing to mess around with. Smilo's pacis have a patented design and are BPA-free, among other things. You can find them on their website as well as on Amazon.
Gathre Micro Mat | I had been on the hunt for an on-the-go changing pad solution for a while when I kept coming across Gathre mats on other blogs and bloggers' Instagram posts. Those influencers…they got me, y'all. I kept these mats in mind while I perused the aisles at Target and looked elsewhere online, but ultimately decided to go with one of these micro-sized mats because of how simple they are and how small they'll fold up in my diaper bag. (Some of the ones I saw at Target were so bulky when folded.) I know this doesn't include any padding or any bells and whistles, but it's enough to unfold and lay baby on when using one of those public bathroom changing tables, or even the couch or back seat of the car.
Snuggle Me Sleeper | With so many sleepers out there these days, I settled on this one mostly because of the price (quite a bit cheaper than Dock-a-tot!) and because it's made with organic materials. Everyone who has something like this seems to swear by it, so I hope we will get as much use out of it as others claim. This was generously gifted to us by one of Dan's relatives.
Wildbird Ring Sling | I have been eyeing these all summer and knew that I had to have one before baby S arrives. I was lucky to snatch up one of these solid linen single-layer slings in Nightingale (light blue) when they restocked some of their colors last week, but I still have my eye on a couple more colors as well, like the gorgeous Kea (deep green) or Chickadee (medium grey,) both of which should be back in stock later this season. We are both so excited to carry baby this way!
– – – – –
Is there anything here that you've used for your baby?
Is there anything else you highly recommend we look into for Baby S? I am all ears!