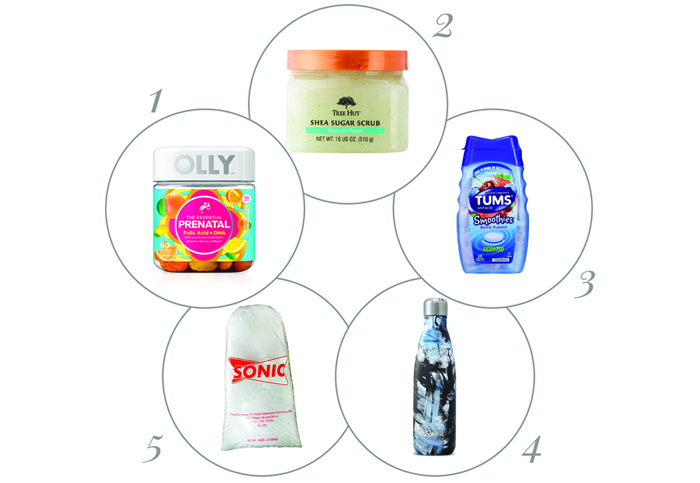 I've been wanting to share a few lists of pregnancy-related things but have (until now) been unsure of how to do so. Until he makes his grand entrance sometime in the next few weeks I've decided to do a series of posts featuring things that are pregnancy, baby, or postpartum related. Enjoy!
Disclosure: This post includes Amazon Affiliate links. You can read my full disclosure policy here.
1 | Olly Essential Prenatal Gummies
I tried three different prenatal vitamins before I tried these and I'm so grateful I kept looking for the perfect kind! During the first trimester, while I was so sick, I had a really difficult time with some prenatals that only made me feel even more sick. Whoever decided pregnant women should try to swallow giant, stinky horse pills was out of their mind, especially when you're barely able to get or keep anything on your stomach during those first few months. I was thrilled when I tried this brand and not only did they not upset my stomach (even when empty!) but they taste amazing too.
2 | Tree Hut Shea Sugar Scrub
I have only been using this sugar scrub for a little over a week, but I'm obsessed. A makeup rep at Ulta actually recommended this scrub to my mom when we were out shopping last week and the hardest part was choosing which of the many fragrances to go with. As much as I've been rubbing my belly on a daily basis, I'm always noticing flaky dry skin and slathering on a ton of cocoa butter to deal. Using this in the shower on my belly and legs (as far as I can reach, haha,) has made me feel refreshed and better about myself during this time of such discomfort. $7.99 at Ulta, but prices vary on Amazon.
3 | Tums Smoothies Berry Fusion
The acid reflux is real, guys. I have never liked taking Tums before this pregnancy, but I depend on the Smoothies variety multiple times a day recently, especially in the evenings and when I lay down at night. It helps that the Smoothies aren't as chalky as the traditional kind and the Berry Fusion flavor actually tastes like candy. As soon as I ran out of my first regular size bottle I bought a giant bottle, using it to consistently refill the travel-sized bottle I have in my purse and the other bottles I have stashed around the house for convenience. I should probably buy stock in Tums at this point.
4 | S'well Stainless Steel Water Bottle
I've always been one to carry a bottle of water with me everywhere, but none more than since I've been pregnant. I'm constantly thirsty and the idea of ending up somewhere without access to water is worrisome. I need water when I'm grocery shopping, when I'm driving, and when I'm sitting in the waiting room at my OBGYN…I can't not have it on me. I bought my S'well bottle well over two years ago, before our trip to Europe, and I still swear by it. It keeps cold water cold all day, even after sitting in a hot car for hours. If you're a water fiend like me, get yourself a S'well bottle ASAP.
5 | "That Good Ice" from Sonic
Ya'll know what I'm talking about! I've been craving this ice (and crunching it up nonstop like the pregnancy stereotype) and having it just steps away in my freezer has been a lifesaver. For those of you who didn't know, Sonic sells their "nugget ice" in both 5lb and 10lb bags in their drive thru…you're welcome! Even thought most signs of pica have passed at this point, I've found a new habit in crunching on ice throughout the day, and it doesn't get better than Sonic ice.
Has or was there anything that you swore by during your pregnancy?