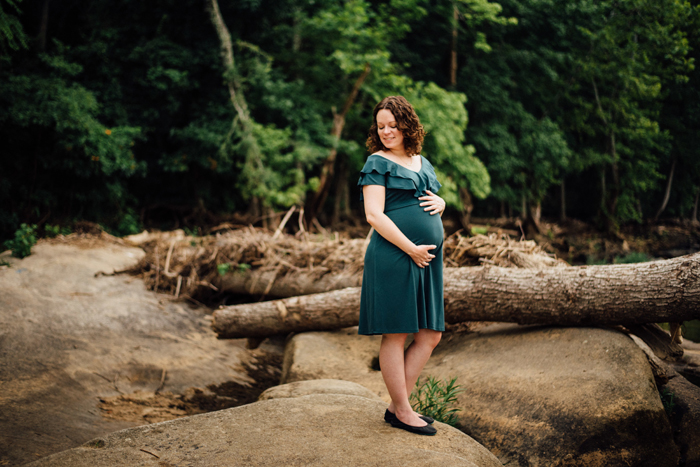 You can read the first posts of this series here:
Part 1: Infertility, Part 2: On Motherhood, Part 3: Fertility Treatments
Trigger Warning: infertility, pregnancy, ultrasound photos
It has been a while since I wrote my last post concerning infertility. For one, I've been pretty busy this summer, but I think the real reason is that it's hard to write about the difficulties we faced during our infertility journey while I am so swept up in the excitement of my pregnancy. (Spoiler alert?) I can't say that I've forgotten how painful and heartbreaking things were during that time of our life, but it's hard to sit and dwell in that darkness and put that pain into words when I'm currently radiating joy.
It has been almost exactly a year since we decided to go down the path of IVF (in vitro fertilization.) While I had been against it when we first started this journey, I was much more willing to consider it after all we'd been through, but I still had my hesitations. For one, it's a much bigger deal than IUI both physically and financially. We would be committing to a much more complicated multi-month, multi-step string of medications and procedures, and there was still the possibility that it wouldn't work. But like I've said before, it's surprising what you're willing to do when there seems to only be one more step between you and what you want the most.
PS, this is the longest post I've ever shared here. You've been warned.
Shame & Privilege
There can be a lot of judgement and shame that surrounds IVF in general. While nobody's opinion truly mattered in what Daniel and I decided to do, I'd heard enough and read enough online to know what kind of comments could be thrown our way by people who found out. (As if I hadn't been hard enough on myself over the past several years, wondering why my body couldn't simply do what it was supposed to.) There are those who believe we (in general) simply "shouldn't play God this way." There is also the argument that the financial cost of IVF is the epitome of selfishness: "You'd spend all of that money just to have a biological child when there are so many children in orphanages and foster care? How dare you?" I had to prepare myself to accept that I would have acquaintances and even close friends who held these views and that our choice could change their perception of me…or even worse, that it would somehow confirm their ideas about me.
IVF comes with a certain amount of privilege. I admit that and acknowledge that I myself come from a privileged background. Daniel works hard and we live a comfortable life. I talked about finances briefly in my last post and won't dive into all of that again, but it took many more conversations and deliberations before we came to the conclusion that IVF was something we could (and were willing to) approach financially through various avenues.
These were all things I had to deal with emotionally before I was ready to say yes. I remembered my friend who fostered a set of siblings and how much she loved them as her own, but also remembered her ideas about IVF when "there were so many other kids" like hers. It was her opinion of me I feared the most, especially considering how much I love her. I remembered a girl who sweetly reached out to me after my ectopic pregnancy and shared about how she'd had multiple and lost both tubes over time; IVF would be her only option to have biological children and she and her husband knew they simply couldn't afford it. I felt a strange guilt that this was an option for us, while it wasn't for others for various reasons.
How dare I choose this path? And if we chose this path and it didn't work, would we be wasting not only money, but time we could have spent working toward adoption? The costs were comparable to domestic private or agency adoption; would we be losing two options at once if this didn't work?
In the end, there were many reasons Dan and I had for the choice we made to move forward with IVF. I won't go into all of them here, but I will say that my own experience as an adoptee did have a bit to do with it, as superficial and silly as that may sound. While I could write a book on the adoptee experience, nature vs nurture, and biological connections, I'll save that for another day (or maybe literally a book.) I will just say that there is a sort of disconnect that you experience as an adoptee, even when you have the best adoptive family and life imaginable. My biological drive to connect with someone on a biological level weighed heavy on our decision to pursue biological children.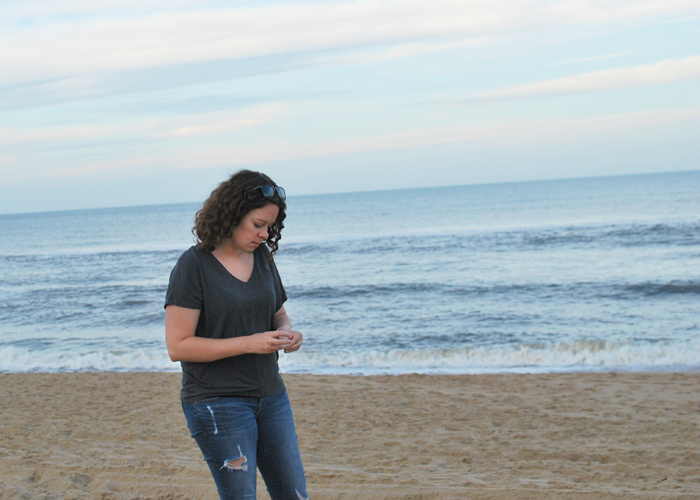 Preparing Ourselves for IVF
Approaching this entire situation was scary. After I'd sorted through the emotional aspects of our decision and we'd both discussed our financial options, we met with our specialist to discuss the process and all that IVF would entail. One exciting thing we learned was that our clinic offered an IVF package that would allow us up to six transfer attempts and a large but partial refund (everything minus medication costs) if we didn't end up with a baby in the end. This helped us relax about the money a bit so we could focus solely on everything we'd need to do over the next few months to make this successful.
Our doctor walked us through the steps we'd have to take with great detail and answered all of the questions we had. As soon as we were ready we worked over our calendar and came up with a plan for the months ahead; we would do the first half of the process before the end of the year and come back after the holidays and new year for the second half. We set up appointments, ordered medications, made payments, and decided there was no turning back.
IVF is complicated and not only takes many steps, but comes with a lot of different extra and/or optional things as well. Because we pressed "go" in September but didn't plan on having our retrieval until November, we had a lot of time to fit in these little extra steps without rushing.
First, Dan and I were both sent to a lab for blood work to test for various things like Hepatitis and HIV. This seemed a little redundant since they had been working with us for well over a year, but I'm fairly certain it had something to do with legally protecting their clinic since we had now become official "IVF patients."
Next we went down an optional route of having our own DNA tested to see if/what we were possibly carriers for that could impact our future children. This was huge to me as an adoptee and I was more than ready to spend that extra money for the peace of mind the results could give me. (I could and should have done this years ago!) Without knowing anything about my biological father, this had been my biggest fear about having biological children; what potential horrors could I be passing on unknowingly? We spit in the sample vials and shipped them off to a lab. We had our results around three weeks later: Dan was a carrier for zero of the 250+ chromosomal diseases they tested for, and I was only the carrier for one. Since we would both have to be carriers of the same marker for a significant chance of it impacting our children, this meant we were in the clear for inheritable chromosomal diseases.
(Interestingly enough, the disease I carry a marker for is typically only carried by those of Finnish descent; I found out months later through 23&Me testing that I am prevalently Scandinavian!)
Based on our planned November retrieval, my next step was to start taking birth control (of all things) on a very specific date in October. According to the doctor, this was to keep my cycle on track because I needed my November period to start exactly on a certain day for the rest of my medicines and the procedure schedule to line up correctly. Unfortunately I had to start taking the birth control while we were at the Outer Banks and my body did not like it; I ended up extremely nauseous and Dan and I spent an entire day in our hotel room watching movies. I do not understand why my body reacts so violently to the introduction of certain hormones, but it does and it's not fun. I even called my doctor's nurse and asked her if that level of illness was normal for "just" taking birth control, and apparently for some people it is. Lucky me.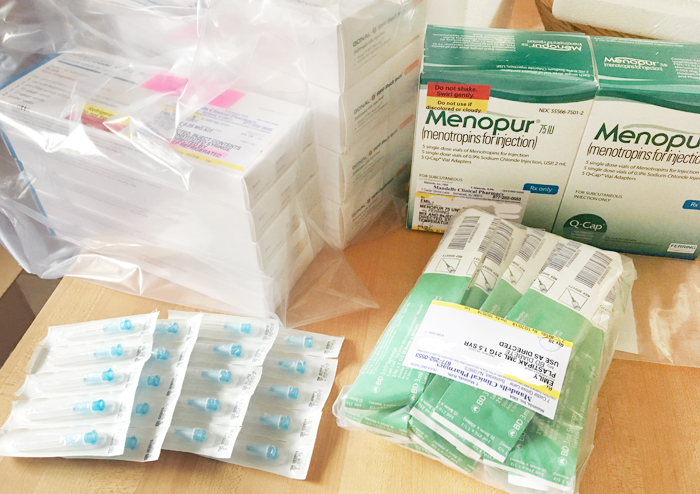 Timing and Starting the Process
I don't know what I'd consider "the hardest part" of the whole IVF process, but I do know that one of the most intimidating was the number of needles I'd have to face. My nurse ordered the medications I'd need for the entire process all at once, including the progesterone I'd need after the transfer, so you can imagine the panic that set in when this giant delivery of medicine vials, oils, syringes, needles, injection pens, and other supplies showed up at my house.
We did the best we could with timing everything to fit perfectly with our plans for the end of the year and our doctor's schedule. Besides the fact that everything had to be based on my body's cycle, we also had a few important events to work around: the Good Times Crew Annual Cabin Party was the first weekend in November, then Thanksgiving, then our trip to take Sarah to NYC, then Christmas, then there was a two week span where the fertility lab closed down at the end of the year for major cleaning and organizing. Whew!
We arranged things so my retrieval would be in the weeks between the cabin party and Thanksgiving, which meant I'd have time to recover and start a new cycle well before our trip to NYC. (I had been warned the period after a retrieval could be especially painful and uncomfortable, so I didn't want it to happen while we were in NYC.) It's crazy how much thought and planning had to go into this.
This meant that I'd have to begin my medications the first Friday evening of November, which was also the night we all arrived at the cabin. I felt like this would be okay because when I had taken these meds before for IUI rounds, it would be around day 4 or 5 before I'd really start feeling horrible…surely the cabin party weekend would be over before I'd feel bad, right?
That Friday night, Dan prepared our first syringe and injection pen and I got comfortable on a mattress in the floor in the corner, heart racing and full of anxiety. It felt strange doing this hugely monumental thing while most of our friends retreated to the deck during what is usually our most carefree and fun weekend of the year. Nicole sat beside me and Jared curiously watched from the couch nearest us while Dan gave me the injections. The Gonal-F pen was familiar by this point and didn't bother me, but the Menopur was new and felt like someone was holding a hot coal to my belly at the injection site for about thirty seconds afterward. After laying there for a few moments, soaking in what we'd just started and bracing myself for unknown side effects, I hopped up and went back to enjoying my time with our friends.
I was fine that first night, but the effects of the meds hit me like a freight train during the Halloween party Saturday night, after my second dose. I wasn't really expecting that, but I pushed through it. I encouraged our ritual midnight Mist Run to happen a little earlier than midnight then hopped in my car and headed to my parents' to sleep in a real bed. I was back the next morning before anyone else woke up.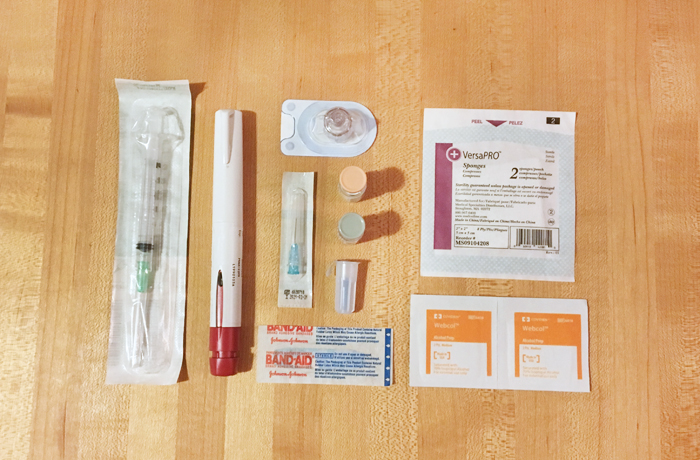 Thirteen Days of Meds
I continued taking the Gonal-F and Menopur for ten more nights, for a total of twelve. I told Dan that by this point I felt "pregnant without being pregnant," as I was more nauseous and exhausted than ever. My stomach also felt like it was completely full of ping pong balls, with a lot of bloating and little "pinchy" sensations on both sides. The whole goal of the increase in dosage and medications during this time before a retrieval is to stimulate (grow) as many follicles as possible without hyperstimulating. While the most follicles I'd produced during IUI rounds had been around eight, my doctor told me the goal this time would be to produce as many as I could up to around forty.
While I took the Gonal-F and Menopur for twelve days, I also started a third medication, a full syringe of Cetrotide, which I took on days ten through thirteen. This medication's purpose was to make sure that that the follicles continued to grow but that I didn't ovulate and release them prematurely. Similarly to how I had to take a "trigger shot" during my IUI rounds, I needed to begin the ovulation process exactly 36 hours before my scheduled retrieval procedure. This meant that I took a shot of "do not ovulate" Cetrotide in the afternoon on day thirteen and then had my scheduled trigger shot of "let's get things going" Lupron just a few hours later, at 10pm that night. What a roller coaster, right?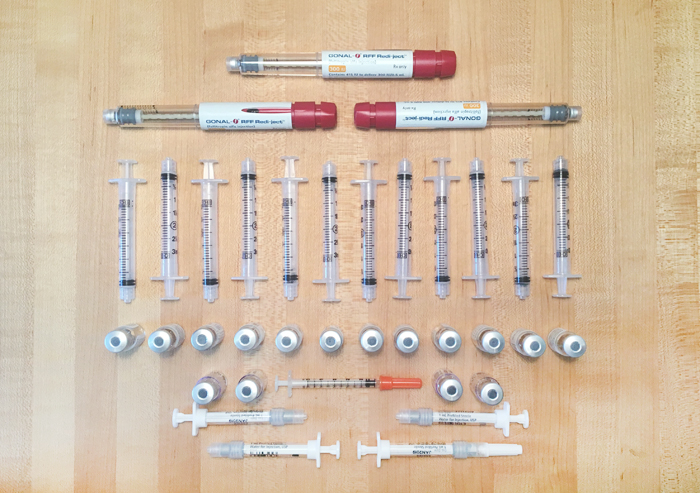 Get Those Eggs Out
My retrieval procedure was scheduled for 10am on day fifteen. I arrived at the IVF lab, which is just one floor below my fertility clinic, a couple of hours early to get me ready. While this procedure is not surgical in a sense that they make incisions, they do put you under with general anesthesia to avoid discomfort. The eggs are retrieved by the doctor inserting a long instrument and needle through the vaginal wall, once one each side, to go in and suck the eggs out of each follicle while he watches via ultrasound.
I did have a moment of anxiety/panic before they inserted my IV, which is to be expected with me, but I didn't go completely out like I thought I was going to. If you've ever passed out before you know how draining that feels. I was happy they got the IV into my hand quickly and gave me some kind of anxiety med before rolling me into the procedure room and getting me settled, which included being covered and tucked in with a heavy, warmed blanket by the sweetest nurse. I was back in my room waking up to Dan and my mom within the hour.
Eggs > Embryos
My doctor was able to retrieve twenty-three eggs from me during my procedure, which seems like a lot, but only eighteen of those were mature enough to inseminate. Dan had given his sperm sample while I was having the retrieval done and the lab began ICSI (intracytoplasmic sperm injection) almost immediately. By the end of the day we were told that thirteen of those eggs had been fertilized successfully. At this point we had to wait five to six days to see how many of those fertilized eggs would develop into embryos.
I felt a little soreness and discomfort "down there" from my procedure for about two days, which is a very odd sensation to have or describe, but I just hung out in bed and watched tv. You also experience a little bloating afterward; with the follicles ruptured and eggs removed, fluid rushes to fill those follicles until they are absorbed by your body. By the third day I was up and back to normal, both recovered from the discomfort and relieved to no longer be on so many hormones!
Another optional procedure we wanted to pursue was preimplantation genetic screening (PGS). While we were sure we didn't have any genetic diseases to pass on to our embryos, there was always the risk that our embryos were naturally incompatible with life. Most of the time when a woman miscarries it's not because of anything she did or because there's anything wrong with her reproductive system; it's because the embryo had something genetically wrong with it and it did not or could not continue developing. While having PGS done on our embryos would incur extra costs, it would ensure that the doctors would only be transferring embryos in the future that had the absolute best chance of implantation and viability.
We finally received the call from the lab that of the thirteen eggs that had been fertilized, six of them had reached developed embryo status and one more was close behind. We told them to give that one embryo another day to see what happened and by the next day we had seven developed embryos. The lab performed the cell retrieval for PGS and sent that DNA to a lab in Chicago for testing. Afterward, all seven of our little embryo (potential) babies were cryogenically frozen.
We soon received a phone call with our PGS results. Of our seven little embryos, only four of them were genetically sound. One of them had Chromosome 7 Deletion, one had Chromosome 11 Deletion, and one (we suspect that little day-six straggler) had three different chromosomal abnormalities. While the lab will keep all of our embryos frozen until we say otherwise, we've instructed our doctor to only thaw and transfer in one (at a time) of the four that are genetically most viable. We were also hesitant to find out, but very curious to know the sex of our embryos. Of the four we would likely use for transfers, two were male and two were female.
By the numbers:
23 eggs retrieved
18 mature enough to inseminate
13 fertilized eggs
7 reached developed embryo status
4 genetically viable
It's a wonder anyone ever gets pregnant at all.
Our Transfer
While in some IVF procedures the doctor transfers in fresh embryos to the uterus only a few days after retrieval, our doctor likes to do "frozen transfers" (FET) as standard procedure. His explanation for this is that it allows my body to recover from intense hormones and rebalance itself before preparing me for the transfer. It also allowed us to only transfer in one embryo at a time, keeping the others frozen for future attempts, because as he said, "If we transfer in multiples to you at your age and with your health, it's very likely you'd end up with multiples." While that may sound tempting to some, I was not prepared to have a high risk pregnancy of multiples or risk miscarrying more than one embryo at a time, especially since we only had four.
We chose not only to wait a month before our transfer, but to wait until January. This had a lot to do with timing around the holidays and the fact that the lab closed down at the end of the year, but it also gave me time to enjoy our trip to New York, Christmas with family, and New Year's Eve with friends before worrying about starting injections again. My doctor also only did transfer procedures on Fridays, so that determined a lot.
Our transfer was scheduled for the first Friday in January after the lab reopened, which was January 9th. This meant that we needed to start preparing my body to receive this embryo as soon as my period started around the last week of December, which just happened to be great timing. On day one of my period I started taking a low dosage of Estradiol three times a day, which is estrogen that kept my body from starting to develop follicles for the next cycle. I was instructed to continue taking it until I was told to stop.
I had to begin the dreaded progesterone injections five days before my scheduled transfer, which helped build up my uterine lining to be fit for implantation. These shots are usually the ones that people are faintly aware of when they think of IVF; they're intramuscular and have to be taken every day, without missing one, for ten long weeks. The reason you have to take them so long, even after a pregnancy is confirmed, is to make sure your body is getting enough progesterone to sustain the pregnancy. Eventually your body is making more on its own than the injection's dose and you're good to go.
Okay, so maybe this was the part of IVF I was dreading the most, but Dan prepared himself well and did a really great job. We planned that I'd have my injection every morning at 8am and we set an alarm for 7:45. I'd wake up, stand beside the bed, bend over across a couple of pillows, and relax the best I could while Dan filled the syringe with the right dosage. The injection had to go into the muscle at top of your butt, not too high but not too low, but not too close to the center where the sciatic nerves were, and not too far to the top corners where your hip bones were…no pressure! In the end Dan would count, I would breathe and resist tensing up, and they weren't all that bad. I did swell some and get some knots and bruises, but they were far easier to take than I'd ever imagined. We alternated sides day by day, but sometimes the hardest part would be finding a place to do that day's injection in the relatively small and bruised area we had to work with. By the end of those ten weeks, I could almost just roll over upon waking up and let Dan shoot me without a care in the world.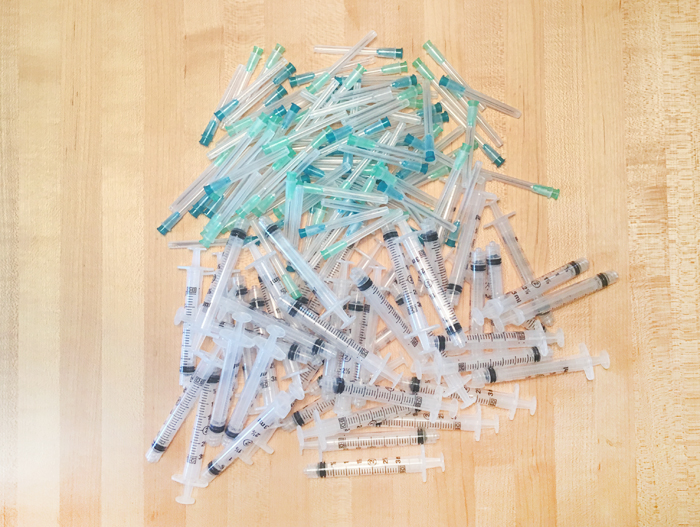 But back to the transfer…
The transfer procedure itself was easy and a lot like the IUI procedures we'd done in the past: doctor inserts speculum and then puts a catheter through your cervix, then pushes in what needs to go in through said catheter. Only this time instead of simply putting in sperm, one of our little thawed embryos was up for its big moment.
The worst part of this whole experience was that I had been asked not to pee after a certain time (about 90 minutes before the procedure) because they wanted me to have a full bladder, which made things easier to see on the ultrasound apparently. They clearly don't know me or my bladder; I peed at least three times before my procedure, unable to hold it, and I still managed to have a full bladder when the time came. Dan found this hilarious, as I'd been prescribed and instructed to take a Valium before we went in and I got quite silly, running down the hall to the bathroom barefoot and wearing only a shirt and a sheet. (Unsure of why this was recommended when the actual procedure wasn't any more painful or much different than the IUI, but I didn't turn it down.)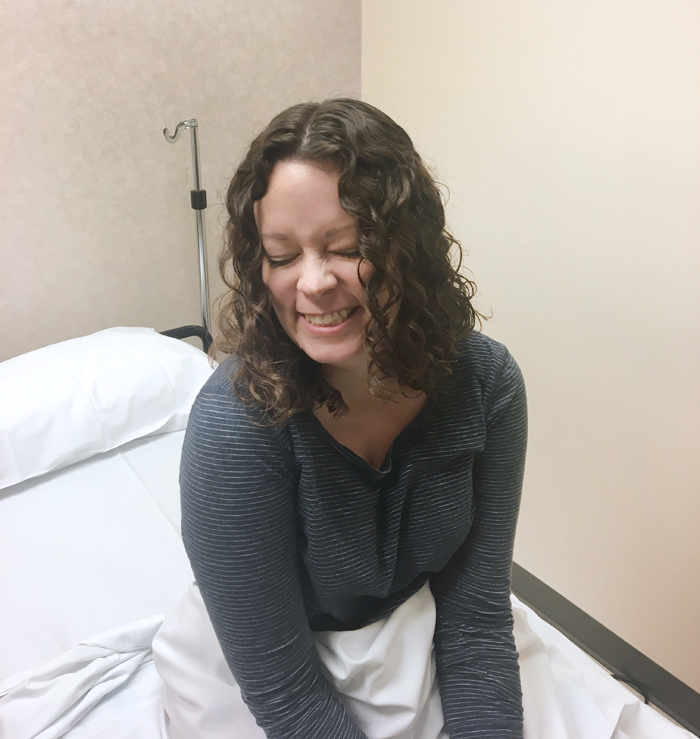 When my doctor arrived he also brought an embryologist with him, a man from the lab who had overseen the thawing of our embryo and ensured it had picked up where it had left off by immediately continuing to grow. He brought in the embryo in a dish, under a microscope, inside of a rolling crib/cart similar to what they put premature babies inside of in the NICU. Dan was able to get up and look at our little potential baby through the microscope, which is just wild to me. Our doctor did a test run of the procedure and then handed the catheter over to the embryologist, who put the embryo in the right place in the tubing. We watched on the screen as our doctor placed it in exactly the right spot in my uterus. The embryologist then checked the catheter to make sure nothing was accidentally left behind, and we were done. The whole thing took about ten minutes, only for the sake of being vigilant. I laid there for about ten more minutes, then we headed home.
The Waiting Game…Did It Work?
I'd read somewhere that most doctors treated a first transfer as a sort of trial run. I prepared myself for the idea that it hadn't worked similarly to how I'd prepared myself for that inevitability with each round of IUI.
We were instructed to wait ten days then head to a nearby lab for blood work. If there were traces of HCG in my blood I was to go back two days later for another draw. If the HCG numbers were at a certain level, then multiplying the way they expected them to, it would mean I was pregnant. I waited very impatiently for those two blood draws with a very different type of anxiety than I usually held for them.
While I walked into the IVF lab on my transfer day completely not pregnant, I technically walked out of there potentially two weeks and six days pregnant, due to how they count pregnancy dates and how long our little embryo had grown before freezing.
By the time I did my first blood draw I was potentially over one month pregnant.
When I got the call that it had worked I was five weeks pregnant.
Just a little over one week later I was at my doctor's clinic, staring at a little blurry dot that was our baby on the ultrasound screen, six weeks and four days pregnant.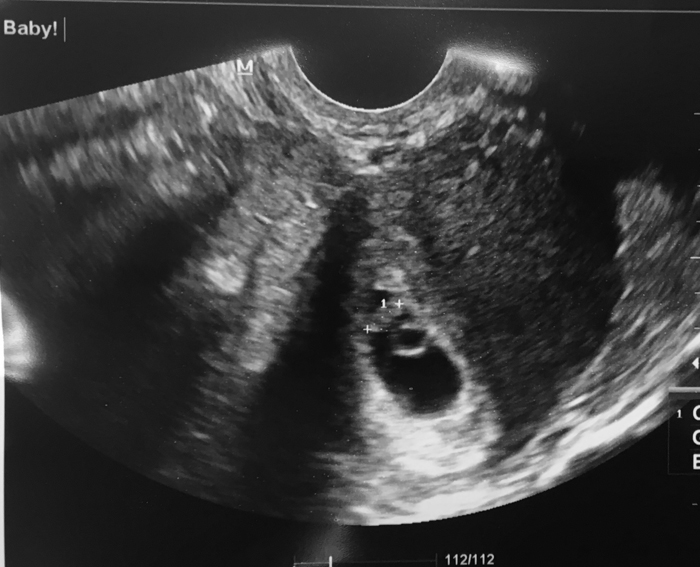 I couldn't believe it and couldn't trust it. I was completely aware that pregnancies end in miscarriage far too often, and since I'd never had a successful pregnancy before, this could end tragically, like with Baby G.
We had an ultrasound every two weeks for the next few weeks, and every week our little baby got bigger. We were told around week eight that if all was well at our week ten appointment we would need to begin meeting with a regular OBGYN for future appointments. We started telling our closest friends and family, finally feeling secure that things were working out.
Week ten rolled around and Baby S was still growing just fine. Remember how we knew we had two male and two female embryos? While we could have actually specified which sex embryo to thaw and transfer that day, we told them to simply choose the one that had been rated "most likely to succeed." We realized at that ten week appointment that we likely wouldn't see our doctor again for a long time, barring anything horrible happening, and that we had a rare opportunity to find out our baby's sex at that very moment. "It's a male," he told us, flipping through our charts. Suddenly, Baby S was even more real.
I soon stopped taking the progesterone and Estradiol, but the effects of the first trimester were soon in full swing. I was starting to feel like this baby was actually mine to keep and that everything we'd been through had been worth it and had worked.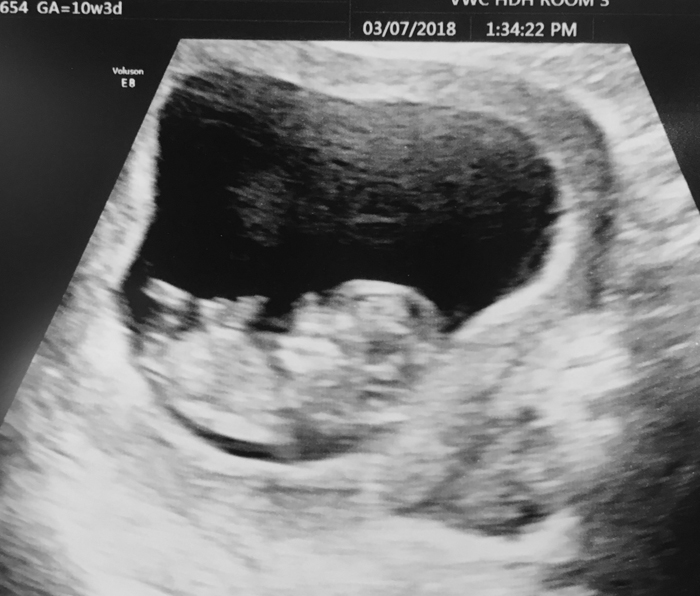 Baby S is currently 34 weeks and five days along, kicking and squirming around inside me as I type this. It's all so surreal, even still, after years of thinking that we would probably never make it this far. There was a time when I thought for sure that I would never get to experience pregnancy, but here we are. He'll be here in around six weeks. He already has a name. He has more belongings and clothes than I do, ha! We will meet him soon and take him to meet the doctor who helped get him here soon after.
– – – – – – –
I know how privileged we were to be able to go down this path. I know how rare it is and how lucky we are that it worked on the first try. I know how hard the heart breaks when the treatments don't work, again and again. I know there are so many people who could not try IVF even though they wanted to, or how many have tried it again and again to no avail. My heart is so grateful, so undeserving, and still so broken for those who are still struggling through infertility. If this is you, just know I'm rooting for you. I hope you can one day say you have overcome your infertility too.