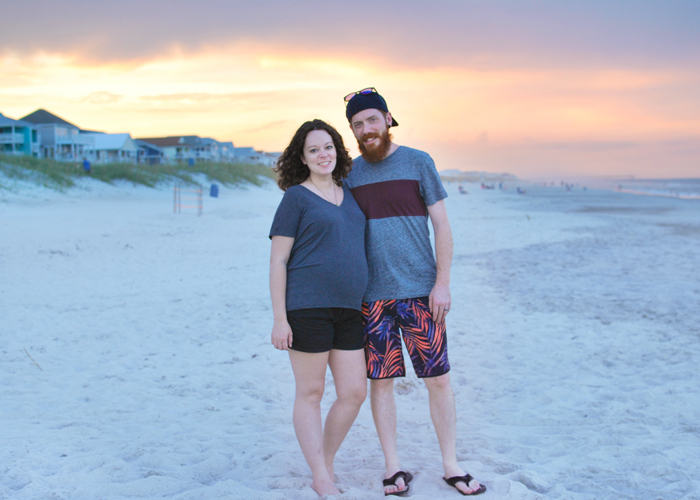 There was a point this year where I feared we wouldn't be doing any traveling this summer at all, just due to schedules, baby prep, and finances (due to baby prep). Though after our little weekend getaway to Greenville, South Carolina to visit friends fell through back in June, we decided we should make up for it by meeting them elsewhere before summer was over. We went back and forth over dates and locations and finally settled on visiting the Wilmington, North Carolina area the first weekend in August.
We chose this area for a few different reasons: 1) it's an area none of us had really explored before, besides Dan and I stopping there for lunch once on the way back from Myrtle Beach, 2) none of us (besides their oldest daughter) are really "beach people" and needed something else in the area to do besides lay in the sand all day, and 3) it's about equal distance from us in Richmond as it is for them from Greenville. While we tried to find a place to stay in Wilmington and Wrightsville Beach, the only few options left due to late planning were in Carolina Beach.
Carolina Beach was different than I expected, probably most noticeably space-wise; the streets were all very narrow and everything was crammed together to maximize the narrow peninsula's space. We even had to park our cars three deep in the carport, which resulted in someone always being completely blocked in. But this packed-in feeling resulted in everything being much closer to our condo than I'd first imagined, so we were able to walk to the boardwalk and to restaurants that I had believed to be out of walking distance.
Oh, and the second-row condo we'd originally reserved had a leak in the ceiling, so they upgraded us to a larger oceanfront unit! Can't complain about that. We had a great ocean view from our huge second floor balcony. I mean, just look at this sunrise…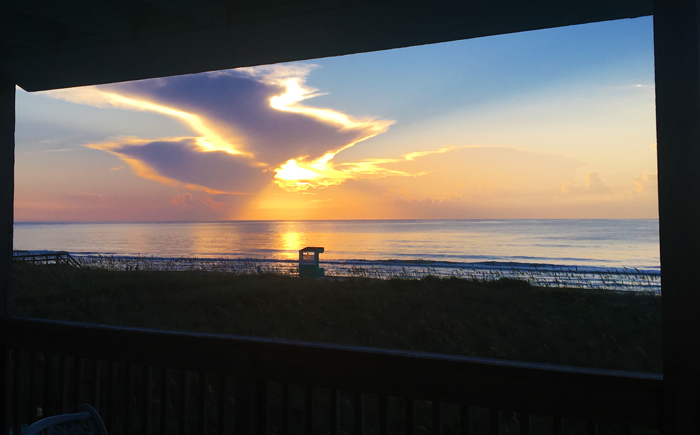 Dan and I were only there from Saturday through Wednesday morning, but John and Nicole and their kids stayed a few days longer. We had looked into a few things to do in the area with our time, but my being pregnant really slowed down literally everything we tried to do. I'm in the part of my pregnancy where walking up a flight of stairs feels like a marathon that I need a rest after. Thankfully, I think everyone was down for a really laid back time and I'm sure they packed a lot into the days after we left that I couldn't manage while we were there.
In Carolina Beach, we spent some early mornings and late evenings on the beach itself. We had pizza at Frank's Pizza on the boardwalk and great Mexican food (and giant peach margaritas I wanted so badly) at El Cazador, about a block off the boardwalk. John and Nicole also took the girls on a walk one morning and came back with a bag of Britt's Donuts, which are supposedly the best donuts in North Carolina. I could have eaten half a dozen right then. We also waited in a very long line for Squigly's Ice Cream one night, which was totally worth it.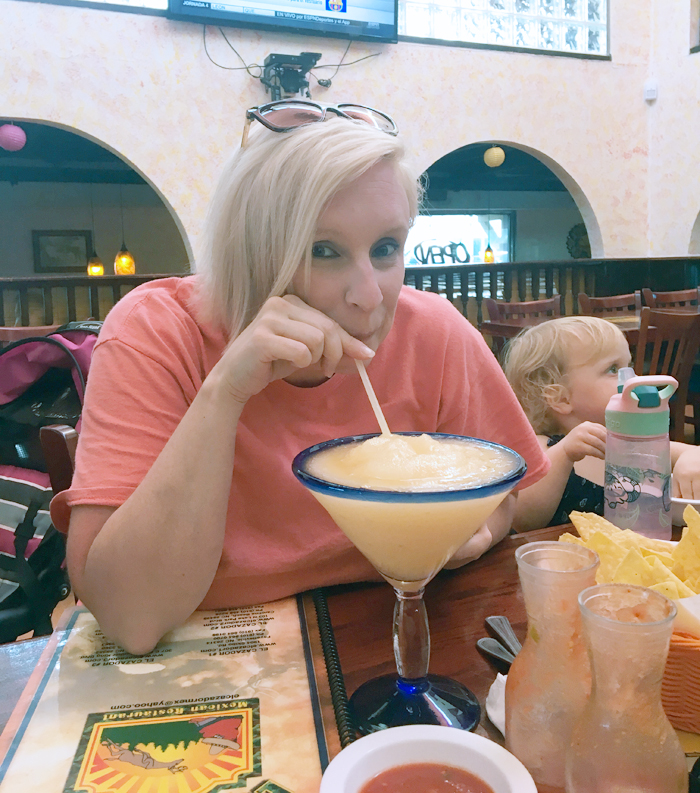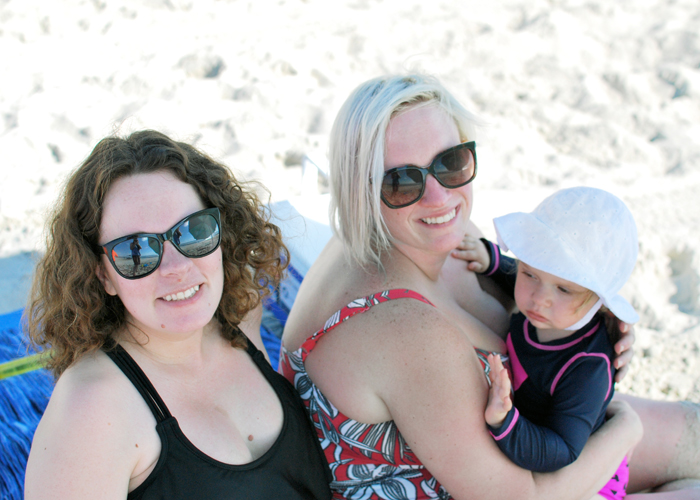 To get away from the beach for a bit, we drove into Wilmington on Sunday evening. We walked down toward the riverfront walk for a moment, but an approaching storm had us heading back inside fairly quickly. Being such a small city and a Sunday, pretty much everything besides restaurants was closed. We had dinner at the popular Copper Penny, a restaurant/bar made famous from their feature on Guy Fieri's "Diners, Drive-Ins and Dives" and everyone loved their meal. Nicole and I wanted to head back into town another morning and shop around a bit, but my exhausted body and giant swollen ankles and feet prevented that from happening.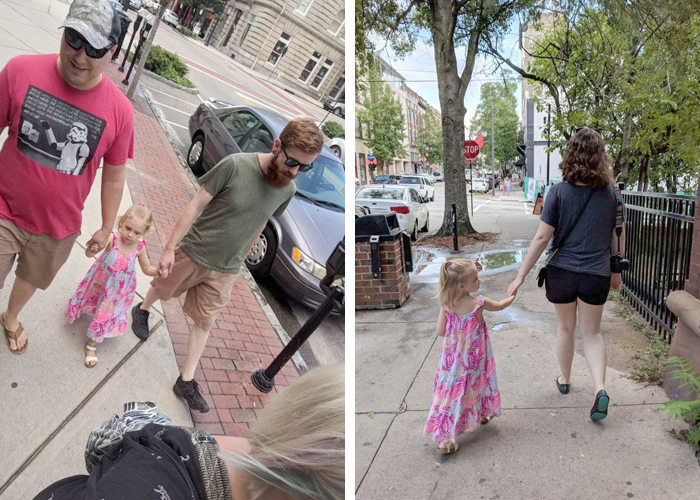 One thing we absolutely wanted to do while we were there was take the ferry to the little fishing village of Southport. We headed to Fort Fisher at the end of the peninsula and drove the van onto the ferry for a quick ride across the Cape Fear River. The ride was smoother than I'd imagined, only cost $5 per vehicle, and didn't seem to take the 35 minutes the ferry's website had advertised. Though, heading back from Southport the ferry we'd arrived for was already full, so we had to sit and wait for the next one for about an hour. If that's the worst of it, I can deal.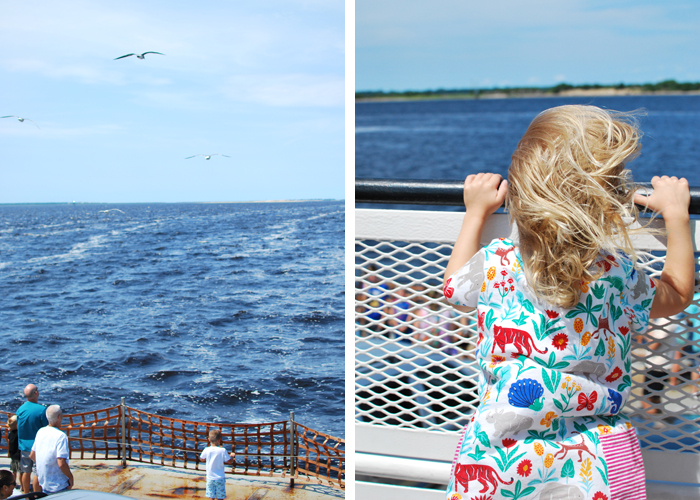 We headed to the waterfront and had lunch at Provision Company, where you ordered at the counter then chose a seat on the deck facing the docks. The breeze was wonderful and the food was fantastic; everyone said they could go back and get a second order of their meals as soon as they'd finished the first. I don't eat seafood, but supposedly the crab cakes and steamed shrimp were to die for.
Southport was charming and I wish we could have spent more time exploring the little shops and such in their little two-block downtown. Unfortunately, due to the heat and how much walking I'd been doing, my feet and ankles decided to swell so much during lunch that I had to take my shoes off, then couldn't get them back on. Nicole did stop and run into one little shop in search of a Christmas ornament, but I found I had no energy to try to get out of the air conditioned van until we were back at the condo. I felt a little like I was ruining the day, especially after taking the ferry and all to get there, but everyone was cool about it. Maybe we'll head back and explore more of Southport at another time; I know Dan would like to go back and eat at Provision Company again, for sure.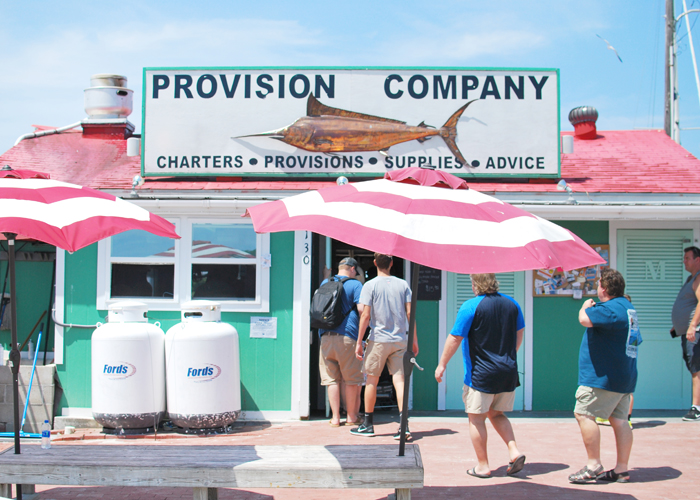 We spent our final night on the beach taking a few family pictures and enjoying how nice it felt to be on the beach in the breeze after the sun went down. It was a slow-going trip and definitely not as full of activities as I'm used to my vacations being, but it was nice to get away and spend this much-needed time with two of our best friends.