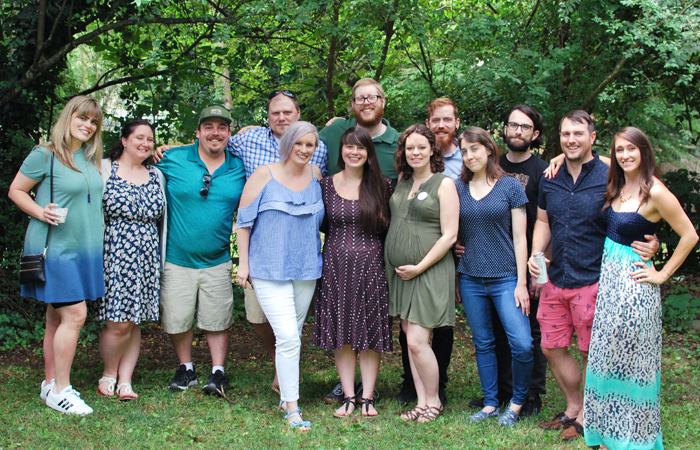 I know it's Wednesday, but I feel like I'm still recovering from this past weekend's festivities! As I've entered the third trimester, I'm finding myself more easily exhausted than ever before, but it was totally worth it to be worn out from such good times with our best friends!
On Saturday three of my best girlfriends hosted a girls and guys baby shower for us at Dana and Davy's home in downtown Roanoke. Dana, Janel, and Nicole did the most amazing job putting everything together, from the delicious brunch food they'd prepared to the games we all played from the moment we walked in. Besides our big group of friends, my parents, Dan's mom, and a few other "grown ups" joined us: parents of friends who feel like family as well. We also worked it out to have the shower while we knew Chelsea would be down from Jersey visiting family. The only one of my best girlfriends who couldn't be there was Diana, who lives in Holland…an understandable absence!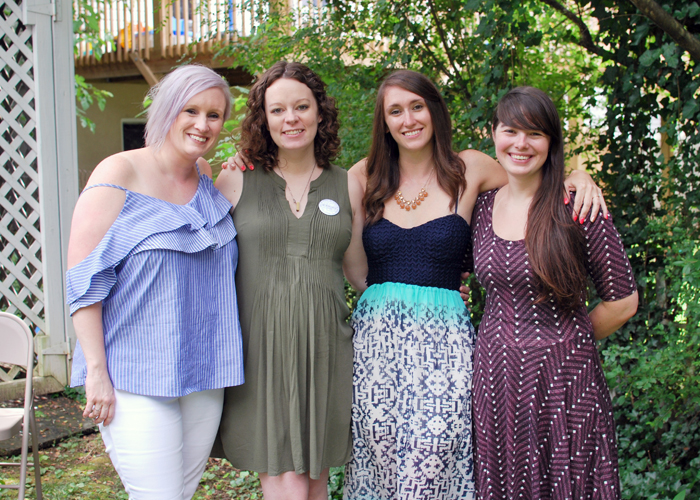 I'm usually not into games, but Janel managed to find a few that weren't cheesy and were actually funny to play. Everyone was given three clothes pins upon arrival with the instructions not to say the word "baby;" if someone heard you say "baby" they could take one of your pins. (This is why everyone has pins stuck to their shirts or dresses.) Maggie, being the most competitive, won by a large margin and possibly because she was also tricking people into saying it. Everyone also played gift bingo as we opened our gifts, a distraction I was thankful for because goodness it's awkward to sit and open gifts while everyone stands around and watches.
Everyone also filled out fun "predictions and advice" cards, predicting everything from how much he might weigh to which of us he'll look more alike. Some of my favorites were hopes for him to have Dan's great beard, the prediction that he'll be "not immediately self-sufficient" (ha!), and advice that we should let the cat babysit.
We were gifted some pretty great and useful things for baby S, which I am so grateful for. People also gave books instead of cards and wrote the sweetest messages inside. Baby S is going to have so many "aunts" and "uncles" who love him and my heart could just burst with how much I love these people back!