Richmond is a city known for its creativity, but it's also becoming known specifically for its murals and street art. There are now more than 100 murals on walls across the city due to collaborative efforts like the Richmond Mural Project, RVA Street Art Festival, and G40 Art Summit, as well as independent projects and commissions.
I love pointing out murals to friends when they visit and I'm giving them a driving tour of the city. People frequently want to stop and snap a few photos and I totally do the same thing. Sometimes when I'm driving around on my own I'll pull over and snap a photo of one I've been eyeing for a while or a new one that I've just come across. While I've shared quite a few here and on my Instagram, I've been saving an entire folder of them to share in a series. Today I'll start with three that I love.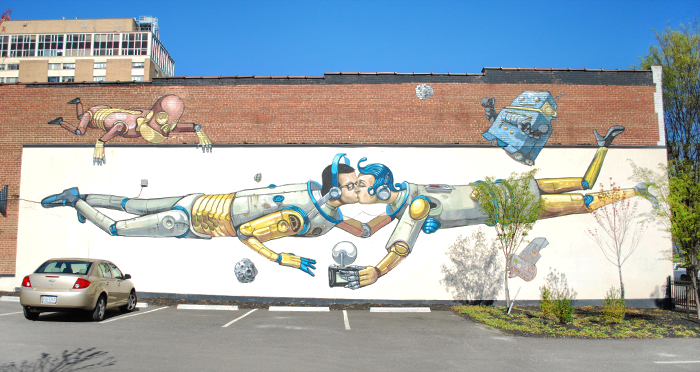 "Kiss From Space" by Pixel Pancho
This piece was created in 2012 as part of the G40 Art Summit by Italian artist Pixel Pancho. A lot of his work focuses on robots and other sci-fi themes. He has created at least three other murals across Richmond to date.
This one can be found central downtown at 9 West Grace Street, on the wall of 9WG Studios. You can find the artist on Instagram here.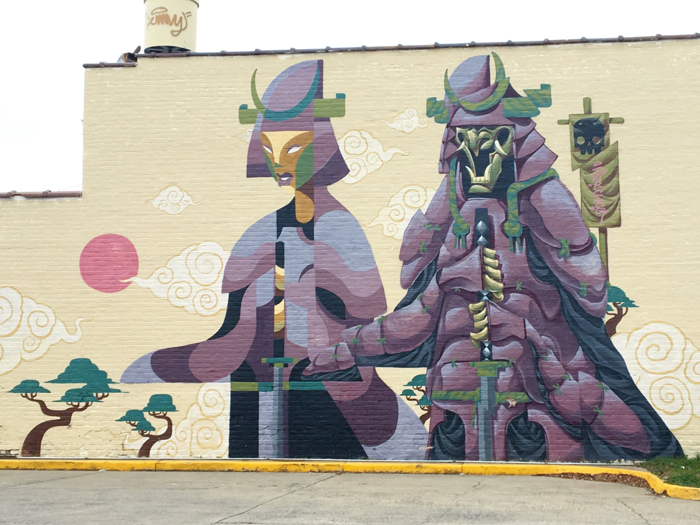 "Guarding Samurai" by Inkten & Clogtwo
Artists Inkten and Clogtwo collaborate a lot on murals like this one, which was one of two they did together in 2015 for the Richmond Mural Project. They have an entire site dedicated to their collaborations, under the name Ink&Clog.
Inkten is a Singapore-based graffiti artist and graphic designer. You can find her on Instagram here. Clogtwo is also from Singapore. You can find him on Instagram here. Her works are the more soft and stylized parts of this mural while his are the more detailed.
2007 W Broad Street, on the wall of Level Restaurant in the 7-Eleven parking lot.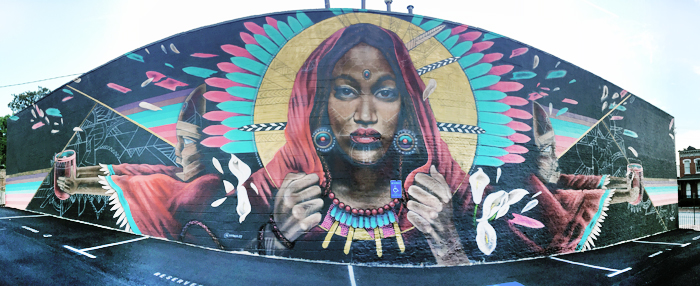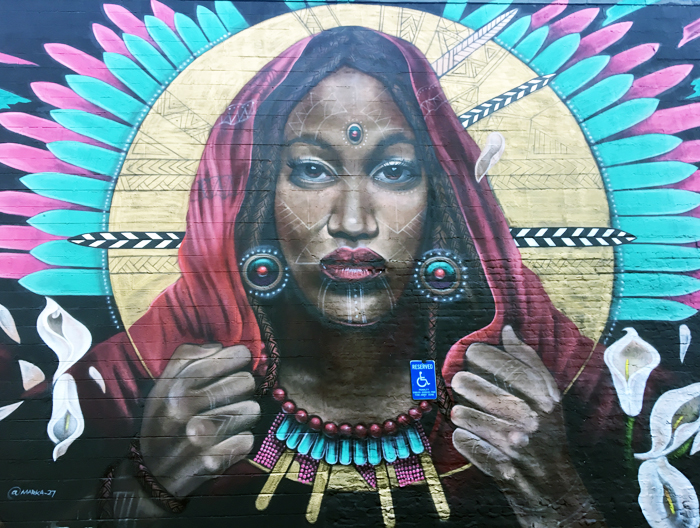 "Givers of Divine Sound" by Marka27
This one is incredibly hard to photograph, because it's huge! You can find it at 6 West Cary Street on the side of Cary Street Tattoo.
Artist Victor Quiñonez, or Marka27, hails from New York City by way of Boston, Dallas, and originally Juarez, Mexico. His work combines geometric features with what he calls his "neo-indigenous" style. This piece was created in 2016 as part of the Richmond Mural Project. You can find him on Instagram here.
---
I'll be sharing more murals in time; I can't possibly share them all at once and it's more fun this way. Maybe this will inspire you to visit Richmond, especially if you love the arts. You wouldn't regret it!