We never dreamed of the paths we'd have to take to parenthood. I, especially, felt as though my feet were firmly in place with how far I'd go, but you never know quite how far you'll take things until that one next step seems to be the only thing between you and what you want. Inch by inch, step by step, Dan and I ventured down the path of fertility treatments together, pushing ourselves just a little further than expected each time.
My ideas about what fertility treatments were—how they worked, how much they cost, and just how patient you had to be during each round—were based on very little. While I knew a few people who had conceived doing these treatments, their success was usually all I knew about the experience other than, "it's tough," or "it's expensive." My previous idea to "try this until the end of the year and then move on" was so short-sighted, in part because I had no idea what would be involved.
In part one of this series I talked a little bit about how we had to wait to be tested and how this made me realize my lack of control in this situation. It took a lot of letting go and a lot of patience to let our fertility specialist guide us through each phase of testing and trying new things incrementally. I don't think either of us could have been fully prepared for the physical and emotional roller coaster we were intentionally climbing onto.
An Undetermined Villain
The first step in deciding on which fertility treatments to pursue is to test each partner and determine the possible problems. This can range from low sperm count and/or motility to PCOS to endometriosis to out-of-whack hormone levels to blocked tubes and more. Testing usually starts with the guy, since there are fewer things to test, and then it's on to testing the woman. Along with basic blood work, I was sent for a "dye test" or HSG, otherwise known as a hysterosalpingogram, to see if my fallopian tubes were clear. This involved injecting dye into my uterus through a catheter while the doctor watched via radiology.
I blindly assumed that with these few simple tests we would have some answers and a clear path to pregnancy, but frustratingly our infertility was classified as "unexplained." We were both seemingly healthy and tested normal, so this did nothing but raise more questions than before. "If nothing is wrong, why is nothing working?"
The Second Step: Finding the Right Medication
Because of our results, our doctor decided to start us out small for our first round of treatment in September 2016. I was given a prescription for Clomid, a follicle stimulating hormone (FSH) pill. (This was the only fertility medication name I was actually familiar with prior to starting down this path, mostly from other bloggers who had shared about their infertility journeys.) The doctor hoped the Clomid would jump-start my egg production and give us more to work with during ovulation, but all it did was make me incredibly sick.
I was working as a graphic designer for a manufacturer thirty miles south of Richmond at the time and absolutely hating it; I did very little if anything all day besides scroll through my phone and the end of my 90-day contract with them was coming to a close. Had it not been for the treatments, I might have considered signing on more long-term with them, but I highly doubt it. Thanks to the medication, I was now scrolling through my phone incredibly nauseous and resting my dizzy head on my desk for large chunks of the day. Dan and I approached the subject of my employment with all of these things in mind and determined that I could leave that job and perhaps look for something new and far more interesting once we were past the treatments. I quit and accepted the full-time job of trying to get pregnant.
Later in September it was determined by ultrasound that the Clomid had in fact not done a thing for me or my egg production, besides the fun side effects of course. I remember feeling so disappointed and as though a month of our lives had been wasted, but I was also relieved to learn my doctor wanted to try a different medication. He prescribed me Femara for my October treatment, which renewed my hope.
Our First IUI (& Facing My Fear of Needles)
October was a bit more pleasant than September had been, partially because the Femara didn't make me as sick and partially because I could spend the icky days I did have in bed. I really had no idea going in how these low-dose medications could affect me so, but by the third or fourth day of taking them I would wake up nauseous and feel weak and light-headed throughout the day.
A few days after I had taken the five days of prescribed Femara, an ultrasound determined that I had produced more eggs this round. My doctor wanted us to plan on my first IUI (intrauterine insemination) for day 15 of that cycle, but first I had to face a personal crisis in the form of accepting that I would need to order and be administered a "trigger shot" to guarantee ovulation.
Time out for this side story… If you know me in real life, you'll know that needles have always been one of my biggest fears. Rarely in my life had I faced a necessary vaccine, blood draw, or even having my belly button pierced when I was sixteen without a vasovagal response—aka, I pass out way too easily. (Disregard my tattoos or lip piercing…somehow I made it through those with enough determination. It makes no sense.)
Knowing I needed this trigger shot to move forward with this round of treatment was a bigger hurdle for me than it should have been, and I know it sounds ridiculous, but I had to deal with this new knowledge. Not only would I definitely be getting this shot, but Daniel would be the one administering it…you know, my husband the software developer who had never given anyone a shot in his life.
Luckily, I lived through it and I'm here today to tell the tale. It wasn't so bad; it was subcutaneous, which means just under the skin, and it was given in the belly fat just below my belly button. In fact, it was a necessary first step in the process of eventually needing literally dozens of shots throughout this journey.
Thirty-six hours hours after the shot of Ovidrel we were ready for our first IUI. Similar to the dye test, a catheter was inserted into my uterus, but rather than dye, sperm was injected. The hope here is that you're getting all of the ingredients as close together as possible and the process is just a bit more technical than what you'd call the "turkey baster method." After this quick procedure I was left to lie on the table for around ten minutes, during which I had what were probably the most painful cramps of my entire life. Luckily they only lasted around five minutes and we were soon on our way home to play the waiting game for the next few weeks.
Turning Up the Volume
Unfortunately, our first round of IUI was unsuccessful. Not only is the first sign of your period now a moment to begin grieving everything you feel you've lost (an imagined future, hope, time, money,) but it's also time to call and set up your next round of treatment. My doctor was ready to step it up another notch this time, increasing not only my prescription for Femara but the number of needles I would have to face in November in the form of Gonal-F and Novarel. Gonal-F is another FSH in the form of a multi-injection pen, subcutaneous like the Ovidrel. Novarel, used to boost progesterone, was unfortunately intramuscular, but my doctor's sweet nurse offered to administer that for me.
My treatment plan began to look like this:
Day 1: Period begins. Call the nurse and let her know. Nurse sends prescription for that month's injections, which are ordered and shipped overnight (mine from a company in New Jersey).
Days 3 – 7: I would take Femara in pill form, three pills once a day.
Days 8 – 11: Dan would give me 75 units of Gonal-F in my belly each day around 6pm.
Day 12: Internal ultrasound to determine follicle growth. Blood work.
Day 13: Trigger shot of Ovidrel, given 36 hours before determined IUI appointment time.
Day 15: IUI
Day 20: Ultrasound to check for unreleased follicles (eggs not released properly, aka a cyst,) and Novarel injection.
As intense as this round was for me, with all of the added hormones, I was starting to struggle with this process emotionally. While I had been sick for a few days during the first couple of treatments, I was now spending at least half of my month feeling worn down and icky. Thinking ahead, we considered what the month of December might look like if this round didn't work. We realized that the next IUI would take place on Christmas Eve and decided that if November's round was unsuccessful, we'd take the month off to give my body a break and so we could truly enjoy the holidays.
It was unsuccessful.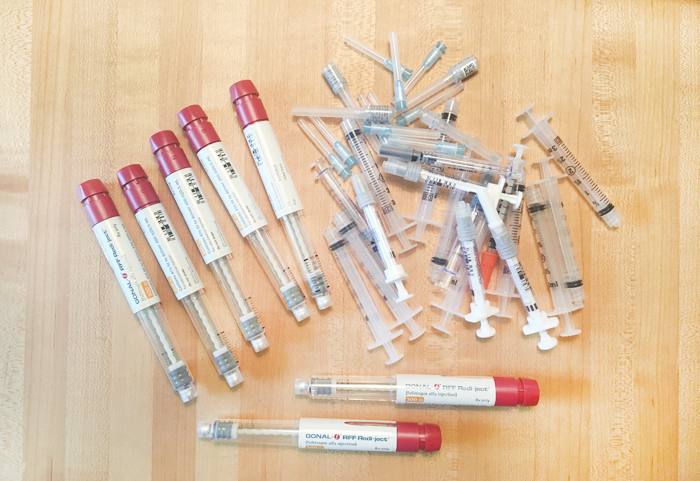 A New Year, A New Hope
Having a break in December was much needed and much appreciated. I had more time to grieve that time around, but I was also distracted with preparing for the holidays by shopping and arranging our travel plans to be with family. When my January period came around, I was feeling refreshed and excited to try the process all over again.
Unfortunately, as I'm sure you've worked out, my hopes were dashed by the end of the month. We started our February treatment with a little less hope than before, and sadly I was already worn out and feeling hopeless by the middle of that month's round. Everything was starting to take an emotional toll on each of us individually, and on our marriage as well.
When my friend Diana and I started making plans for her upcoming visit with her partner and son that March, I asked Dan if we could take another month off. I didn't want to interrupt their visit with trips to our doctor and I didn't want to feel exhausted and ill while they were here. He agreed and while we hoped for the best, we assumed our next treatment round would occur in April. Just as we expected, my period arrived on March 1st.
Surprise! It's an Ectopic Pregnancy
If you followed my blog in early 2017, you will definitely remember my sharing about my ectopic pregnancy and emergency surgery. While I'd had what I thought had been a normal period at the beginning of the month, I had no idea that anything else was or could be going on. I even had my first alcoholic beverage in over eight months, a cold and delicious hard cider, at my friend Tommy's birthday dinner. I felt totally normal and was enjoying the weeks leading up to my best friend's arrival in Richmond.
I had no idea that technically the IUI in February had worked. It just didn't work right enough.
I only started having symptoms of this emergency situation three days before it was critical. If you want to read more about that situation, click here. I won't retell it all again.
I really hated that my friend and her family arrived one day later for what should have been an exciting trip, only to watch me hobble around all week. At least we made the most of it the best we could.
This was the hardest thing Daniel and I have experienced together, up until that point and probably since. We still get upset about losing Baby G to this day.
Unintentional Time Off (and A Bit About Money)
Being that I'd just had surgery and lost some of my reproductive parts, we were told that we needed to give my body at least six weeks to heal before proceeding with treatments. Unfortunately, we had to take off more time than that. I received some pretty hefty bills from the hospital and anesthesia provider, which meant the money we had been spending each month towards medications, ultrasounds, and other fees would need to go toward those bills for a while.
I haven't really touched on the topic of finances through this series, because 1) the topic of finances is quite personal and 2) everything is going to be different for each person or couple depending on your situation, location, and insurance provider. I will say a few things on the matter here, now, without going into details. Please email me if you'd like to talk about this one on one.
Daniel and I are extremely thankful for his really great job and all of the benefits it provides us. He works very hard and has an immense amount of experience and knowledge that allow him to do so. I know that we are extremely privileged that I don't have to work and was able to take all of this time off to pursue these treatments. But we also changed our lifestyle quite a bit to be able to afford these treatments without me working. While we stay on the road to visit family and friends often (in a 2-3 hour radius), we have given up most travel and other extracurricular ventures over these past couple of years. I stopped shopping for anything unnecessary, especially clothes. We only have one car. We eventually started dipping into our savings account to make it to the next paycheck, and little by little we drained over half of our savings. We're definitely not living large and it definitely hasn't been easy, but we have been incredibly lucky that this was as difficult as it was on us financially.
If you are curious about the costs of fertility treatments, medications, etc, please reach out to a clinic near you that will be happy to send you a packet of information. (My clinic emailed me a PDF with pricing info.) Each facility charges differently for each treatment type. Some states included fertility coverage in their mandates when the ACA passed, so you could have coverage where you live depending on that. Some companies are also very gracious, including coverage in their individual plans. While our insurance provider (Anthem) here in Virginia would cover partial costs on diagnostic procedures (ultrasounds and bloodwork) we had to pay out of pocket for medications and procedures like IUI. There are also a lot of organizations out there, like Resolve, that can help point you in the direction of financial assistance (sometimes even gifts and grants) to pursue treatments.
A Renewed Hope…Quickly Dashed by Another Letdown
Determined not to let my ectopic pregnancy and surgery get us any more down than it had, we spent April through June letting me recover and spending a lot of time with family and friends. We had a really fun spring and early summer, despite all we had been through. Several friends got married and we attended lots of parties, barbecues, and concerts. I really couldn't have asked for more.
By July we had caught up on the major payments we needed to make for my surgery, so we prepared ourselves to start the treatments again. My period started and we made the necessary calls: we set up appointments for the ultrasounds we needed, we ordered and paid for the medicines we needed shipped, and I started taking the Femara.
While we were excited and finally felt like we were progressing again, our hopes were quickly dashed at my day 12 ultrasound. For some reason, my body hadn't responded very well to the hormones and I had only developed three very small follicles. Not only were there very few to work with, but they were all growing off of my left ovary…the side that no longer had a fallopian tube. While there are rumors that pregnancy is possible if the egg releases and somehow moves to the opposite side of your body and down that tube, my doctor felt that chances for this round to be successful in any way were slim to none and recommended we not move forward.
I felt so drained by this news. Not only had we gotten our hopes up, but we hadn't considered this could be as big of a problem as it was…although it seems like the most obvious problem we could face. It also stung that after months of living so frugally to pay such big surgery bills, I felt like we'd just flushed several hundred dollars down the drain because the medications I'd already taken were the most expensive part.
Our doctor explained that this could be a continuing issue and expressed his concerns that I could also end up with another ectopic pregnancy in the remaining tube. He told us to take some time to consider our options moving forward, and while he didn't want to pressure us into anything more intense, he was willing to sit with us and discuss possible next steps.
We left so discouraged that day, but it wasn't long before we started considering the one thing we never thought we'd be willing to look into—the one step we swore we'd never take: IVF.
---
If you want to reach out to me about anything I have discussed here or in any other part of this series, please do. I am open to speaking with you about this process more in-depth if you have any questions.
Other posts in this series include:
Overcoming Infertility Part 1: Filling In the Gaps
Overcoming Infertility Part 2: A Mother's Day Reconciliation