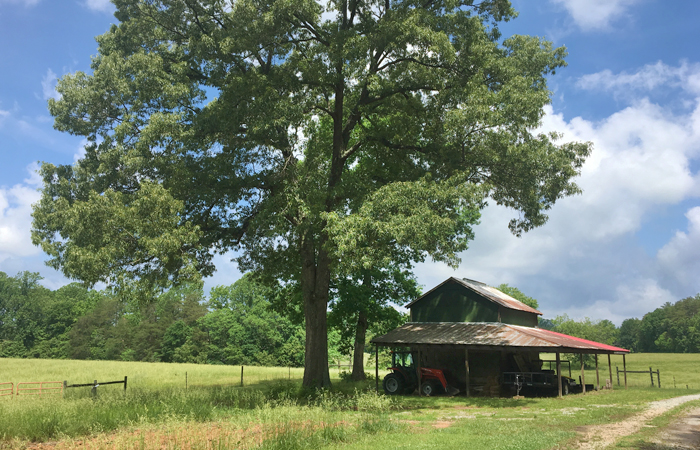 I hope that everyone had a nice and safe Memorial Day Weekend! Ours ended up being really laid back after our plans to visit our friends in Greenville, South Carolina suddenly got cancelled. My friend Nicole came down with flu-like symptoms on Thursday afternoon and while she was certain she'd feel better by the time we'd arrive on Saturday, she was also certain both of her girls would have a turn at being sick after her…which they did.
Instead, Dan and I used our surprise free time the best we could; he tackled some brush in the back yard while I headed to a nearby sports complex to watch my cousin Amy play softball. I think my choice of activities that Saturday was more fun, but Dan has been pretty serious about yard work that requires borrowing our neighbor's large power tools lately. (This guy really needs a garage and collection of tools all his own. Fingers crossed for that reality within a year.)
Besides yard work and softball, we spent the rest of our three-day weekend tackling projects around the house, eating lots of great food at local restaurants, running errands, cooking at home, and finally watching Black Panther and The Greatest Showman. As quiet as it was, May has been a very full month and a weekend at home was much needed.
While we definitely did enjoy our weekend, I was still sad that our plans to travel and see our friends didn't work out. Luckily, we'll see them in July and we plan on making up for this missed time with them some other weekend. I'm trying my best not to feel totally in a slump over how exciting (or not) this summer may turn out. Not only did these plans to travel get cancelled, but we also decided not to visit family in Texas and California this summer, which is something I had really been looking forward to. It's definitely the best decision for us, financially and vacation-time-wise for Daniel since baby is on the way, but I think it's totally normal to feel a bit bummed about it. Not to worry though; I'm already pulling together a few ideas to make up for these lost adventures, even if they're not as grand.
I always consider Memorial Day weekend to be the unofficial start to summer, as that's usually when the pool would open back home and school was nearly over while growing up. Looking forward, our weekends between now and baby (end of September) are already more filled than not; between baby showers and other celebrations for and with friends, at least our summer will be filled with the people that mean the most to us.