You guys—the second trimester is a dream! I was so worried I'd never say those words; I was so sick for the first trimester that I had started wondering if I was going to feel that way the entire time. Thank goodness that apparently isn't going to be the case for me. It's so nice to not be nauseous all the time and I've noticed I'm able to eat just about anything I want again, which is nice after living on bread, potatoes, and pasta for about three months straight.
I'm 19 weeks pregnant this week, which means that next Sunday I hit the magical 20 week / halfway point. Sometimes I'm going, "Oh wow, this is flying by!" while other times I'm like, "I have so long to go!" I'll be trading those first couple of months of sickness for a last couple of months of heavy discomfort in the heat of summer, so I'm enjoying this nice middle ground as much as I can right now!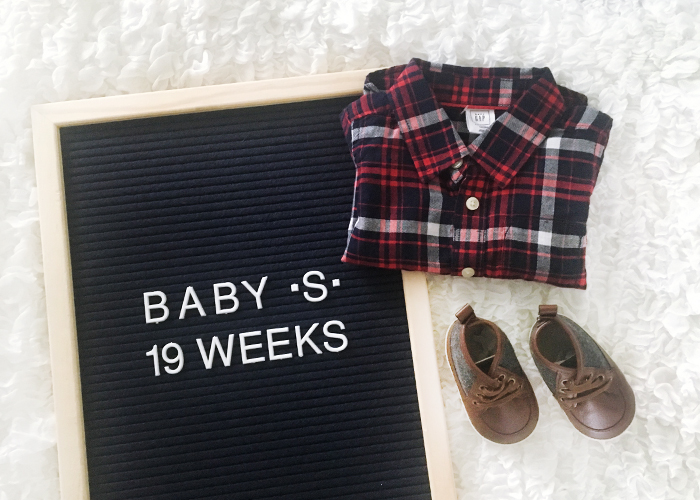 We have our 20-week anatomy scan next week and my mom is coming to join us for it. If everything goes well the rest of this pregnancy, it may be the last time we get to see him until he's born, which is both exciting and kind of sad. (I want to see him all the time!) While some couples may not want anyone to join them for such an important ultrasound, I'm so excited to share this experience with my mom because she never got to experience pregnancy herself.
Baby S is supposedly the size of a mango and the stretching and bloating feeling is so real! I explained it to Dan as the feeling you get after you have a huge meal and want to unbutton your pants really bad, except I'm wearing a dress and there's nothing to unbutton for relief. The huge feeling just stays with you, and I'm not even that big yet! (You can see my bump in my last post.)
I'm not sure exactly when it started happening, but sometime in the last week or so I've started to feel him move! At first I thought I was feeling something, but would then be unsure, but now there is no doubt! He is especially wiggly right after meals and right around the time I get in bed at night. Dan loves to say his name out loud to see if that will get a reaction from him, but so far there hasn't been any correlation. I can't wait for Dan to be able to feel him moving around! It's the most wonderfully strange thing in the world.
And you might have caught it in the last paragraph, but we have decided on a name! We're starting to use it on a regular basis, which makes things more real, but I'm also very afraid we're going to slip in front of our friends and/or family. We want to keep it to ourselves until we can introduce him when he arrives, but we'll see how long we can keep that up! I want to say it and type it out so badly! It just feels right.
A few weeks ago Dan and I began switching our office and guest room so we'd have more room for baby. The room we had been using as the office is probably twice the size of the room we'd been using as a guest room, which worked because one was used more than the other. The transition has made the minimalist in me cringe because now both of our desks and all of our office-y junk and extra stored things are piled into a tiny room, but the new guest room/nursery is so bright and spacious! The only thing that could make the nursery better would be to take the double bed out of there completely, but we really do need it for guests, like when my mom will inevitably come to help after he's born. (He'll probably be in a bassinet beside me for the first couple of months.)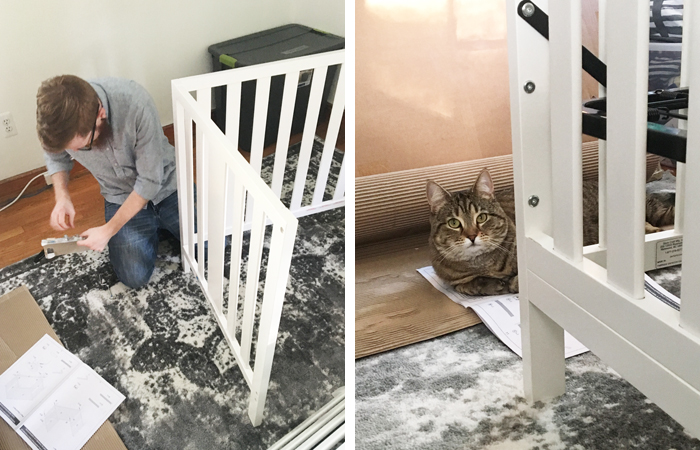 Our crib arrived last week and Rory and I sort of helped Dan put it together. (You can see what a hard worker Rory is.) I'd gone earlier in the day to buy a mattress for it and ended up buying sheets and baby blankets and other things along the way. I wish I had a picture of me pushing that long mattress—laid across the top of the cart—through Target by myself; it was quite an ordeal. Now we walk by that room and do double takes…like, "what is that doing in our house?!" The crib makes his pending arrival feel much more real, but it is so wild to see these things in our home.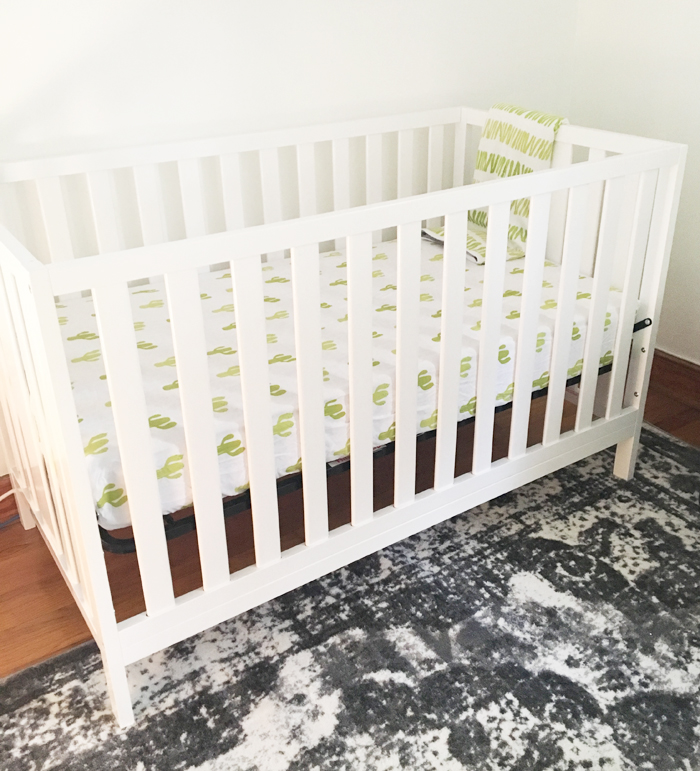 Because the nursery is also a guest room, and because we don't plan on living here too long after he's born (the goal is still to move to Roanoke sooner than later,) I don't plan on doing too much decorating. I did buy the rug in the photo above during a great Wayfair sale, but it's a little darker than I wanted so it may end up in our room. I've also been buying things for him in light shades of green, like his sheets and blanket, and I've been leaning towards desert-themed things, like the cactuses, in a little homage to our time out west. I also want to print several black and white photographs I've taken in different deserts we've visited, like Joshua Tree and Sedona, and line them up in frames over the crib. That will probably be the extent of decor in this home, as I'm already wondering where we'll fit everything we need for him in there.
We've picked out the bigger things we need to buy ourselves (like his carseat and stroller) and our registry is starting to feel complete. I'm using Babylist and I love the flexibility of being able to add anything I want from any source. There are supposedly a few baby showers in the planning phase for me and I'm already feeling so loved and honored by everyone.
There is so much to look forward to and I'm so, so grateful. I love this little guy so much already.