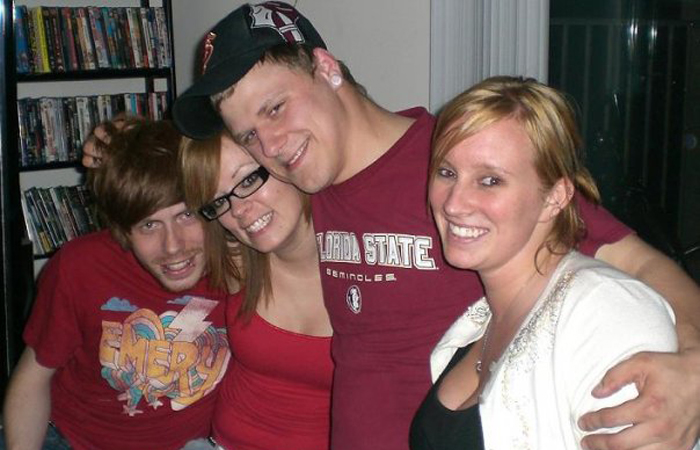 Dan and I will be road tripping to Greenville, South Carolina this Memorial Day Weekend to spend some time with our friends John and Nicole, and while I should be up doing a million things around the house right now, I'd much rather sit here for a few minutes and share some stories about these friends.
John and Nicole are two of our best friends, individually and mutually. Our relationships with both of them go way back and intertwined in the most fun way almost eleven years ago. I am so thrilled and thankful that our relationships with them have stood the test of time and distance the way they have.
My freshman year of college I moved into apartment-style dorms that housed six girls per "quad"…which is a really dumb phrase for this living situation being that "quad" denotes four of something. There were three bedrooms, three bathrooms, and a shared living space, kitchen, and laundry. (Maybe "quad" because there were four apartments per floor?) While my roommate was Lyndsi, I had four other quad-mates: Lara, Tarrah, Casey, and Nicole. As with most freshman college experiences, it was really fun getting to know these new girls, and the rest of the girls on my "hall" (the first and second floor) from such different places and different walks of life. I ended up living with Lyndsi again my sophomore year in a different building, but I stayed attached to Lara and Nicole in other ways.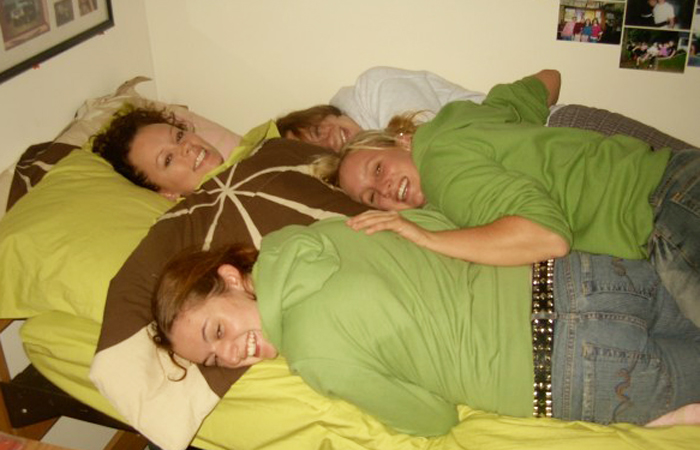 The second semester of my sophomore year consisted of a lot of change for me. They changed the program Lyndz and I were in, telling us we'd have to wait at least a year to continue our major while they pushed through upperclassmen, and both of us were like, "nope." She headed off to Radford while I decided to take the summer to figure things out. Luckily, Lara had a spare room for rent in the house she had moved into and offered it to me. I moved in that May and discovered that a bunch of girls I knew from my freshman hall were renting the house next door, including Nicole. I spent the summer waiting tables at a chain steakhouse, living it up with my roommates and neighbors, and starting a relationship with Daniel. That summer was the best.
Toward the end of July one roommate moved out and a new girl moved in; her name was Ashley but we called her "A-Rich." Lara was off spending most of her summer in her hometown and our fourth roommate was all but living with her boyfriend, so a lot of the time it was just A-Rich, Nicole and I at our house. When Dan said he was bringing his two best friends John and Caleb with him to Lynchburg for the weekend, I showed the girls their MySpace profiles (ha!!) and said, "pick a guy and see what happens." Oh, to be twenty! Nicole pointed out John in a photo and said, "I'd take that one," and that's exactly what happened. They started dating shortly after.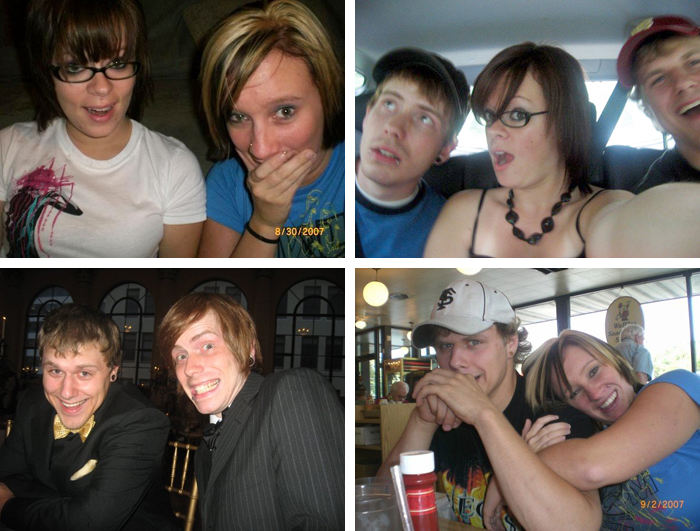 The rest of that year was about nothing but having fun; I signed up for one gen-ed class at the local community college, but for the most part I was "taking a semester off." I hopped from my waitressing job to a coffee shop, then followed Nicole to a job at the nearby J.Crew call center and warehouse. (I loved that job!) Some nights our shifts would end as late as 9pm and we'd spontaneously decide to go see the guys, showing up in Roanoke at 10:30pm, only to spend the night at diners with them and their friends before driving back for the next day's shift.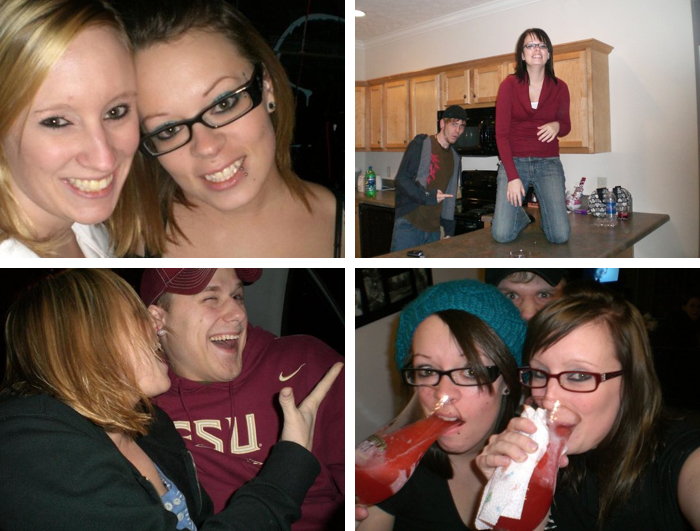 There were many adventures and crazy moments during those months, but I knew I had to get it together and get back to school eventually. I moved out of that fun house in December and moved into my own (empty and lonely) apartment in Christiansburg that January so I could start school at Radford. After so much non-stop fun, that first semester was really tough. Luckily, Nicole was right behind me, moving in that August so she could attend a nursing school in Roanoke. Suddenly we were back to our adventures, our get-togethers with Dan and John and the rest of the crew, and the general silliness you tend to get into at that age. For Nicole to be closer to her classes and clinicals, and because we loved that crew in Salem/Roanoke so much, we moved down there that following December. I spent the next three semesters driving 40 miles (each way) to school each day, but it was so worth it.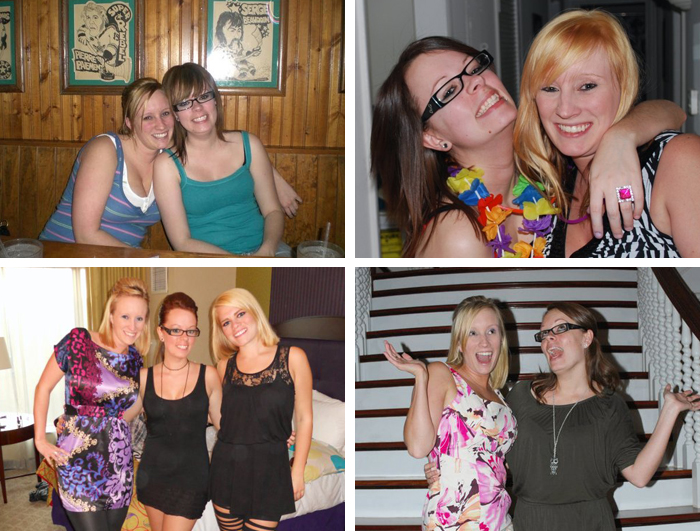 When Daniel and I got married in the summer of 2010, Nicole and John were standing next to us on either side. We returned the favor when we were both in their bridal party that following November.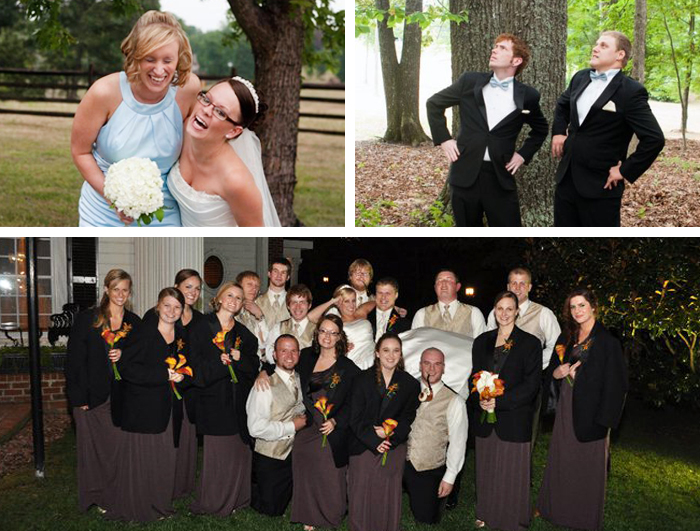 John and Nicole moved to Greenville to be near her family in 2010 and we've only made the trip to visit twice, both times for wedding-related festivities. While we've been lucky to meet up in Roanoke multiple times, and they were able to visit us in Richmond last summer and come to the Cabin Party, we're well beyond due for a visit to see them in their city. I can't wait for this weekend!