I'm going to talk about this a little bit here (in a couple of posts), but I promise that this blog isn't going to turn into an infertility or pregnancy blog. While my life is certainly changing directions a bit, I don't want this space to change in any drastic way. That being said, this has always been a place I've come to share what is going on in my life, even when it's not all fun and travel and good times. Writing has always been a healing and freeing experience for me, so I feel compelled to share. Maybe my story will even help someone in a similar situation.
---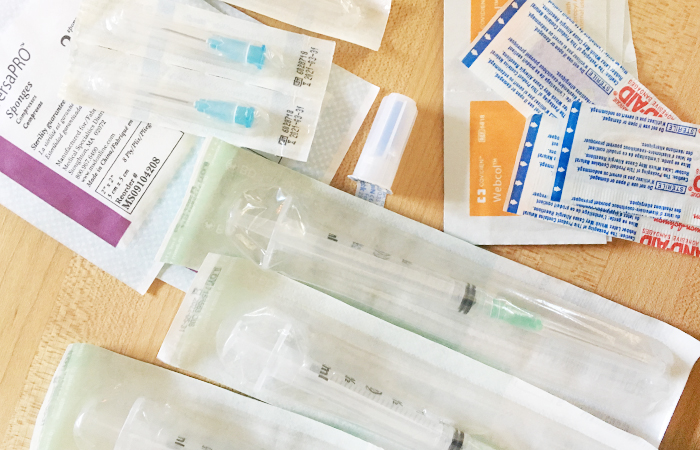 Infertility has impacted my life for well over the (almost) two years we spent actively pursuing treatments. While I never mentioned it in this space before my pregnancy announcement (or perhaps vaguely when I shared about my ectopic surgery,) infertility has always been present in my and Dan's relationship. We got married nearly eight years ago, in 2010, after three years of dating and almost immediately stopped caring if I did or did not get pregnant. While we weren't actively pursuing a family at that time, we were ready for "whatever happened." It wasn't long before we started thinking something might be wrong.
I worried on and off about the fact that I hadn't gotten pregnant for about two years. Late periods brought me hope and then disappointment increasingly over time. I stopped drinking altogether at social events, never sure if I could or could not be pregnant. When I ordered my bridesmaid dress for my brother's upcoming wedding, I ordered it two sizes too large "just in case," then had to have it drastically altered closer to the date. Spending Mother's Day at my hometown church became an upsetting event, culminating with me leaving in tears during the service in 2013. About two weeks later we moved to California, which was a fresh start and exciting adventure that I didn't want interrupted by pregnancy anyway…right?
It was in California that I realized something was absolutely wrong with me. While we didn't necessarily want to start a family that far from home, especially when we knew we'd be moving back East in a couple of years, the concern was ever present. A few months into our time there, I developed a cyst on my ovary that had me hunched over in pain for days before I could have an ultrasound done. Within a few weeks of this, I'd gained over ten pounds. I knew something was "off" with me and consulted doctors and read all of the reading materials I could get my hands on, but doctors saw no issues despite checking my thyroid and hormone levels multiple times. I had no doubt that whatever issues I was facing were the reason I was unable to get pregnant and to this day I feel like my doctors weren't taking me seriously or administering the right tests. Eventually I decided that my mysterious reproductive system was a problem to be solved wherever we landed next.
Next was New York City. While I shared my reasons for leaving the city after only a short time there back in 2015, one of the biggest reasons for me was the one that I left out of that post: after doing all of the math and considering all of our options, we could not afford to live in the city and begin testing and working with a fertility specialist. It had to be one or the other: live in NYC for a year or two and put off finding a solution to starting a family, or we could leave right then, set up life in Richmond, and move forward with our lives. We decided that after five years of marriage and adventures, we were ready to settle down a little more and live our life at a different pace.
Our first few months in Richmond were fun and we spent our time settling in, going to concerts, getting to know the city, and getting our finances back in order after yet another move. I was working at a great little coffee shop within walking distance of our downtown apartment, our families could visit whenever they wanted, and I was starting to plan a visit to Holland to meet my best friend's soon-to-be-born son. As soon as we felt ready, I made the call to a fertility specialist here in the city to set up our initial consultation. He couldn't see us for almost six weeks, which made everything else going on in our lives feel like they were falling into place. We headed off to Europe and felt like it was sort of a last hoorah—we'd come back, I'd start my new graphic design job with a company nearby, and we'd finally (hopefully) get some answers from this doctor and be able to start our family.
What I was not prepared for was how different a pace our lives would assume. I somehow, foolishly, had it in my head that we would either be expecting a baby by the end of the year or we would be ready to consider other options. After our consultation the second week in July, I realized it would be almost another month before we could even begin the testing phase of this new venture. I didn't realize that even the tests would be run according to my monthly cycle, and then when the treatments begin you are also at the mercy of this 28-day calendar. (In hindsight—duh.) When I finally did the math, I realized that after testing we'd only have four months left in the year to try, which made me realize just how little control I had over the whole situation.
Thinking back, I can't help but laugh at the control freak I used to be—oh, how much has changed. I also recognize how little I knew about all of this going in, from what the tests or treatments even were or just how little I knew about my body and reproductive cycle at the time. Now I know just how much of a miracle pregnancy and childbirth truly are, because it's a miracle that anyone gets pregnant with how many little things have to happen and line up at just the exact right moments. While I certainly don't wish this experience upon anyone else, or on my past self, it has definitely changed my entire perspective on life.
I'll be sharing part two of this mini series soon. I hope that anyone who feels like they may be experiencing infertility will reach out to me with any questions they might have. I'm definitely no expert but the last two years have definitely taught me a lot about myself and various treatments.