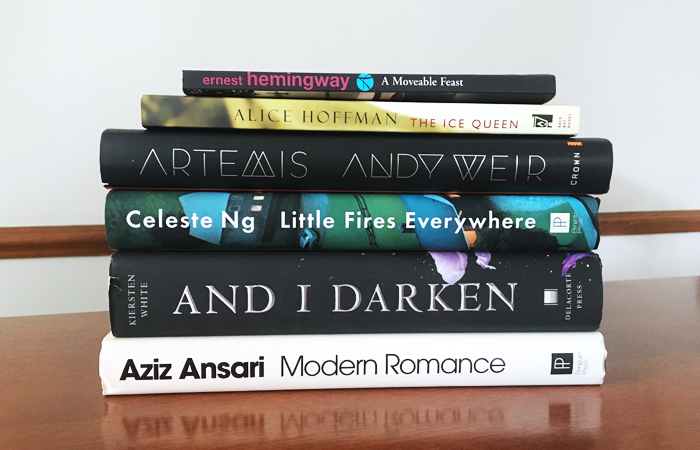 I'm starting off my 2018 reading with a bang! I've committed to a goal of reading another 25 books this year through the Goodreads Reading Challenge. I have high hopes; I'm off to a great start by already reading six!
* Post contains Amazon affiliate links *
– – – – –
Artemis by Andy Weir
What a book to ring in the New Year with! This book was a Christmas present from Daniel, secretly picked up at McNally Jackson in SoHo while I was busy worrying over dinner reservations. Sneaky guy.
To be honest, I started reading this on New Year's Eve day, around 9am, and read almost half of it in one sitting. I read the other half when we returned home on New Year's day, so technically I read and completed it in 2018. What you should really take from that confession is that this was a book I was so absorbed by that I read the entire thing in less than 48 hours.
Jasmine Bashara, who goes by Jazz, grew up on the lunar city of Artemis, the first civilization built on the moon. Now in her late twenties, Jazz runs a successful smuggling business with the help of a friend on earth, bringing contraband to wealthy Artemisians under the cover of her job as a porter. Jazz is a multi-dimensional, flawed, yet intelligent character, and you can't help liking her.
All Jazz really wants is to be rich—she specifically needs 416,922ğ—and she'd do just about anything to get it, even if it's incredibly dangerous. When an offer falls into her lap that promises her the future she dreams of, she can't resist. Chaos ensues—this story is a hit. I can't tell you any more without spoiling it, so just take my word for it and go pick up a copy ASAP.
I hadn't even been aware Andy Weir had another book coming out until it won last year's Goodreads' Choice Award for best Science Fiction novel. I loved The Martian (the book and the movie) in 2015, but I liked this one even more. (You can read my review for The Martian here.) Weir's characters are always incredibly intelligent and I truly appreciate the mathematical and scientific accuracy he weaves into his stories so naturally.
– – – – –
A Moveable Feast by Ernest Hemingway
I'm not completely sure how this  happened, but I'm 31 years old and this was the first ever book I've read by Ernest Hemingway. I know, right? As much as I love other writers and artists from his era—the "lost generation" specifically—I'm not sure how I've let this absence go on for so long in my life. I have a copy of For Whom the Bell Tolls that Dan snagged from a coworker who was moving, so I need to make an effort to read that sometime this year. I want to read more works by classic authors this year than I have the past couple of years.
A Moveable Feast is a collection of stories Hemingway wrote later in his life about the years he lived in Paris (in the 20's) with his first wife, Hadley. His writing is as expected; simple yet long-winded, full of details you don't necessarily need but end up appreciating. The world he describes around him comes to life and you are able to see the Paris that surrounds him at the time, from the cafe culture to the quirky personalities of other creatives he spent his time with. You meet Ezra Pound, Gertrude Stein, the Fitzgeralds, and so many more, and you hear Hemingway's blatantly honest opinion of all of them. One story involving Scott Fitzgerald was incredulous and hilarious at the same time.
I  chose A Moveable Feast as my first Hemingway book because of how much I enjoyed reading Paula McLain's The Paris Wife last year. (You can read my review on that book here.) McLain's book is told from the perspective of Hadley Hemingway during the same time period, yet in much more detail. As I read through Feast, I was repeatedly glad I read The Paris Wife because the two fit together so well. Hemingway briefly touched on several events or details that I knew much more about than he shared thanks to reading the other book, like his trips to the Alps with his family or his varied work in journalism.
If you haven't read this book yet, I highly recommend reading The Paris Wife first, then giving this one a go. (You can pick this one up on Amazon for about $6.) You'll be glad you did.
– – – – –
Modern Romance by Aziz Ansari
I have read several books by some of my favorite comics over the past few years (Mindy Kaling, Tina Fey, Amy Poehler, Nick Offerman, to name a few,) and have always been entertained, so I knew I had to get my hands on this book. I love Aziz Ansari in pretty much anything he touches, from Parks and Rec to his award-winning Netflix series Master of None. Please tell me you've watched Master of None! (If you haven't, put down your laptop or phone and go watch it now. Don't come back until you've finished both seasons.)
Since I picked this up based on the author alone, I'll admit to not reading the blurb or investigating the subject of this book further. I imagined it as a series of stories, like other comedians have published, and sort of thought it might be similar to Master of None. I was completely wrong.
While this book did contain some personal stories, humorous quips, and Ansari's expected wit, it was actually full of statistics and the results of multiple research projects by the author and multiple psychologists and social scientists around the globe. I was definitely not expecting that, but it made for an incredibly informative read about romance and dating in the modern era. While I've been with Dan for ten years (and married over seven), I was worried that I wouldn't get much out of the information provided, but it proved interesting and helped me see things I might not have completely understood more clearly.
While I definitely don't need help in the dating department, it was nice to see things spelled out in a way that made sense for everyone, from why my generation is marrying so late compared to our parents' generation to how the internet and social media have come into play, for singles and married people alike.  It came across as very similar to the way Elizabeth Gilbert approached her research for her book Committed, where she broke down the history and modern expectations of/approaches to marriage.
I don't want it to come off as preachy from someone who is married and in a healthy relationship, but I do recommend this book to those of you who are still in the dating game, and maybe especially to the younger ones of my generation, to get a heads up on the information and perspectives presented. It's fascinating to read how others are thinking and feeling when it comes to modern romance. Honestly, I think anyone could find this book enjoyable.
OKAYYYYY…
So…I wrote that review directly after reading this book, as I tend to do as I go through the month. I didn't want to go back and change any of it and haven't, but I couldn't ignore recent events. Since I read this book, Ansari has been at the center of sexual assault allegations and headlines about informed consent, which sort of shook me because he's the author of this book, the writer of a show like Master of None, and typically comes across as an ally and "guy who gets it." Really nothing like this should surprise me about anyone, but nobody likes to learn these things about people they typically like.
As with most things, writer and vlogger Dr. NerdLove has a lot of thoughtful and balanced points to make on this situation, so I'll just let you hop over and hear what he has to say. I highly recommend watching this video.
– – – – –
Little Fires Everywhere by Celeste Ng
This book has been on so many "best of" lists over the last year that I couldn't even begin to name them all. I'm sure you've seen it everywhere, just as I have. I eagerly ordered it over the holidays and couldn't wait to dive in.
This book was rich with characters and complex themes. The story is told from various points of view, seamlessly moving from one to the next while sharing the characters' thoughts and backstories. I loved the way this was done, unabrupt and skillfully winding through these narratives. Through this we are able to learn just how differently people interpret others' actions and choices based on their own experiences and perceptions of truth.
Most of the many characters in this story come from one of two families: the Richardsons, a wealthy family of six living in the perfectly coiffed and planned Cleveland suburb of Shaker Heights, and the Warrens, made up by single mother and artist Mia and daughter Pearl who have moved frequently and barely get by. When the Warrens move into a rental apartment owned by the Richardsons, their lives are entangled in ways that will forever impact each of them. This is a story about recognizing (or failing to recognize) one's privilege, disbelief in racial prejudice, and the erroneous idea that "playing by the rules" is the only way to approach life.
This book will slow you down and make you reexamine the way you perceive others. I highly recommend it.
– – – – –
And I Darken by Kiersten White
It took me a long time to get into this book. I originally tried to read it in December, but once I realized the setting was slightly similar to the previous book I had finished (Rebel of the Sands, which was similar in era and also had a Sultan ruler,) I had to set it aside for a while. When I picked it up again this month it took over a week before I really felt like I was into the story; I would think about reading some before bed and often chose not to, unsure if I was enthralled enough to even finish it. I feel like I was about halfway through this book, at least 20 or so chapters in, before I started to find interest in the plot or characters. Of course, this is simply my experience.
This story takes place mostly in Edirne, Turkey in the mid-1400s, during the reign of the Ottoman Empire. Lada and her brother Radu are sent to be educated by the Ottoman courts in a sort of hostage situation for the favorable behavior of their father, who is Prince of Wallachia (part of modern day Romania) which was overseen by Ottoman rule at that time. Eventually Lada and Radu are sent away to live and study at the home of the Sultan's third son, Mehmed, who they become friends with over the years, despite Lada's reluctance to trust or care for anyone. When Mehmed's two older brothers are murdered, he is suddenly in line to become Sultan himself, something he never expected could happen, and his two new friends are dragged along through the threats and intricacies of his new and tumultuous court.
I believe the difficulties I faced in reading this book were because Lada is such an unlikable character in the beginning, and arguably through to the end. She harbors so much hatred and such a strong distain for the Ottomans, their lands, and everything they represent, aching for and fighting to return to her true home of Wallachia the entire time. This is despite not having a very great childhood in Wallachia, with a father who barely acknowledged her, a cold and unwelcoming castle to live in, and very few experiences outside of it. She has built up this grand idea of her original home of thirteen years in her head, ignoring her comfort, relationships, and even the power that has been granted to her in Turkey simply because she was taken there against her will as a young girl. Lada is someone who has denied herself happiness, no matter how many forms it was offered in throughout her life. Her brother welcomes these offerings gladly, and lives a much happier life for it, making Edirne his home and Mehmed his best friend.
The history of these rulers and regions is little known to me, so I highly appreciate the background and attempt of the author to bring the stories of these real people to life, even though they are highly fictionalized in this telling. The author's note says she based these characters on Vlad the Impaler (also known as Vlad Dracula), who she chose to write as Lada—a female—instead, along with Vlad's brother Radu and the Ottoman Sultan Mehmed the Conqueror. Learning this information, and looking to learn more on my own online, has made me far more interested in And I Darken than I originally was; had I read the author's note before I began the book, I may enjoyed the first half of the book far more. I hate to say that, but it's true. My interest in this new-to-me history has now been piqued and I'm curious to see where book two, Now I Rise, will take these characters…but I'm not sure I'll be rushing to buy the sequel.
– – – – –
The Ice Queen by Alice Hoffman
I read my first Alice Hoffman book, The Marriage of Opposites, last year and absolutely loved it. When I came across The Ice Queen on the $5 table in Barnes and Noble, I didn't even hesitate to pick it up and buy it.
I had really mixed feelings about this book as I read it, just warning you. Maybe it's just me and the mood I was in while reading it, but I fluctuated back and forth between, "what is the point of this?" and "the author truly understands complicated people and emotions." I think the problem in this story is not the story itself, but the main character—whom I just realized was never named—is simply a miserable person; she's unhappy and self-centered, never allowing herself to move past tragedies of her childhood, which she blames on herself. Perhaps she feels like she is undeserving of happiness and love? Whatever it is, there's a reason she has no friends at nearly the age of 40.
One day, our narrator is struck by lightning—another thing she believes she brought onto herself—and she joins a scientific study of people who have been struck and lived. She forms a slight friendship with another patient, but proves too selfish even for that. It's when she finally meets someone who refused to join the study that she begins to feel things she didn't believe herself capable of. Eventually, as she has changed herself, her strained relationship with her brother takes on a new shape. The final few chapters of the book, focusing on this brotherly/sisterly bond, were the best and most heart-wrenching of the story—it just took a few less-enjoyable chapters to get there.
– – – – –
Goodness, January really felt like a long month. I honestly can't believe I read this many books. I hope to keep it up, as I still have several unread books staring me down from my shelf. I'm trying not to buy any more until I finish the pile I have!
What are you reading right now?