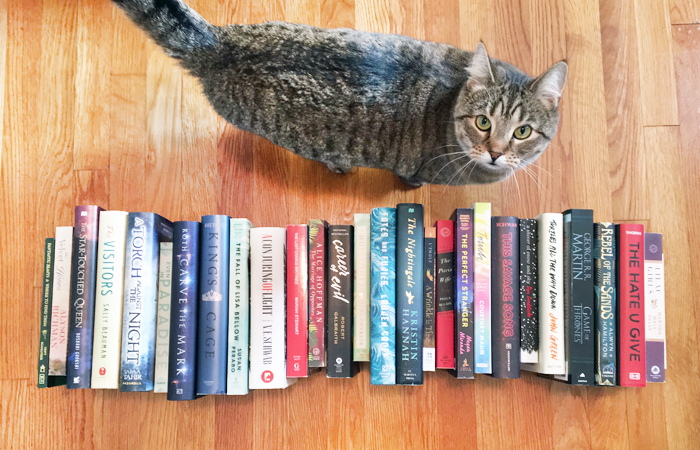 If you're looking for reading recommendations for 2018, look no further. I read 29 books last year surpassing my Goodreads Reading Challenge goal of 25.
PS – If you click through to read any of my reviews, I promise no spoilers. I wouldn't do that to ya!
Post contains some affiliate links. Click to learn more.
Books I read by Category:
Young Adult (YA): The Star-Touched Queen, A Torch Against the Night, Carve the Mark, King's Cage, This Savage Song, A Shiver of Snow and Sky, Turtles All The Way Down, Rebel of the Sands, The Hate U Give
Contemporary: Even in Paradise, The Fall of Lisa Bellow, The Last Chance Matinee, Fates & Furies, Touch
Fantasy: Fantastic Beasts and Where to Find Them, A Conjuring of Light, A Wrinkle in Time, A Game of Thrones
Mystery & Thriller: Career of Evil, Dark Matter, The Perfect Stranger
Historical Fiction: The Velvet Hours, The Visitors, The Marriage of Opposites, The House Girl, The Nightingale, The Paris Wife, Lilac Girls
Nonfiction: We Should All Be Feminists
Favorite Book from Each Category:
Best Read of 2017:
This year didn't have a stand-out favorite, for me. Last year it was really easy to choose, because I raved over my choice to everyone, but this year I feel that way about a few. I think the two I'm torn between the most are "A Conjuring of Light" and "The Hate U Give," both for different reasons:
"The Hate U Give" was the most important book I read this year and has received many awards that back that claim. It has been on the New York Times Bestseller list for nearly the entirety of 2017. Author Angie Thomas won this year's Goodreads Choice Award for Debut Goodreads Author and the book won Best Young Adult Fiction. There have been many others as well, including the honor of being optioned by 20th Century Fox and Temple Hill Productions, currently in production. You can read my review of this fantastic book here. I highly recommend it for everyone.
"A Conjuring of Light" was the third and final book of the "Shades of Magic" series, which I hold up there with "The Hunger Games" series as one of my favorites of all time. I've managed to get my sister-in-law Vanessa, Janel, and Daniel to read them (Dan is working on book two now) and they all think the series is a hit. I loved this book so much because of how much I love the series overall, so I can't help but tie this as one of my favorite reads of the year. You can read my review here.
Best New (to me) Author I Discovered in 2017:
Alice Hoffman has been publishing books since the seventies, but "The Marriage of Opposites" was the first book of hers that I have ever read. I really enjoyed her writing style and am glad there is a vast collection of her work to choose from in the future. I picked up a copy of The Ice Queen at on the discount table at Barnes and Noble during the holidays and can't wait to read it this year. Are there any other Hoffman books you recommend? You can read my review for "The Marriage of Opposites" here.
Best New Series I Started in 2017:
I really enjoyed "Rebel of the Sands." The best consolation for being late to the game on this one is that the second book of this series, "Traitor to the Throne," has already been published and book three, "Hero at the Fall," is set to release this March! You can read my review for "Rebel of the Sands" here.
Least Favorite Read of 2017:
I had a lot of issues with "The Fall of Lisa Bellow," and I'm certainly not the only one. Of all the books I read last year, this is the one I recommend you don't pick up. I think at some point I even told Dan I might just burn my copy—harsh words from a bibliophile—because I didn't want anyone else to read it if I donated it, etc. You can read my review of "The Fall of Lisa Bellow" here.
Movies (or Shows) Based on my 2017 Reads to Look Out for in 2018:
"A Wrinkle in Time" will hit theaters in the US on March 9th and has an incredible cast. We will definitely be going to see this one. (Trailer here.)
"Career of Evil" is the third book of the Cormoran Strike series, which premiered on screen as a seven part mini-series titled "Strike" on BBC in 2017. HBO owns the rights in the US and is planning to release the series on Cinemax in June under the title "C.B. Strike." Finally!
"The Nightingale" is rumored to be premiering in theaters August 10th, but some sites list it as a 2019 release. I guess we'll see! It will be a "can't miss," for sure.
Another one to keep an eye on is "The Hate U Give," which started filming last fall and could be ready sometime this year, if we're lucky.
Sequels of 2017 Reads Coming in 2018: