My naturally curly hair is something I've been struggling to love my entire life. It's one thing about myself I can't completely change and it has taken me nearly 31 years to sort of figure out how to best take care of it.
As most of you know, many women can't help but feel their worth is somewhat tied to their appearance and our hair has such a strong and public role in our appearance to others. We signify our moods, personalities, and major life changes through how we style, cut, and dye our hair, but even then I'm sure each of us can come up with something—like the rest of our selves—that we don't like about its current state.
Being born with curly hair has sometimes felt like a curse. Because I was adopted, I was the only person in my family with curly hair, and my mother—with her long, straight, red hair—had no idea what to do with it. She did the best she could; she brushed it and styled it the way she would have had it been straight, pinning the front back with big bows and hoping for the best. Thank goodness it was the 90s and big hair was somewhat acceptable…plus I was a kid, so I guess it didn't matter too much. I'm just glad we can laugh about it together now.
Falling in love hate with your hair 
My appearance started mattering to me sometime in late middle school, just when ultra-straight hair started becoming as popular as jean mini-skirts and pleather pants. My "poof" and "frizz" was in my control at that point and I found solace in lots of butterfly clips, bobby pins, and a ton of hair spray. Hair straighteners weren't on my radar in 1999, so I was left feeling awkward and frizzy, my hair unmanageable.
Even celebrities of that time were shunning their natural curls, straightening them into oblivion. This continues to this day; as actresses and musicians find their fame, their curls are one of the first things to go. See: Nicole Kidman, Taylor Swift, Lorde, Julia Roberts, Keri Russell…need I go on? (And these are just the white women. More on that later…) The overwhelming message here was that curly hair was unsightly, childish, "not styled," and something to be fixed.
This message is furthered even more by the depiction of makeovers in movies and on TV. Take The Princess Diaries for example: Mia goes from awkward nerd to total knockout just by taking off her glasses, grooming herself a bit, and straightening her hair. This was especially disheartening to someone with curly hair who also wore glasses. Insecurities abound.

Throughout high school the straight hair trend continued. I tried to blow dry it straight a few times, which only resulted in me going to school with
a sort-of-straight mass of poofy hair
. Sometimes I would become so exasperated with it that it would trigger an avalanche of other identity problems based around
my adoption
, of all things; just
who
were the people to blame for these untamable tresses?!
Discovering the straightener
I was a senior in high school before my neighbor—who had naturally straight hair—brought her new straightener over to my house on a school night and straightened my hair for real for the first time. The reaction the next day from my friends and classmates is something I'll never forget. Everyone looked at me differently that day. My boyfriend smiled and looked stunned by my transformation; boys who hadn't looked at me twice gave me attention for the first time; girlfriends raved about how pretty I looked. While I reveled in my new polished look, the voice in the back of my head was tearing me down inside. The only way I could "stay pretty" was to buy my own straightener and continue to tame my hair day after day.
Ever since acquiring a straightener of my own, I have not had one school photo, drivers license, work badge, or even job interview with my hair in its natural state. I graduated from both high school and college with straight hair under my graduation caps. I've straightened my hair for first days of work at every job. I've prepared for fancy nights out, concerts, weddings, parties, and more by straightening my hair. And don't even get me started on being such a "scene kid" in the mid-aughts. (lololol…you were not cool without straight choppy bangs in your face.)
Girls with curls can sometimes feel like their curls carry a stigma: you're less "professional looking," you're not as "put together," your personality is assumed to mimic those of curly girls on TV (the bookworm, the untamed outspoken one, the sidekick—rarely ever the main character,) etc. While friends worried about getting the perfect highlights or trims before interviews, I was concerned about completely changing the way I looked.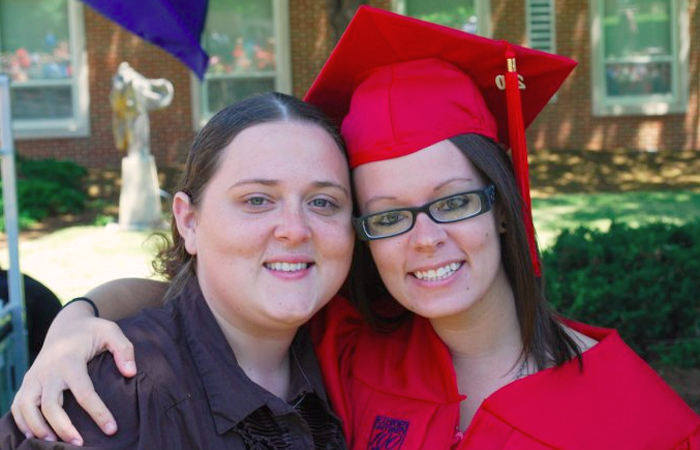 Being in your twenties brings new phases with varying levels of self acceptance. After years of damaging my hair with my straightener and various dye jobs, I did a few big chops and tried to find styles that weren't as high maintenance. I started appreciating my curls while at Parsons; I could wash and scrunch it with product and be in the darkroom before anyone else if I just cared a little less, which is a strange transformation to go through while you're in one of the most fashionable cities in the world. (Though looking back, all of my photos from my time there show my hair straight; further confirmation that I felt my curls were a "bad hair day" even then.)
In California I felt a little more pressure; if anyone had curls, they were of the fake variety, perfectly tousled with sea salt spray to look effortless and beachy. My hair behaved differently in the Southern California climate and I was slowly learning to appreciate the wind-blown look and extra body a beach breeze could give me. And honestly, straightening my hair less while we lived there kind of came down to laziness; styling my hair could take up to an hour, while scrunching it in the morning let me sleep in a little longer before work. I chose sleep.
My slow-growing acceptance of my curls has not been without issues. For example, once, when one particular CA coworker saw my hair straight for the first time, he spent the rest of the day commenting on it, saying it "wasn't frizzy today!" and "oh my goodness, it's just so sleek! Not big at all!" while he gestured 'big hair' with his hands around his own head. Negative points to that guy. Trying my best to not let these kinds of comments get to me, I just tell myself that those people are ignorant and have no tact.
That was just one example of the thoughtless comments people can make that eat away at your self confidence, but I know that my experience as a curly-haired person cannot even begin to compare to the discrimination people of color have faced while embracing their natural curls, and I can't write this post without acknowledging that. While I may get called frizzy or encouraged to "wear my hair pretty," I have never been sent home from school or missed a job opportunity because of it.
While the natural hair movement has gained momentum among people of color, products for natural hair and hair with texture have become more diverse and widely available. Professional stylists and product companies are investing their research in discovering the best products for girls with curly hair of all types.
Finding a New Appreciation
I had all but given up on finding just the right products for my curls, trying one thing after another and settling for "decent," but I think I'm finally finding my way to "really great." My cousin Amy first pointed out DevaCurl products when we were browsing in Sephora over 18 months ago, but I didn't really give it much thought until I saw a friend from high school post a new photo of herself—complete with the most gorgeous natural curls—and had to ask her what products she was using. You guessed it: DevaCurl. Not only did she offer up this recommendation, but she added me to curly hair group on Facebook that I highly recommend for all of my fellow curlies:
This group has brought me endless inspiration and information and is helpful for curly girls of all types. Through it, I've discovered the "Curly Girl Method," my porosity level, what products and ingredients to avoid, and my hair curl type (some 2C, some 3A). In June 2016, right before we headed to Europe, I bought my first travel-size set of DevaCurl products. Since then, I have only straightened my hair once, for Dan's office Christmas party, and I felt so unlike myself! I finally felt more inside of my comfort zone with my curls than with my hair straightened into submission. I feel like I need a big crowd cheering for me at this very moment because this realization was life changing!
My Current Products
The following paragraph contains affiliate links. Click here to read more.
I don't follow the CG (Curly Girl) method exactly but parts of it are things I'm working toward. Everything is sort of trial and error when it comes to finding the right processes and products, but I love that I'm finally feeling in control of my hair and learning how to best take care of it. I know I've talked about DevaCurl products here multiple times, but this post is not an ad for those products and they haven't actually always been the best for my hair. I do use their Low Poo Original and One Condition Original, but I turn to Cantu's Leave-In Conditioning Repair Cream and Curls' Blueberry Bliss Curl Control Jelly for styling. I also co-wash with Cantu's Complete Conditioning Co-Wash every now and then and use TRESemmé Botanique Nourish and Replenish Shampoo about once every five washes to get rid of buildup. This routine will probably change, but right now it feels right.
The Big Chop
I've never even left a salon without my hair straightened because stylists typically don't know how to deal with natural curls and they want you to leave feeling beautiful. That all changed this over Labor Day Weekend when I finally made an appointment with my friend Kristin at Bliss Studio in Roanoke for my first ever Deva Cut. She cut off several inches of dry damaged ends while my hair was dry, then taught me how to use the Deva products while I washed and styled it. After defusing and scrunching just the right amount, she selectively cut each curl until my hair had the right shape.
My curls have never been tighter or looked better in my entire life. Just look at that definition! And they're so bouncy and soft. Thanks Kristin!
I know this has been an incredibly long post, but it has been an incredibly long journey to this level of self(hair)-acceptance. If you have curly hair and have any questions please feel free to reach out to me. I would love to help you figure out how to best take care of your curls so you too can feel confident and in love with yours.