I had the best time spending a few weekdays at my parents' house recently. I rarely get to make a trip down there during the week, usually cramming my time there into weekends scattered throughout the months, despite only being two hours away. My mom and I spent the mornings on the back porch, sipping coffee in rocking chairs and talking about life while the cats wound around our ankles. My dad was busy as always, working on various projects and being his goofy self in between.
With empty days ahead of me there, I decided to tackle something I'd been meaning to work on for some time: the dresser and closet in my childhood bedroom. The closet there was packed floor to ceiling with boxes I'd stored there before we moved to California; mostly photo albums, CDs, scrapbooks, mementos in different boxes ("College Stuff," "Magazine Stuff," "Dan's Band Stuff," "Wedding Everything,") and even my wedding dress was stuffed in there somewhere, still muddy around the bottom from our pouring-down-rain reception dance party.
I started with the dresser, pulling out every drawer and dumping them on my bed. Some things seemed appropriate for a dresser, like the PJs I keep there to sleep in and a few socks and sweaters just in case I neglect to bring something when I visit in the winter, but some things were trips down memory lane. I connected to my parents' unreliable internet hotspot and started Snapchatting my discoveries: handmade membership cards to "clubs" I was in with my best friends growing up; a Harriet The Spy-style notebook from elementary school (complete with notes about classmates); embarrassing jewelry and photos from high school. I'll just let some of these photos do the talking.
Senior photos…so cringeworthy. Nowadays seniors hire their own photographers to take their senior photos, leaving these cheesy white columns in the dust. Why are the columns toppled over, anyway? What's up with that?
I remember this day so clearly; I was over at my friend's house playing football in the back yard when someone asked us what times our photo appointments were. Photos? I asked. I had completely forgotten it was senior portrait day. I rushed home and started throwing random outfits in a duffel bag, scrunching my hair and pulling it back with butterfly clips quickly before rushing back to town for my appointment time. I barely made it. Whew.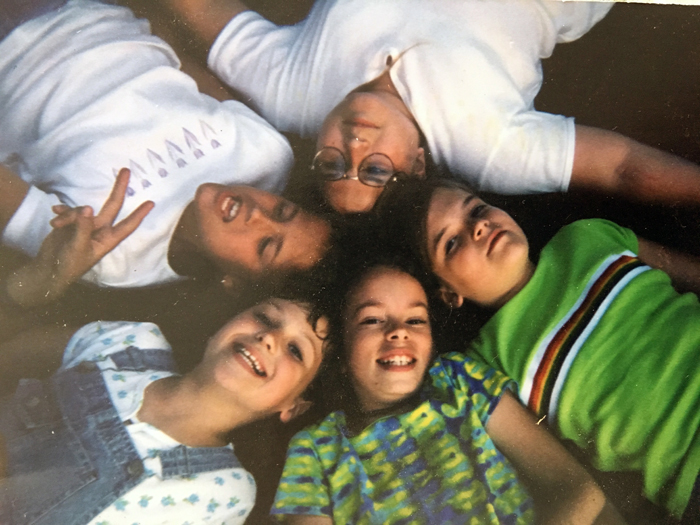 This one is taking it way back, all the way to 1997. I was 11. Santa had brought my brother and I a trampoline that past Christmas and for some reason my mom let us leave it in the front yard all year. These were some of my best friends, from pre-k all the way through school, and I vividly remember this day, jumping on the trampoline and blasting the Backstreet Boys' Backstreet's Back in its entirety from my jukebox. We jumped and sang along to every song until we couldn't jump anymore. I was also completely blind the entire time because I always took my glasses off to jump so they wouldn't fall off and be crushed. This may have also been the same night we had a sleepover in the sun room and tried to stay up all night for the first time.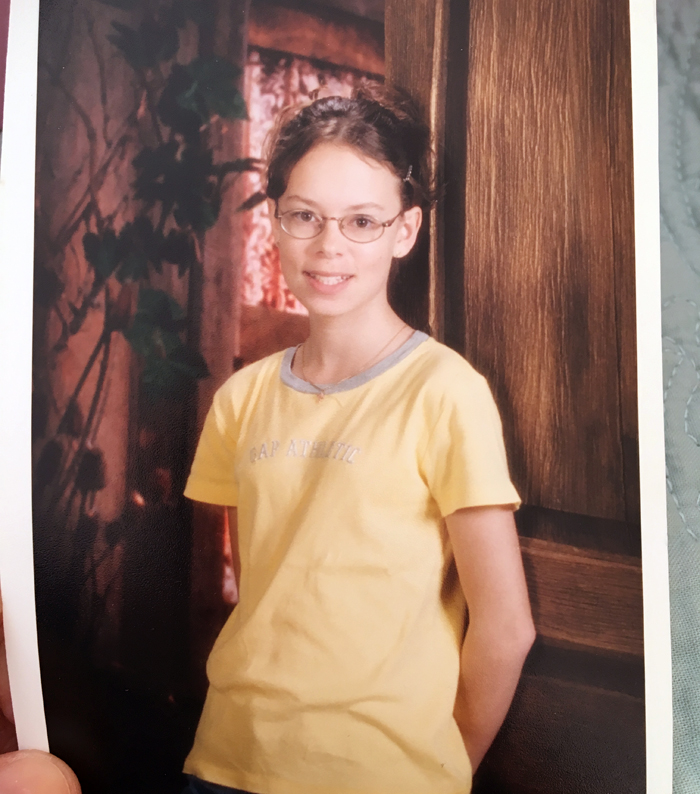 This is my 7th grade yearbook photo. What is happening here? Slumped posture. Check. Glasses that caused kids in my class to call me "Eliza Thornberry"? Check. Cross necklace given to me by a boy that liked me that I wore every single day? Check. And I have no idea why I'm wearing a Gap Athletic shirt because 1) I don't remember ever shopping at The Gap and 2) I wouldn't have known a thing about "athletics" back then if a softball smacked me square in the face.
Oh, and don't you love the hairstyle? This was around the age when I was starting to care about the way I looked (ha!) and I was really struggling with my untamable curls. Usually my attempt to tame them came with lots of brushing (ugh), hair spray, and bobby pins. I would paste those trendy front pieces into submission day after day. If only 30-year-old-Emily could go and give 12-year-old-Emily some pointers.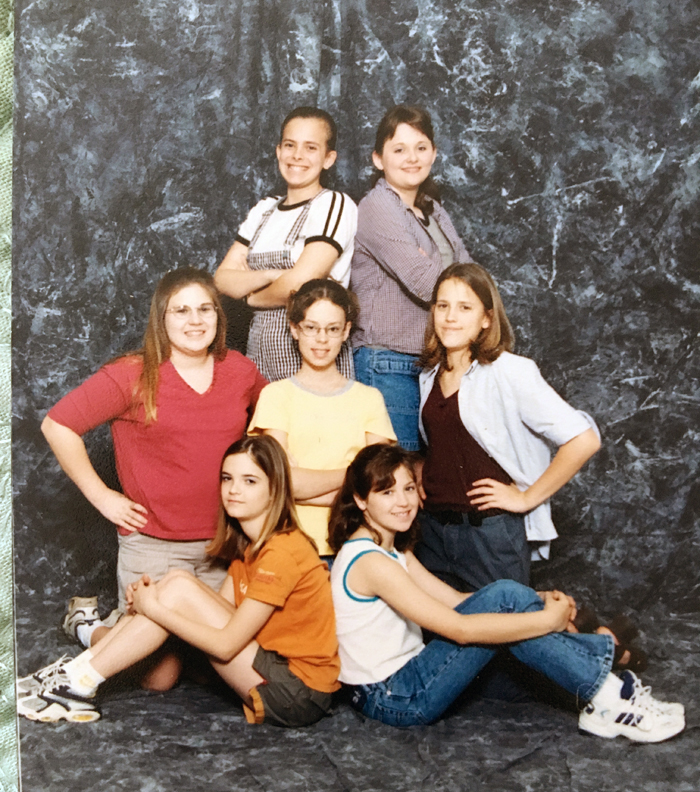 Oh goodness, same picture day. The same photographers who used to do our yearbook photos also started offering "Lifestyle" photos when I was in middle school. Here are some of the same girls from the photo on the trampoline, plus a couple others, all grown up and looking super cool in our group photo.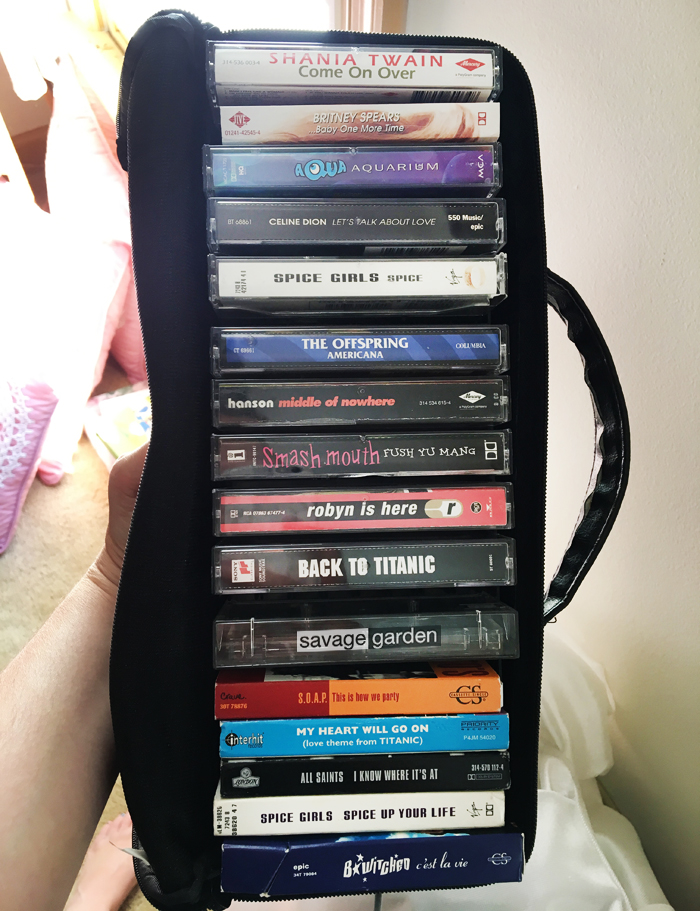 To really bring this era to life, break out your Walkman and pop in one of these tapes. This was just part of my collection of favorite music, probably around my later elementary school / early middle school years. Fun fact: I saw Britney Spears in concert twice (her first tour and second.) Also, that Savage Garden album was my absolute favorite and I listened to it so much that my tape copies broke twice and then the eventual replacement CD also became so scratched that a friend gave me hers (aka, I had four copies.) I have always had a thing for guys with long, dark hair and I think Savage Garden may have been where that started. Excuse me while I go and try to find all of these albums on Spotify.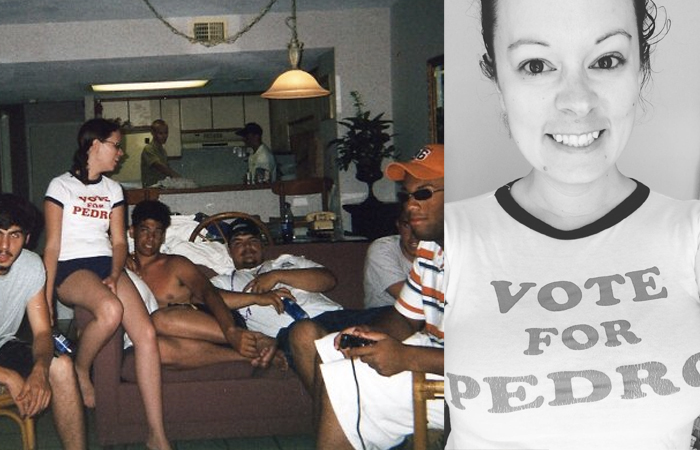 If you watched my Snapchats or Insta-videos as I made my way through these memories, you may have noticed that I found my "Vote for Pedro" shirt very early on and wore it for the entirety of this process. It fit me a little bit differently than the last time I wore it, which was probably my freshman year of college. The photo above is the only one I know of with me wearing it, which is only significant because it was one of the only group photos I got of everyone together in our condo for Senior Beach Week 2005 at Myrtle Beach. I was the only girl in my group and to this day I can't believe my parents trusted us not to totally trash a condo they had rented in their name. But back to "Vote for Pedro"…I was stupidly delighted with Napoleon Dynamite to the point that I had a poster of him on my dorm room wall (much to Lyndsi's dismay, I'm sure,) as well as a pink pillow case that said SKLLS. My penchant for ridiculously stupid things has not changed to this day, I'm afraid.
This walk down memory lane has been so entertaining to me (and hopefully to you) that I can't resist doing it again. Next time I'm home I'll be sure to find the most embarrassing things possible to share.