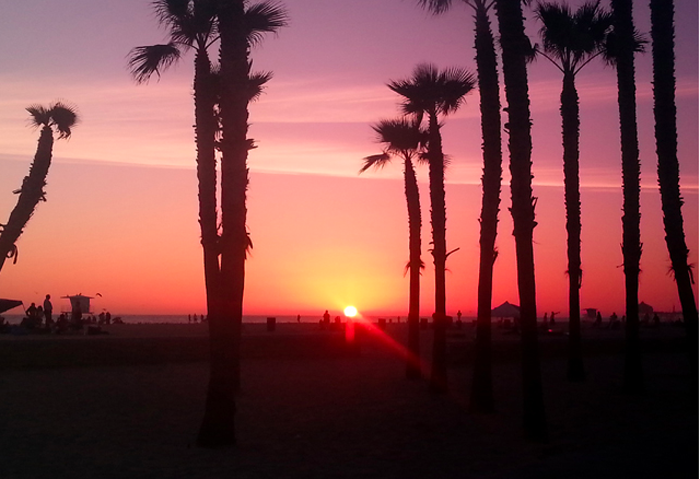 It's no secret that I've been missing California like crazy these days. It seems that any little thing I hear, see, or do lately has a way of reminding me of our time there. Fireworks heard on Memorial Day reminded me of Independence Day spent at our friends' in Huntington Beach, watching the fireworks from the cul-de-sac with their neighbors and friends. Pulling into our local dumpy-looking Target parking lot reminds me of our Target in Tustin, so fancy and lined with palm trees (but with a parking lot scattered with lazy peoples' carts.) And the weather…ahh! Enough said.
Even though I'm happy and satisfied that we're living back on the East Coast, the nostalgia sparked by these simple reminders fills me with a longing to be there, just for a moment. Or…maybe at least a week.
Actually…just reading this post is making me crazy this morning.
For anyone new here, or who may not know, we spontaneously moved to Orange County, California in the spring of 2013 and lived there for just a little over two years. Dan's grandmother and some other family lives in San Diego, so visiting is constantly on our minds. We actually decided upon leaving that it would have to be at least a year before we went back because we were afraid that visiting would spark some kind of horrible regret at leaving, but I think that slight feeling of "what if" will remain with us regardless of how long we stay away.
Now that we're coming up on leaving two years ago (in August), I'm starting to drop hints and push and prod for a "vacation" to our former home. After writing my "If I Were in NYC Today…" post was so fun for me, I thought I'd do a similar one for SoCal.
If I had one week in California, we'd most definitely begin and end it at G-Ma & Bill's in San Diego. Our time with them is always so relaxed, usually starting with breakfast of Einstein Bagels, coffee, and fresh oranges from the tree in the back yard while we watch the hummingbirds that hover near their kitchen window. Once we all sat there and talked for so long that when we looked up we realized it was almost 4pm.
Visits to San Diego almost always include a trip to the San Diego Zoo, especially since Bill is/was a volunteer there. We may also fit in a visit to one of the museums in Balboa Park, lunch in Old Town, and maybe an afternoon in La Jolla. We'd definitely also have lunch or dinner with Dan's aunt, uncle, and cousin, probably at Studio Diner.
Related Post: A San Diego Visitors Guide
After a couple of days catching up, we'd head up the coast to our old stomping grounds in Orange County. We'd drive through our old neighborhood in Tustin just to break our own hearts and see what's changed. Donuts from DK's would have to happen, and they'd be a perfect snack for a drive to the beach.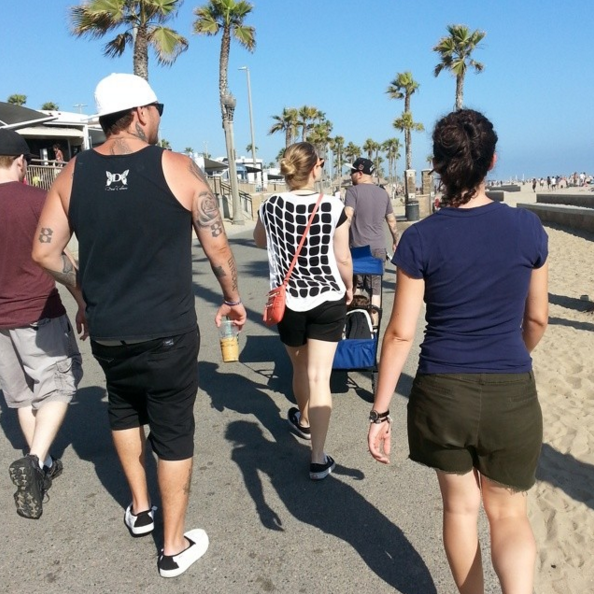 Time spent at Huntington Beach is a must, as well as catching up with our friends James, Laura, and their kids. Hopefully our friends Austin and Lindsey and their new baby would join us from Santa Ana. We could have a pizza picnic on the beach or maybe have sushi on Main Street. Maybe we'd finally get a spontaneous group tattoo, like we almost got that one time. (In hindsight, thank goodness that tattoo shop in Newport was closing for the night, or I'd currently have a Sharknado tattoo.)
Related Post: My 10 Favorite Restaurants in Orange County
I also couldn't spend time in OC without a trip to Laguna Beach. There isn't even a specific list of places I'd visit while there; I'd just wander up and down the streets window shopping, find someplace to eat, and enjoy spending time sitting against the rocks in some fabulous little hidden cove.
There are a few other people I'd have to see in OC; friends from my old job, like Sonya and her family, and Mireya and Kristina. I'd love to stop by the Anaheim Packing House for Popbar and visit The LAB for a little shopping, too. Our time in OC would be full of good food and great friends.
Of course we'd have to spend a day as tourists, and Los Angeles is so accessible. I'm constantly comparing every meal I have at Mexican restaurants to the food at El Paseo Inn on Olvera Street, so that's an absolute must. (Dan and I once drove over an hour in horrible traffic just to eat there, then turned around and went home.) Afterwards we may check out The Last Bookstore, visit the Melrose Trading Post (if it's a weekend), or shop for fabrics at Mood on La Brea. We also have our eyes on dinner at one of Nancy Silverton's restaurants after seeing her episode on Chef's Table.
One of my favorite touristy things to do in LA is visit the Warner Brothers Studio. I've been twice and saw different things each time, but Dan hasn't been before. Every time I see something on TV that I recognize as from there, I tell Dan that the next time we're in LA we have to go, especially after seeing it so much recently, like in the new Gilmore Girls or La La Land.
Related Post: LA in One Day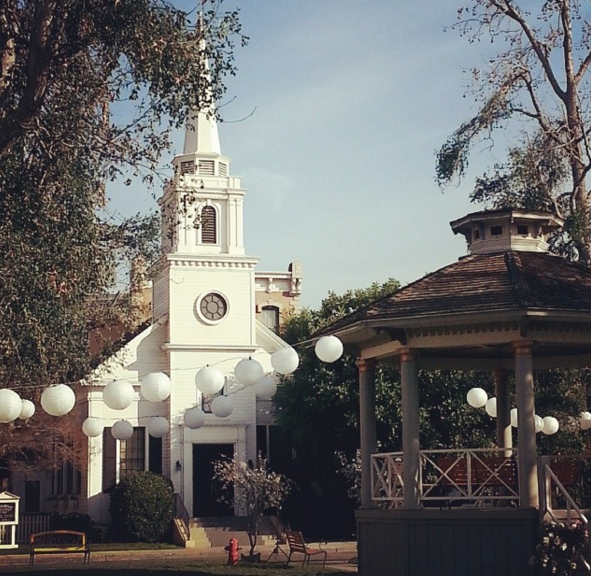 Of course I also dream of having enough time to throw in a visit to the desert, as Joshua Tree is one of our favorite places on the planet, but I also don't like to feel rushed when I travel. Let's face it, just one week anywhere never feels like enough time and truly isn't. I'm so thankful that we were able to make California our home for a little while so we could truly get to know it and enjoy the things around us in a way that a week's vacation couldn't. If I have to limit my returns to one week at a time from now on, I guess can live with that.