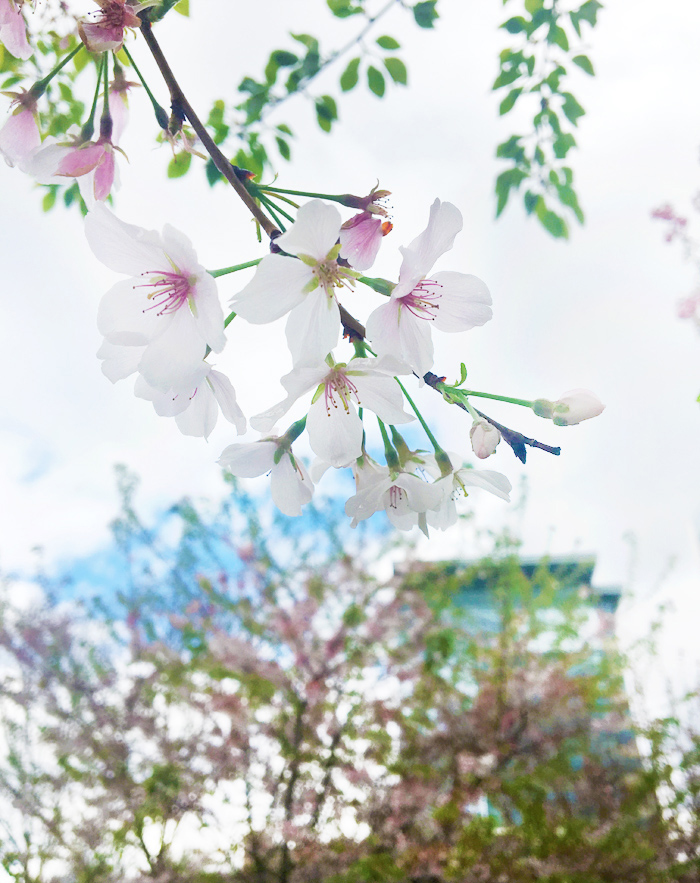 Spring has arrived here in Richmond, and I finally feel like it's here to stay. The cherry blossoms all over town have taken over every local Instagram account and we've had our windows and porch door open the past couple of days to let in the fresh air. I love it.
Yesterday I was able to put on a real pair of pants for the first time in over two weeks. I tried Friday night and it was too difficult; I was in far too much pain too quickly. Yesterday the worst of it came from getting out of the car too quickly, the button on my jeans scraping across the incision in my belly button as it moved down below my waist when standing. I'm still sore, but I'm healing. I'm starting to feel normal again.
Lately I've been feeling like I want to just get in the car and drive far away. That used to be easier, back when I wouldn't have felt guilty for doing so…back when I was working and felt the freedom of spending money I'd worked for to do something so frivolous. It's not that I would go away and never return, but maybe simply find myself at the beach for a day, or end up someplace like Savannah, Georgia for a night. That was easier when life wasn't so serious; when Dan wouldn't have felt the responsibility of an in-office job, or when I wouldn't have felt bad for adventuring without him. I really do hate leaving him out of fun things like that; he's my favorite adventure partner.
Once, when I was working in California and the problems and harassment at work had reached an all-time high, I left a doctors appointment and decided not to go back to the office. Instead I merged onto the 5 and found myself winding through the canyon road to Laguna Beach. I needed a moment to breathe, to sit on the beach and watch the waves batter the sand and rocks while I sorted through the stress and emotions attached to what was happening with my job.
I stopped in a shop and treated myself to an iced tea then wandered through some of the shops on Forest Avenue. A young cashier asked me about my day and I told him I was treating myself to an afternoon off work—playing hooky. He told me that he respected his managers too much to ever do that and that he really appreciated his job. I was sort of taken aback that he would guilt me for my actions when he didn't know me or the situation. I immediately felt shame for what I was doing, but also anger. This young guy had no idea just how disrespectful my workplace was in the first place, and that in the moment that I had decided to skip that afternoon, I had also decided that I no longer had respect for my workplace in return. I quit three weeks later.
I think that it's natural to want to escape reality for a while when you're going through something difficult. A spontaneous drive out into the quietness of the mountains or to be by the beach always sounds appealing when you need a moment to think or are reaching for a reset. The beautiful weather has only intensified this feeling for me, teasing me with memories of our life in California where it felt like this almost every day, where life felt like an adventure all the time. Some days that feel that way make me wonder why we ever left…a bittersweet feeling for sure.
Perhaps today I'll put on real pants again and drive downtown for a while. It won't be Savannah or California, but maybe I can sit beneath the cherry blossoms and think and breathe, centering myself while I try to sort through everything that is weighing so heavily on my heart.