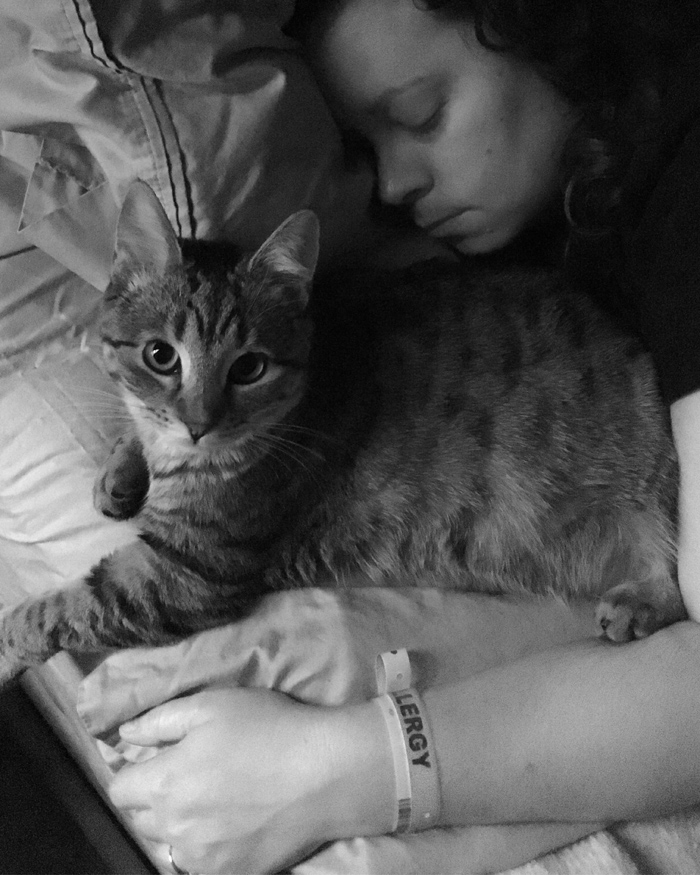 Some of you may have seen my Instagram post a couple of weekends ago that told this story in short form. Many of you have reached out to me since and I cannot begin to tell you how much that has meant to me. Thank you so, so much.
I have tried to write this down several times, but I have to admit that I'm still on painkillers and it can be hard for me at times to focus on one thing long enough to make any sense of it. I do feel the need to put this all out there, though, because 1) I never want to forget how I felt through all of this and 2) while the choice to share this so publicly may be thought of as strange by some, there's no secret or shame in what happened to me. Not enough people talk about this experience even though it's more common than you may think. I'm tired of these struggles being so private; I need to say it out loud and have friends (in real life and online) know what is happening in my life, because keeping it all to myself is so very isolating.
FYI, some of this may be TMI.
Rewind a couple of Tuesdays, to the 21st of March. I woke up feeling so strange, kind of bloated and sore down in my lower belly. By the end of the day I was spotting a little bit, which was strange considering my period wasn't due for another ten days. Wednesday was about the same, but the soreness I was feeling was increasing. On Thursday morning I was up and ready early to go to a greenhouse with my neighbor. As we browsed the aisles of pots and plants I told her how I'd been feeling and mentioned that I was also starting to feel slightly nauseous. She teased me that it sounded like I was pregnant, asking if I'd taken a test. It hadn't occurred to me that this was even a possibility, but the signs were all there.
I was home by noon and shuffled into the house and toward the bathroom. I have a box of strip pregnancy tests in the cabinet, so I thought why not? I pulled out a plastic cup to pee in then mindlessly dipped the test and sat it aside, chatting with the cat who had curled up on the mat like she always does when I'm in the bathroom. When I glanced back up at the strip my eyes nearly popped out of my head. This can't be right, I thought. I can't be pregnant. It's not possible. By this point I'm saying all of this out loud to the cat. I opened another strip and dipped it into the plastic cup. Then another, and another. Two lines appeared each time. "Rory. I'm pregnant." Holy crap. I'm pregnant?
It was closing in on 1pm and I knew Daniel had a doctors appointment at that time. I texted to ask if he was coming home after or going back to the office, but received no answer. I never dreamed I'd ever see a positive test in my life, so I had no clue how I should tell him. Was I supposed to do something special? This wasn't a scenario I had a plan for. I sat down in the kitchen floor with Rory and started playing with one of her toys with her. I glanced up at the plastic alphabet letters strewn across the front of the fridge and started spelling out a message to myself. "I'M PRe NAnT," it read, all of our "G" magnets lost somewhere in our previous apartments. I decided this would actually be a pretty good way to tell Dan. (I do see a 6 or 9 I could have used, but I'm just now discovering that from this photo.)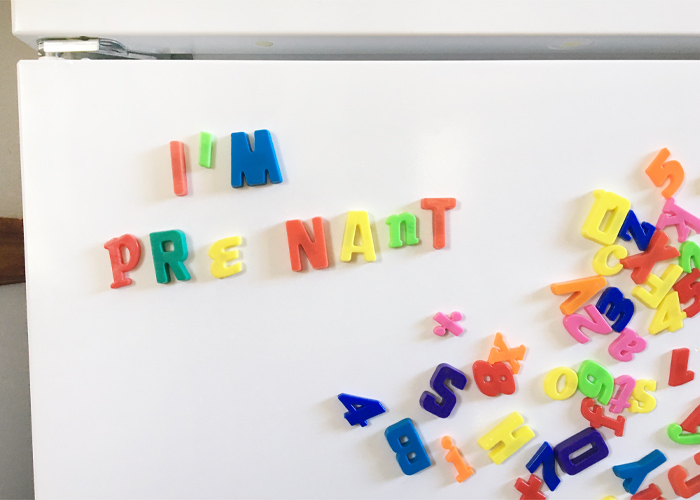 Dan did come home after his appointment, around 2:30pm, and came into the kitchen to tell me how it went. Unsure of how to bring it up, I just hugged him, the refrigerator behind me. "We need to buy more letters for our fridge," I said. "We're out of Gs." I felt him look up and waited a moment for it to register. His excitement was immediate as he asked, "You're pregnant?! Are you pregnant?!" We hugged and cried and returned to the bathroom so he could watch a test strip turn. We were both so stunned and surprised and filled with joy.
It felt too good to be true. I felt like I couldn't trust it, like it wasn't real or that it wouldn't last. I have been convinced for so long that it was never going to happen, and had already prepared myself to never believe it would work out until I was more than three months along if it ever did. I've told people close to me before that I would pretty much never even believe I was going to be a mother until I was actually holding a breathing, living child in my arms after labor and delivery. This situation was no exception, and the fact that I was cramping and spotting more was only furthering this belief for me.
After five o'clock I told Dan I thought we should go pick up some more tests and some feminine products at the store…I was sure that something wasn't right and that our joy would be short lived. We drove to Kroger as the cramping intensified. After parking, I told Dan that he should probably go inside and get everything while I waited in the car because the pain was starting to overwhelm me. Within minutes I knew that I was going to pass out. The last thing I remembered before blacking out was calling Daniel and pressing the speakerphone button. He called me back five times before I came to and heard my phone ringing. The moment he got back to me he rushed me to the emergency room.
The ER was a flurry of activity and questions. I was given an IV and nausea meds and had both external and internal ultrasounds done. Soon the doctor returned and confirmed that I was in fact pregnant, but that the ultrasounds showed nothing that would indicate what was causing my pain. He determined that I probably had a ruptured ovarian cyst and assured me that it shouldn't harm my pregnancy. He said my hormone levels indicated I was around three weeks along, which matched up with my cycle and calendar. He also assured me that he saw nothing on the ultrasound scans that lead him to believe I could have an ectopic pregnancy, and that an ectopic pregnancy that early on wouldn't cause the sort of pain I was experiencing anyway. He urged me to see my OBGYN the next morning for a follow up. By 2am I was back at home in my bed, drugged up on pregnancy-safe pain meds and still clutching my left side.
I woke up Friday morning in less pain and prepared to visit my doctor. We grabbed a biscuit from a drive-thru and headed in, expecting the ER doc's findings to be backed by my OB. My doctor asked me what I thought had happened the day before and I relayed my belief that I had a ruptured cyst, which is what we had chosen to tell our family while leaving out the pregnancy part. We weren't ready to share the news so early, but we also knew we'd no longer be able to make it to my friend's wedding that Saturday.
My doctor began an internal ultrasound and within a minute he had frozen the image on the screen and stopped to talk to us. "You have a tubal pregnancy," he told us. It was not a ruptured cyst; it was ectopic. I could see it clear as day on the screen and was overwhelmed with emotions and questions. He measured me to actually be seven weeks pregnant, which made even more sense than three. "So, that's a surgical situation, isn't it?" He confirmed that it was; while there is a type of chemo injection that will break down the pregnancy and allow it to pass from the fallopian tubes naturally, I was too far along to take the risk of waiting the two weeks it would require. I asked when I would need to do the surgery…a couple of weeks? A couple of days? "A couple of hours," was his answer.
Words cannot describe to you all of the things I was thinking and feeling in that moment. Only the passing of time has allowed me to begin sorting them all out, but the first and most intense feeling was fear. To sit on a bed in a doctor's office and hear you would need to be in surgery within hours is terrifying. To go from believing your miracle pregnancy could be protected from whatever was happening to you to finding out that the miracle pregnancy was what was happening to you…I still have no words for that.
Because I had just eaten, the surgery was pushed back to 6pm, but they still wanted me at registration by 3pm. We had one hour to go home and grab comfy clothes, leave food and water out for Rory, and call my parents. My mom began the two-hour drive to be with me immediately. I messaged Diana frantically, as they would be boarding their plane from Amsterdam to DC the very next morning. It was all too much. It was all too sudden.
After registration I was wheeled to outpatient prep and got into my fancy hospital gown. Nurses and anesthesiologists came to meet me and answer any questions I had. My mom arrived shortly thereafter and cried with me a while; I told her I would have surprised her with the news for Mothers' Day, if I could have waited that long.
Shortly before I was given my IV, a nurse came in with a question I was not prepared for and never dreamed I'd be asked in this situation: what would Daniel and I like to have done with our baby's remains? I could let the hospital dispose of it like any other surgical tissue, or there is a local funeral home that will provide a cremation and memorial service "for situations like this" for free. A third option was to mark "unknown" and have the hospital contact us in a couple of weeks for an answer.
This was the first time anyone had called it our "baby." Everything had happened so fast that I barely had time to register that I was in fact pregnant, especially not that I was nearly two months along. I marked undecided, completely aware of the fact that I was in no position to make decisions of that magnitude at that moment. "This isn't even real to me yet," I told the nurse as I signed, who was tearing up as she waited to take back the papers. "I just found out yesterday." Later, Dan had to explain to her that we had just found out I was pregnant the day before, which apparently made her cry even more.
Surgery was quick and I woke up in a lot of pain. After making me more comfortable, I was helped with getting dressed and wheeled to the car. I cried all the way home. Nothing that had happened to me in the previous 30 hours was ever given enough time to sink in. My doctor relayed to Daniel and my mom that he was unable to save my tube but that everything else looked very good.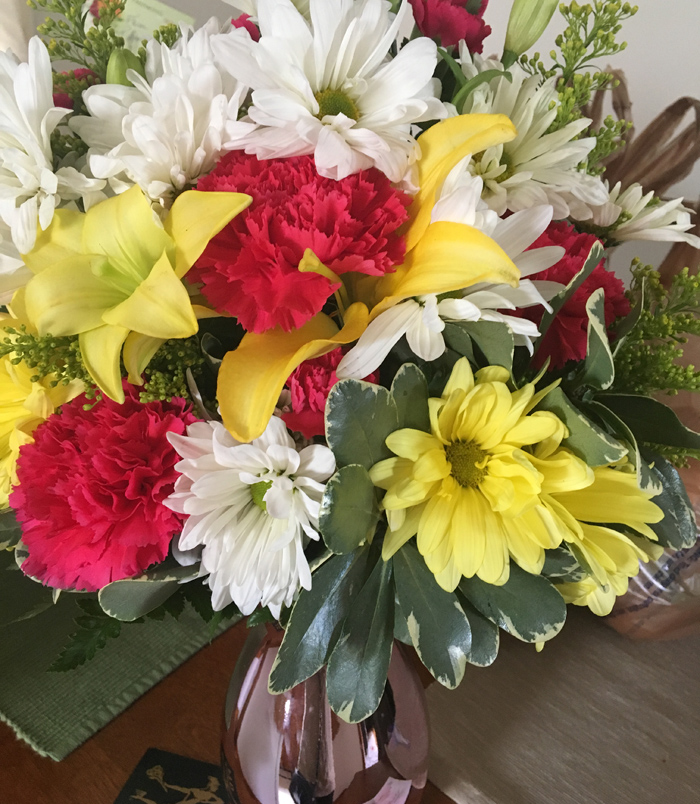 After making sure all of our close family knew on Saturday, I decided to share my experience on Facebook to let friends that I couldn't contact directly know. I have received an incredible outpouring of support and love from everyone and that alone has made me glad that I didn't go through this quietly. People from back home have messaged me to tell me they've experienced the same loss and welcomed me to reach out to them anytime. Friends and family have visited, called me, and sent flowers to show their love. I have been so overwhelmed by prayers, love, and support…I could never find the words to express my thankfulness to have these kinds of loving people in my life.
I still don't think I've had time to sort it all out in my head. Having Diana and Robbert here was a great distraction from my reality, regardless of the constant reminder from the ongoing pains of recovery. I was able to do a lot with them this past week anyway, mostly sitting wherever we went and taking it really easy the first few days they were here. Now that they're gone, I'm taking it much easier this week and continuing to let my body heal the best it can.
The silver lining through all of this is that I actually was able to get pregnant. This means that it is a possibility to get pregnant again, which is a very bright glimmer of hope shining through an otherwise very dark time in my life. Oh, and I named our baby something that started with a G…you know, like the letter we didn't have on the fridge. I'm still adjusting to thinking of baby G as a pregnancy loss, but it's definitely something that I'll never be able to leave behind.