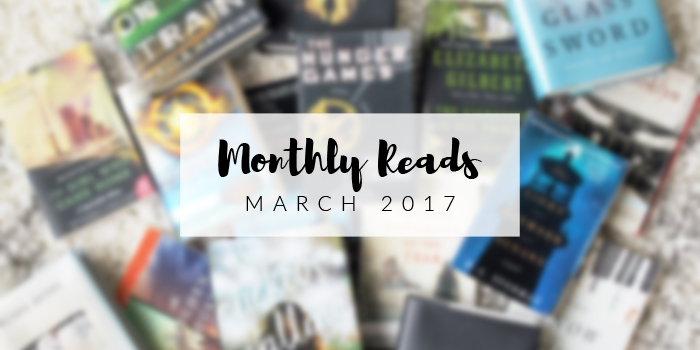 I read three books this month, bringing me to a total of 10 out of my year goal of 25. You can follow along with me on Goodreads here.
* Post contains Amazon affiliate links *
– – – – –
King's Cage by Victoria Aveyard
I started reading King's Cage early in February, thinking I'd knock it out in less than a week…didn't happen. I read the first two books of this series, Red Queen and Cruel Crown one after another early last year and loved them. I preordered this third and final book of the series the minute it was available, excitedly waiting for months to get my hands on it, but reading it almost an entire year after the second book (without going back and refreshing my memory) is probably the first mistake I made in finishing up this series. In the end, I'm left wondering what the heck happened to this wonderful series.
Here's a mini synopsis for those of you who haven't read Red Queen, Cruel Crown, or my review. Mare Barrow lives in a kingdom where regular people, those with red blood, live in poverty and in service to the crown and society of silvers. Silvers are people who have silver blood as well as abilities, magical powers that allow them to do things like manipulate fire, water, storms, metal, or read minds. (The list goes on and on.) Mare is taken to the palace to work as a servant for the king's family and suddenly discovers she also has an ability in front of multitudes of silvers visiting for an important ceremony. The king covers it up, saying she is a silver from another country, and brings her into his household while he tries to figure out how a girl with red blood has silver abilities. From there things get crazy, and I don't want to give you any more spoilers than I already have. I'll just say that I loved this story and the characters; the world-building is fantastic and the characters all have realistic personalities that you come to love (or hate) over the course of the first two books.
I'll say it again: it was my fault that this book was so off for me in the beginning. For the first few chapters I couldn't remember what happened in the previous book, constantly having to look that information up to refresh my memory and still not having any of it ring a bell. Then there were chapters told from a new point of view, from Cameron, a character I dodn't even remember existing in book two. Over time things started to come back to me somewhat, but I was still more than halfway through the book before anything exciting happened.
Mare is being held captive by the silver king (one of the sons of the king from the first book by this point) and her captivity includes silencing her abilities and a lot of solitary confinement (in a nice suite, at least). To me, this just didn't make for an interesting story (especially considering it was more than half of the book) and we're left finding any scraps of entertainment from the point of view of Cameron (who is an unhappy and unwilling party in her storyline.) Basically, over 200 pages are just building up to the exciting parts, which happen suddenly, return to slow, then build again before a disappointing end. Yes, things are tied up in a neat bow; justice is served. But I was unhappy with one character's final choice in the end, which left me going, WHAT THE HELL? AFTER ALL THAT?! Some readers found it all very expected, and I can't say they're wrong, because maybe that's the way it should have been all along, but dang. Talk about a let down.
Should you read it? Maybe. Read the first two, for sure…if you read them all close together this one may be much better for you than it was for me.
 – – – – –
The Fall of Lisa Bellow by Susan Perabo
Lisa Bellow is the most popular girl in the 8th grade. Meredith Oliver definitely isn't popular, and she despises Lisa Bellow and all of her popular friends. (Middle school is rough, right? Ugh.) One day, Meredith treats herself to a soda at a sandwich shop after school and Lisa is there ordering a sandwich. A masked gunman enters the store and demands they get on the floor, robbing the cashier, and Meredith is sure they are both about to be killed. Lying face to face with Lisa on the floor, Meredith is the last person to see her before the gunman demands she gets up and leaves with him, leaving Meredith lying there frozen in fear. Lisa is abducted, and nothing is ever the same.
Meredith is thrust into the spotlight, befriended by Lisa's popular friends and mother, and questions the reality of what she remembers happening. As if being thirteen wasn't hard enough, the trauma of her experience and the loss of someone she never really cared for in the first place is debilitating. A second point of view is told by Meredith's mother Claire. The complexities of Claire's personal issues are only confounded by what happens to Meredith and Lisa.
The blurb for this book gave me really high hopes. I was looking forward to solving this mystery, to putting together the pieces as Meredith did, but it never happened. There is absolutely no resolution, for anyone. Sorry, biggest spoiler ever, but I am left frustrated by this book as a whole and completely irritated by Meredith and Claire alike.
Besides the resolution of this story (or lack thereof,) I have a major problem with the slut-shaming that was going on in this book. Yes, it is realistic that middle school girls throw around these criticisms without much thought, and it is true that even the girls who hate the "mean girls" are often mean girls themselves. Calling the popular girls "sluts" without cause happens frequently in this story and I was starting to worry that it was going to go completely unchecked, until a brief sentence in a chapter by Claire where she denounces this behavior by her daughter and her friends…but only in her head. She never calls Meredith out on this, never tells her it isn't okay. It continues on, and eventually is even done by Claire herself. Meredith's brother even does his fair share of slut-shaming, a high schooler classifying these little girls as "the slutty ones" repeatedly.
The most infuriating part of this story for me is where this slut-shaming meets rape culture, and I was reading with my jaw dropped at one point that this way of thinking was never challenged anywhere in the story. Meredith frequently imagines where Lisa is and what is happening to her, sometimes leaving the reader unsure of what is real and what isn't. (The only redeeming aspect of the plot, I believe…this was well done.) At one point, Meredith is very blunt about the fact that she believes that Lisa is being raped by her abductor. This is brave and forthright for a thirteen year old girl, but she doesn't stop there. Meredith goes on to say, "Having sex with the kidnapper—really she wasn't even going to think of it as rape, because maybe it wasn't quite exactly rape, not like someone jumping out of the bushes and tearing your clothes off—was unpleasant, to be sure, but it probably wasn't horrible." I. Can't. EVEN. Statistics show that 93% of underage victims of sexual assault know their perpetrator, leaving only 7% of this violence to the type of rapes that happen from someone "jumping out of the bushes." Let's go ahead and just assume that the author knows this fact and that this was supposed to just be another ignorant statement/thought by a very young character, but this book is marketed toward young readers…so…not okay. Over it.
– – – – –
A Conjuring of Light by V.E. Schwab
This is the third book of the Shades of Magic series. Click here for my reviews for the first two books, A Darker Shade of Magic and A Gathering of Shadows. This series was my favorite new series I read in 2016.
Oh thank GOODNESS. You know, after the first two books I read this month, I was honestly concerned to start this one. I just didn't want it to go south, didn't want it to disappoint me. Maybe it was me, I thought…maybe reading this book now would ruin it, too, and I couldn't have that. I am happy to say that this book was everything I wanted it to be, and more.
A Conjuring of Light was so much more in depth than I ever expected it to be. While the first two books of this series felt as though they had plenty in-depth storylines for me, I had no idea how much deeper the author could take them with book three. Alongside the character development that continues to expand for the main 3-5 characters, other minor characters were given a much heavier presence and purpose in this story, fleshing out the history of the world they all live in and connecting them all in more interesting ways.
This story slowed down much more than the pace of the previous two, giving you time to savor what was happening and allowing you the chance to really get to know the characters as you went. The ending was drawn out, but only in the most satisfying of ways. No ends are left hanging in the wind, leaving you wondering what would happen next. This book delivers on giving the readers a satisfactory conclusion to a much-loved universe and consequentially also has us asking for more. Schwab has confirmed that we have reached the end of the road for this storyline, but she has teased that she may not be completely done with the magical world of Arnes.
I wrote during my reviews of the first two books (in October) that this series had been picked up to be adapted as a limited series, but that has changed now. The first book will now be adapted as a film (possibly all three as a trilogy!) with Gerard Butler and more producing alongside Schwab herself. I'm sad she will no longer be working on the script, but she will have a hand in how things turn out. I can't wait to learn (and share) more!
So, just so I'm clear…this is by far my favorite series since The Hunger Games, and that's saying a lot.
– – – – –
What did you read this month? Do you recommend it? If you wrote a review post of your reads from March please share the link in my comments so I can check out what you read, too!