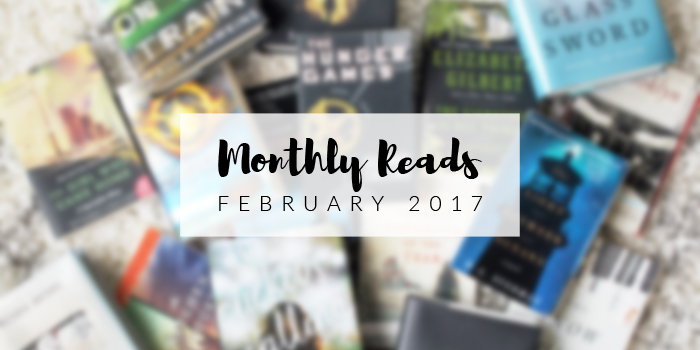 Happy reading, friends! I only managed to read one book this month, bringing me to a total of seven this year toward my goal of 25. I really thought I'd finish the one I'm currently reading, but I found myself so tired when reading before bed lately that I would turn pages and realize I didn't remember reading anything. I hope I'll finish it soon and pick up my pace again in March. (PS—You can follow me on Goodreads here if you'd like!)
* Post contains Amazon affiliate links *
– – – – –
Carve the Mark by Veronica Roth
Carve the Mark was one of my most anticipated pre-orders from last year—August, actually. I honestly never even read the blurb for the book before ordering; I just knew that I love the way Veronica Roth tells stories and I was sure this new series would be no exception. It Roth's name rings a bell, it's because she's the author of the Divergent series, which I also loved.
It took me a few chapters before I understood what was going on in this book, but once I was in I was hooked. Unlike Divergent, Carve the Mark is not a dystopian novel; it's fantasy and science fiction. The two main characters, Cyra and Akos, live on two opposing sides of a planet that their people give different names to and dispute claim of. Cyra is the sister of the feared tyrant ruler of Shotet, Ryzak; Akos is the son of the oracle of Thuvhe.
The "current," a visible, colorful phenomenon that winds its way throughout the galaxy, is perceived by people across the universe as something that is within everyone and is revered by many in a religious way. At a certain age in this universe, people discover their special "currentgift"—random abilities such as the power to calm those around you, or to cause them immense pain—which is seen as something granted to them by the current that runs through them all. Some people are even predicted to have special and specific "fates," which are unfortunately used by the oracles to try to manipulate certain futures. Regardless of his mother's ability to read the futures, Akos and his brother Eijah, both fated, are captured by the Shotet people and brought into the service of Ryzak, who is also fated. Ryzak is determined to not see his fate become reality and he believes that Eijah's fate and currentgift will help him achieve this. Cyra and Akos, opposite as they are, must learn to work together to try to manipulate the fates themselves, hoping to save Eijah in the process.
As confusing as that little summary might have been, I really enjoyed the universe these characters live in. It was very different than anything I've read in a long while, if ever. I wasn't expecting sci-fi, zooming around to other planets, and a bit of magic, but I'm sad that it's over already and that I'll have to wait so long to see what happens next.
– – – – –
Did you read anything really great this past month? If you put together a post of reviews similar to this one, please share it with me in the comments below! I love finding new recs from other bloggers; it's usually how I choose what to add to my TBR!