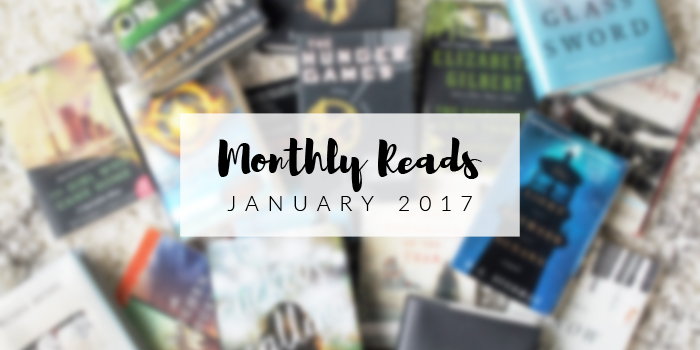 My 2017 reading has begun! I'm off to a great start, reading six books this month in an attempt to read 25 by the end of this year. (Do you join the Goodreads Reading Challenge? Be my friend on Goodreads here!) Read on for my reviews of the books I read this month—and no spoilers, I promise!
* Post contains Amazon affiliate links *
– – – – –
Fantastic Beasts and Where to Find Them by Newt Scamander
This is the Hogwarts Press version written by "Newt Scamander" and "Property of Harry Potter" with a "foreword by Albus Dumbledore," originally created by J.K. Rowling. This is not the screenplay that was recently released alongside the play and motion picture. In fact, the movie and play of the same name were created based on the creatures found inside this Hogwarts textbook and the author who researched and collected information for it, Newt Scamander. If you watched the movie, you'll remember hearing Scamander talking about "finishing his manuscript" as he boards a ship to London. This is it!
I actually read this in under an hour…it's only 110 pages long, 88 of which are simply the names and "definitions" of all of these fantastic beasts. The first 22 pages contain the foreword by Dumbledore, explaining that this edition includes all of the notes Harry Potter, Ron Weasley, and Hermoine Granger wrote in Harry's copy (adding a bit of comic relief to the descriptions and history,) as well as Scamander's notes on how beasts were categorized and given (or denied) legal rights and representation throughout wizarding history.
Immediately after finishing this book, we took off to the theatre to see the movie. While the book didn't give away much information about what the film would be like, it was fun to see a creature on screen and remember reading about its characteristics earlier that morning. While I enjoyed this book, it's definitely not a novel and it probably shouldn't count towards my reading goals for this year. I recommend this one for major Harry Potter fans who want to own all of the books and memorabilia surrounding the franchise, but maybe not so much for a casual reader.
– – – – –
The Velvet Hours by Alyson Richman
I picked this book up after reading Lisa's wonderful review and share many of her sentiments. The Velvet Hours switches back and forth between the perspectives of young Solange, living in Paris in 1939 and 1940, and that of her grandmother, Marthe de Florian, a mistress reveling in the abundance and glamour of the Belle Époque (1880/90s.)
After discovering her father was adopted, Solange meets her biological grandmother (de Florian) and is completely captivated by her life story. She continues meeting with Marthe regularly in her grandiose apartment and listening to her stories of past lovers, her abundant collection of fine Japanese ceramics, and the incredible painting of Marthe hanging above the mantle. As the Germans move closer toward France, and eventually toward Paris itself, Solange and Marthe find themselves inseparable parts of each others' lives.
I refuse to share any more of the synopsis of this story because I don't want to share any spoilers, but the story is told beautifully by both women and is a joy to read. I will share that the inspiration for this story is based on truth: while this book's depiction of de Florian is of the author's imagination, Marthe de Florian—her elaborate apartment, ceramics collections, and the painting by artist Giovanni Boldini—are all real.
– – – – –
The Star-Touched Queen by Roshani Chokshi
Where to begin with The Star-Touched Queen? I have many thoughts and am still not sure how I feel about this book. The best I can do is to break it all down in pieces.
TSTQ can be described as fantasy or a fairy tale, full of mythology based on Indian/Hindu myths and folklore. There are whispers and shadows, other dimensions and worlds, and indescribable creatures. I spent the first half of the book wondering what the heck was going on.
In the beginning we are introduced to Maya, a princess and daughter of the king who is hated and feared by the other wives and siblings because of her horoscope, which depicts death. As Maya is offered for marriage in a political transaction, battle breaks out and she is swept away by another kingdom's king (Amar) who promises to rescue her and give her freedom and power as his queen. Things begin to happen quickly and we are suddenly made aware that the imaginative stories Maya has previously shared with her half sister—and the fears the other wives have about her—may be based in some fact.
Here is where I started to get lost. Maya and Amar move from place to place so quickly, from mythical world to mythical world and then mythical room to mythical room, with descriptions of mythical beings, decorations, and instruments of power piled on top of each other in a way that I could barely keep up. I had to read these sentences slow, trying to imagine what was being described before moving on to the next sentence and doing the same. Just as quickly as the characters, setting, and surroundings change, the truth behind what is reality in this world also changes for Maya. Gah, I'm confused/confusing just writing this.
A Goodreads reviewer wrote "The Star-Touched Queen is a book full of dreamy, purple prose that is at times beautiful, and at others makes absolutely no sense."…"if you buy into these metaphors, put on your prose-tinted glasses and let yourself get drunk on the glittering descriptions…" Uhm, yep. Everything is full of symbolism, metaphors, and purple prose, making it a bit hard to follow. An example:
"It felt like recognition sifted through dreams; like the moment before waking —when sleep blurred the true world, when beasts with sharp teeth and beautiful, winged things flew along the edges of your mind."
But beyond the writing itself (which was sometimes beautiful and poetic, though one giant stumbling block,) the story itself was unlike anything I'd ever read before and the concept was interesting, once I'd finished it. While I may not have known what was happening while it was happening, now that I've completely finished the book (and know what was going on) I feel like I should go back and read it again to really appreciate it.
I still haven't figured this one out, so I won't recommend it or not recommend it. Go read some other reviews and decide for yourself.
– – – – –
The Visitors by Sally Beauman
This book moved at a much slower pace than I anticipated, but I really enjoyed that fact. What I believed would be the overall storyline of this book only ended up being about half of it; it was so much more than expected.
This story begins in 1922. Eleven year old Lucy has been sent abroad to Egypt with a nanny so she can recover from typhoid, which killed her mother. Her father is a writer and professor at Cambridge and has little to do with her, so she is much on her own. Thankfully her nanny befriends an archaeologist's wife whose daughter is close in age to Lucy. Together they explore and experience the excitement of the digs taking place in the Vally of the Kings in Luxor as the infamous Lord Carnarvon and Howard Carter search for the tomb of a king they are determined has not yet been discovered, King Tutankhamun. The story seamlessly flashes back and forth between Lucy in present day and Lucy as a young child, then growing into adulthood, as she looks back on these foundational years of her life, the lasting relationships that were built then, and the secrets she still holds.
I picked this book up on a whim from the $5 table at Barnes and Noble, based solely on finding the blurb and cover interesting; I love archaeology, history, and historical fiction! The quote on the back of the book described it as "Death on the Nile meets Downton Abbey, as the action moves between Highclere Castle and Egypt's Valley of the Kings," so I had to read it, of course. It turns out that most of the people and events in this book are based on real life, although Lucy is of the author's imagination. The nod to Downton is based on the fact that Lord Carnarvon was in fact the Earl of Carnarvon, who lived in Highclere Castle, which is the castle used in the show Downton Abbey. His fascination with Egyptology lead him to invest in exploratory digs there for years, hiring the scholar Howard Carter to do all of the research, organization, and hard work. If you visit Highclere today, you can visit the Egyptian Exhibit and learn more about the Earl's ties to this important time in archaeology's history. Who else finds all of this really exciting?!
– – – – –
A Torch Against the Night by Sabaa Tahir
A Torch Against the Night is the second book of the An Ember in the Ashes series by Sabaa Tahir. I read An Ember in the Ashes in December but did not write a review for the books I read that month.
An Ember in the Ashes (and A Torch Against the Night) is told from three perspectives: Elias is a soldier, raised from childhood to fight for the empire; Laia is a common 'Scholar' (lower class girl) who becomes a slave to help the resistance learn what is happening behind the walls of the empire's military school; Helene is Elias' best friend and fellow soldier who takes a very different stance than him on where their allegiances should lie. AEitA is packed full of action, has wonderful world building, and seamlessly winds together the complex personalities and missions of these three very different characters. There are also some fantasy elements, as not everything in their world is truly of this world. I loved it!
It is really hard to write reviews like this without being either super spoiler-y or incredibly vague. I recommend clicking on the titles to read the blurbs, but the blurb for ATAtN may give some things away. I try so hard not to do spoilers here!
A Torch Against the Night picks up only moments after where AEitA leaves off. You are immediately thrust right back into the action, but the characters are faced with far more difficult choices than ever before. Revolution is beginning as the Scholars rise up against the empire, but it is met with retaliation and horrific, senseless killing. Even though this book is YA, there is Game of Thrones-style brutality—nobody is spared simply for decency's sake. Eventually, it becomes clear that some things (and some people) are not what they seem. This huge twist in the story changes everything and sets us up perfectly for the third (and yet to be announced) book of this series, which you'll now be anxiously awaiting when this book is over.
– – – – –
Even in Paradise by Chelsea Philpot
I had no idea I would add this to my January reads when I started reading it on Friday, but I finished it last night! This was a quick read, but it was a good story and pretty entertaining. I would classify it as a modern "beach read;" a little romance, a little drama, and the complexities of friendship between girls. I needed something like this after a month of heavy reading (The Visitors) and so much action (Torch Against the Night.) Plus, one of the quotes on the back cover likened it to a young, modern version of The Great Gatsby.
Charlotte ('Charlie') is a quiet high school junior and sculpture artist attending a prestigious boarding school in New England. (This already feels so different than most things I read, right?) After helping out one of the school's most popular students, Julia Buchanan, Charlie is swept up into her world. Her boring summer at home in New Hampshire turns into an exciting and unpredictable adventure at Julia's family's summer home in Nantucket, complete with ritzy parties and a new love interest. But as much as Julia's family falls in love with Charlie, they begin to depend on her too much to try to ease the temperament of their daughter, who is haunted by the death of an older sibling.
This book is full of attentive descriptions and relatable banter between friends, which I appreciated. None of it felt over-done or cheesy, and I really enjoyed that the main character noticed subtle details without droning on. The ending seemed a little sudden to me, as in I didn't really see that things were going to happen as abruptly as they did, but the epilogue sort of wrapped that up a bit. The very end seems open to interpretation and I'm not exactly sure what comes next for Charlie.
– – – – –
What did you read this month? If you wrote a post of book reviews like this one, please share the link in the comments! I love to find new reads from other bloggers' recommendations.