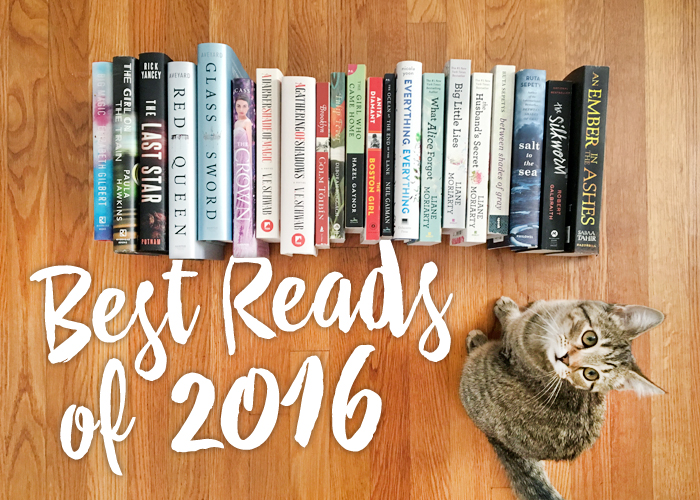 If you're looking for reading recommendations for 2017, look no further. While I didn't reach my goal of reading 30 books last year I did manage to read 21, many of which were really wonderful additions to my bookshelf. I found some really great new series, a new favorite author, and even have a few sequels to look forward to in 2017. Read on to find out which books were my favorite (or least favorite) reads, as well as some upcoming book-to-screen films coming this year.
PS – If you click through to read any of my reviews, I promise no spoilers. I wouldn't do that to ya!
Post contains some affiliate links. Click to learn more.
Best Read of 2016
My favorite book this year, hands down, was Between Shades of Gray by Ruta Sepetys. Besides the story she told, the research she did to create the story as accurately as she could based on real history can be felt throughout. Sepetys' goal was to tell this story and the untold history of Lithuanians and (I believe) successfully honored their memory in the way she wrote this book. I learned so much about this horrifying time in history that has, for the most part, been swept under the rug and kept quiet for decades. I feel that this book (and her book Salt to the Sea, based on the same time period) should be shared with schools around the world the way the Diary of Anne Frank has been, even if this one is fiction.
> You can read my review of Between Shades of Gray here.
Best New Author I Discovered in 2016
Being that her book Between Shades of Grey was my favorite read of the year, I could not get enough of Ruta Sepetys' work. (You can read some of the reasons why above.) Her book Salt to the Sea was my second favorite read of the year and I look forward to anything else she will be publishing in the future.
> You can read my review of Salt to the Sea here.
Best New Series I Started in 2016
The Shades of Magic series was easily my favorite and the most exciting new series I started this year. I read both A Darker Shade of Magic and A Gathering of Shadows back to back in October and am anxiously awaiting A Conjuring of Light in February.
> You can read my reviews of both Shades of Magic books here.
Least Favorite Read of 2016
I was actually really disappointed by The Girl on the Train by Paula Hawkins. While it isn't one of my least favorite books by far (I did enjoy some aspects of it) some things just didn't come across the way I believe they could have. I enjoyed the twists and turns of this mystery and didn't solve it myself until the very end, which means it was well done, but I could not like the characters of this story in the least. I was excited for the corresponding movie, released this past October; I had high hopes, but this was one situation where it was a shame that the movie was so closely like the book and I was disappointed in both.
> You can read my review of The Girl on the Train here.
Quickest Read
I'm fairly certain that I read Everything, Everything by Nicola Yoon in less than eight hours, maybe less than six. I'm not sure that this is because it was intended for a younger audience than myself or because of the way the book was formatted (including texts, articles, emails, etc) to tell the story. Regardless, I really enjoyed this book and do recommend it, but I'll probably pass it on to younger readers instead of others my own age. I believe the 16-21 market could most relate.
> You can read my review of Everything, Everything here.
Most Unusual Read
The Ocean at the End of the Lane by Neil Gaiman was definitely the most unusual story I read this year. The entire world this story is based in is so fantastical and newly created that I was required to really expand my imagination to read it. I look forward to finding another of Gaiman's books to read in 2017.
 > You can read my review of The Ocean at the End of the Lane here.
Favorite from Each Category:
Sequels I already have on Preorder for this year:
Best Movie in 2016 Based on One of these books:
I really, really loved the book Brooklyn by Colm Tóibín and the movie turned out better than I could have asked. I felt like I could really relate to the feelings of homesickness in this book and the movie truly brought it all to life. I cried in the theatre and recommended it to everyone. There's a reason this movie was nominated for and won so many awards last season, including nominations for an Oscar for Best Film of the Year and a Golden Globe for Best Performance by Saoirse Ronan.
> You can read my review of Brooklyn here.
Movies Based on my 2016 reads to Look Out for in 2017:
---
What were your best reads of the year and what are you looking forward to reading in 2017? If you did a post similar to this, please leave a link to it in the comments! I'd love to check out your recommendations!