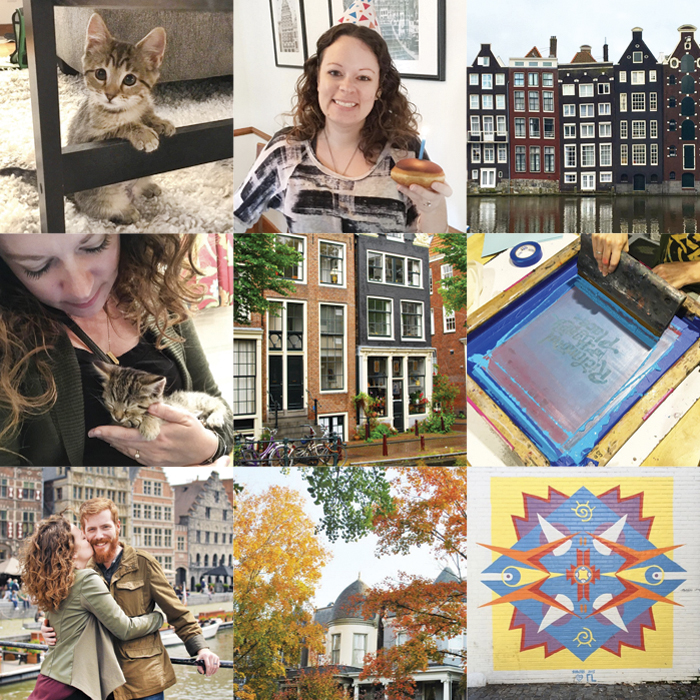 Just like last year, I was curious which of my Instagram photos were the most popular over this past year. And like last year, I recommend using caution if you decide to look up and use the website that compiles this for you…so many pop-ups and scams. #sketchy
While there are a couple of repeat subjects in this year's top nine, I think they are a great representation of my year. Keep an eye out for my annual "Year in Review" post this weekend for a fuller recap of 2016.
#2016BestNine
1 | Rory! We adopted our kitty Rory back in October and she has been the greatest little addition to our tiny family, and such a good companion. The internet is basically just cats, so I'm not surprised that this photo of her the night we brought her home was my most popular pic of the year. Her big eyes and sweet expression here kind of tug at the heartstrings.
Related post: 10 Days of Rory
2 | I turned 30! Instead of having a cake for my birthday, my dad and I stopped at Krispy Kreme and picked out a dozen donuts to bring home and share with Dan and mom. I couldn't let the occasion pass without blowing out at least one candle, right?
Related post: Today's My 30th Birthday!
3 | Amsterdam's Tilted Canal Houses. Our trip to The Netherlands and Belgium in June was one of the highlights of our year. We spent two nights in Amsterdam and really enjoyed exploring the streets, alleys, and canal-side walks.
Related post: 48 Hours in Amsterdam
4 | Meeting Rory
5 | Amsterdam, again
6 | Screenprinting Workshop. One of my goals for this year was to sign up for at least four creative workshops. While I only managed two of them, I'm still glad that I pushed myself to see what Richmond had to offer and would still like to do many more. The screenprinting workshop I attended with my friend Carly at Studio Two Three was such a blast!
Related post: 2016 Goals, Six Months In
7 | Dan & I in Ghent. Visiting Ghent, Belgium was one of my favorite days on our trip to Europe this past June. This is my favorite photo of us from the entire trip. I even had it printed to hang in our new house so we can enjoy it and remember our trip every day.
Related post: 24 Hours in Ghent, Belgium
8 | Autumn in Richmond. I really enjoyed experiencing fall here this year. It reminded me how much I missed the changing colors while we were in California and were a great contrast to how hectic our fall months were last year in New York. I purposefully visited some of my favorite Richmond neighborhoods to see the fall foliage this year, frequently stopping alongside Monument Avenue to get out and snap a few shots. Autumn here really made me appreciate being back in Virginia.
Related post: Fall in The Fan
9 | Mural in Richmond by Shawn Everett Jones. I'm glad that some kind of street art was represented in my best nine because life here in Richmond is full of it. My Insta bio actually reads, "Travel. Art. Music. Happiness," and I'm constantly stopping in my tracks to get a shot of any of the murals I'm passing on the street. My feed could have a few more murals, and so could this space. Maybe I'll make it a goal to include more of Richmond's incredible street art on this blog over the next year.
Related Tag: "Richmond Mural Project"