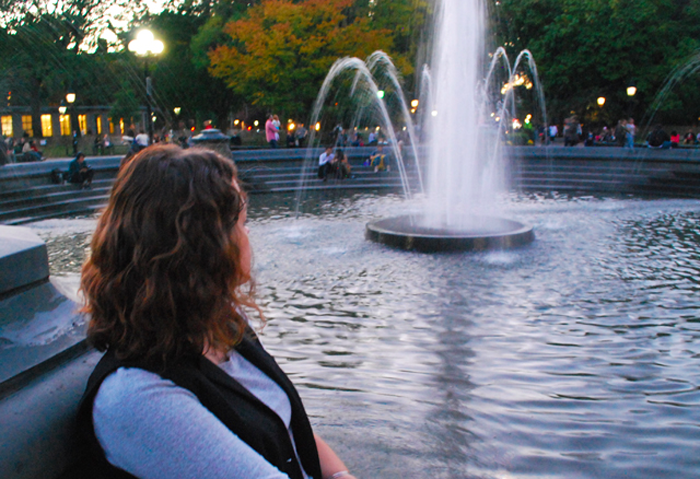 With November flying by, it's crazy to think that it has almost been a year since we left New York. I've been talking about New York City a lot lately, sharing tips with friends who are making travel plans and excitedly dreaming up a first trip to NYC with my little cousins (that I really, really, really hope may happen in 2017). I was even thinking of New York this morning, remembering how chilly it was this time last year and how I had to go buy a bunch of new sweaters so I wouldn't freeze on my walk to work. Then my mind wandered…if I were in NYC today and didn't have to go to work, how would I spend my day?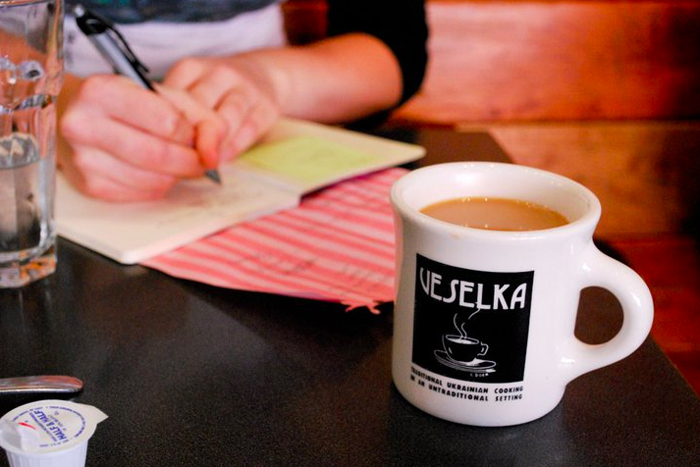 If I were in New York City today I would be up early, soaking in the morning rush around me while I head out to find some breakfast. If I'm looking for something quick, I'd head to Brooklyn Bagel in Chelsea (8th Ave between 24th & 25th) for a blueberry bagel and the thickest schmear of strawberry cream cheese you've ever seen. If I'd rather take my time and want to sit a while, I'd go to another favorite of mine, Veselka, a Ukranian diner in the East Village (corner of 2nd Ave & 9th) that's open 24 hours a day. If it's a weekend, I'd head to Bubby's in the Meatpacking District (Gansevoort & Washington St) for a long brunch with a friend.
Afterwards I'd make my way to Union Square, stopping to peruse the aisles of Strand Bookstore (Broadway & 12th) and the stands throughout the Union Square Greenmarket (Broadway & 17th).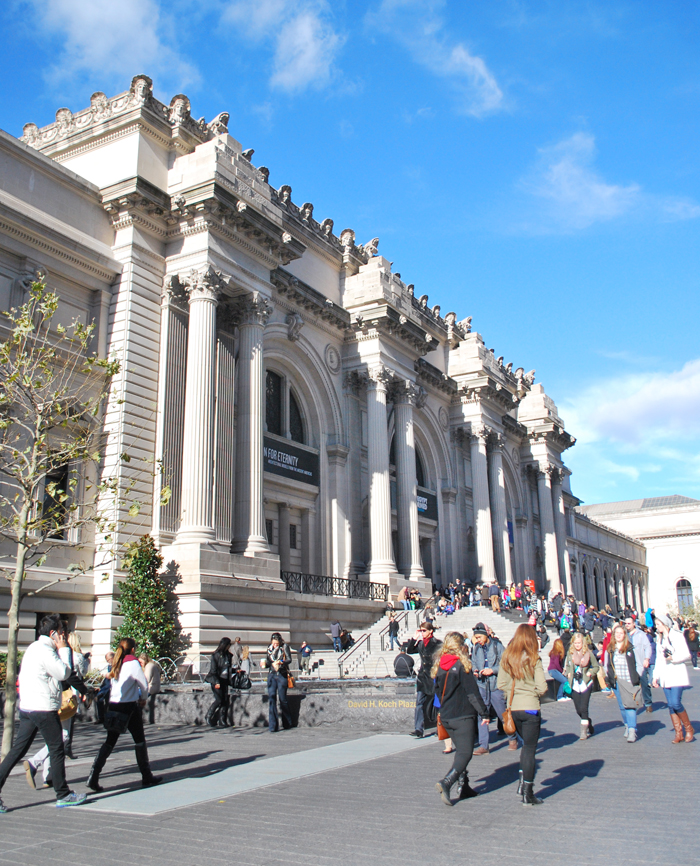 Next I'd head underground and hop on the uptown 6 train. A quick ride to 77th Street would put me just a few blocks north-east of The Met Breuer (Madison & 75th), where there is currently a fantastic exhibit on Kerry James Marshall that I'm dying to see. I hope that Chelsea would be able to make the quick trip from New Jersey to join me for this one, as we spent an entire semester in college collaborating on a project on Marshall. Afterwards, we could even head a few blocks north for an hour or so at The Met 5th Ave location (5th Ave & 82nd).
Then I'd head to Columbus Circle, visiting the Whole Foods inside the Time Warner Center to pick up a picnic lunch. I'd take it across the street into Central Park and find myself a nice spot in the sun, maybe on top of some large boulders, where I could people watch while I eat.
After lunch I'd want to do something laid back. I might head back down to Chelsea and shop around in Chelsea Market (9th Ave & 15th) followed by a stroll along the Highline. I'd probably also be exhausted from walking by this point, so maybe I'd rather spend a little while relaxing at The Coffee Foundry in the West Village (4th St between Barrow & Jones).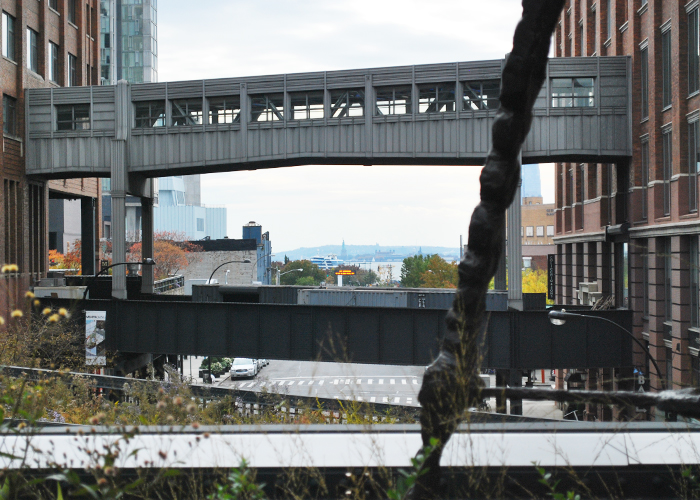 Chelsea, the West Village, and Greenwich Village are obviously my favorite neighborhoods in Manhattan, so I tend to stay in these areas a lot. There's a lot of shopping that can be done around here, even if you're just window shopping. I always like to stop by the Lomography Gallery Store (8th & Macdougal), Bookmarc NY (11th & Bleeker), and Murray's Cheese Shop (Bleeker between Leroy & Cornelia).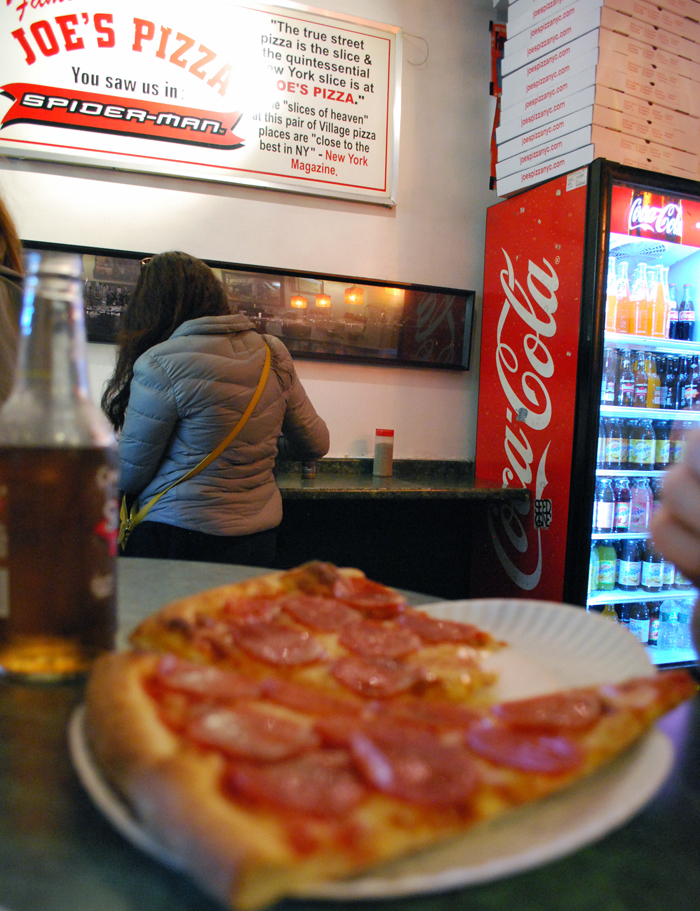 My favorite way to do dinner in this area is to pick up pieces from several places. First I'd grab a to-go cheese slice from Joe's Pizza (6th Ave & Carmine), then I'd walk east on Minetta Lane to Macdougal, where I'd stop in at Pommes Frites (Macdougal between Minetta and 3rd) for Belgian fries and mango chutney fritesaus. I'd take all of this a couple of blocks north to Washington Square Park, my favorite spot in the entire city, to eat while I watch street performers and New Yorkers alike as they relax and do just the same. I can't think of a better way to spend my evening in New York City.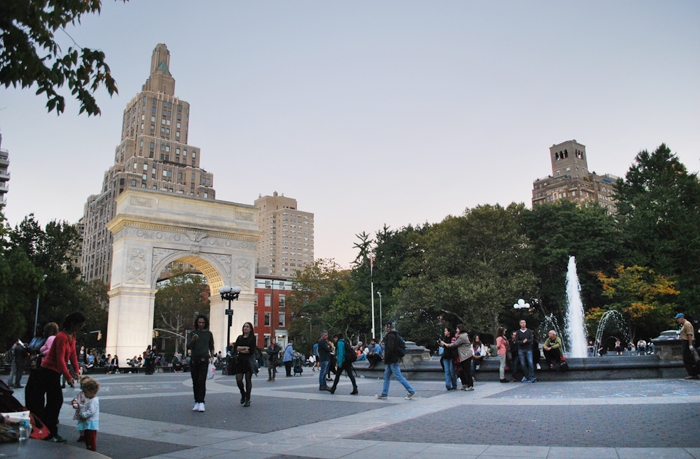 After dark, entertainment is in order. If I couldn't get tickets to Hamilton (which would be a long shot, we all know,) I guess I'd check to see who was performing at Upright Citizens Brigade (Ave A & 3rd), The Knitting Factory (361 Metropolitan Ave, Brooklyn), or Webster Hall (11th between 3rd & 4th Ave). (OMG – Mayday Parade is there tonight! So that's where I would definitely be!) New York is definitely the city that never sleeps, so if I still had the energy of 20-year-old-me, I'd stay out all night and make the most of it. But in all honesty, after a day like that I'd probably drop dead by midnight, so I'll leave it at that. (ha!)
What are some of your favorite spots to visit in NYC? Also, if you're planning a visit, I'd love to give recommendations and help you learn how to get around!