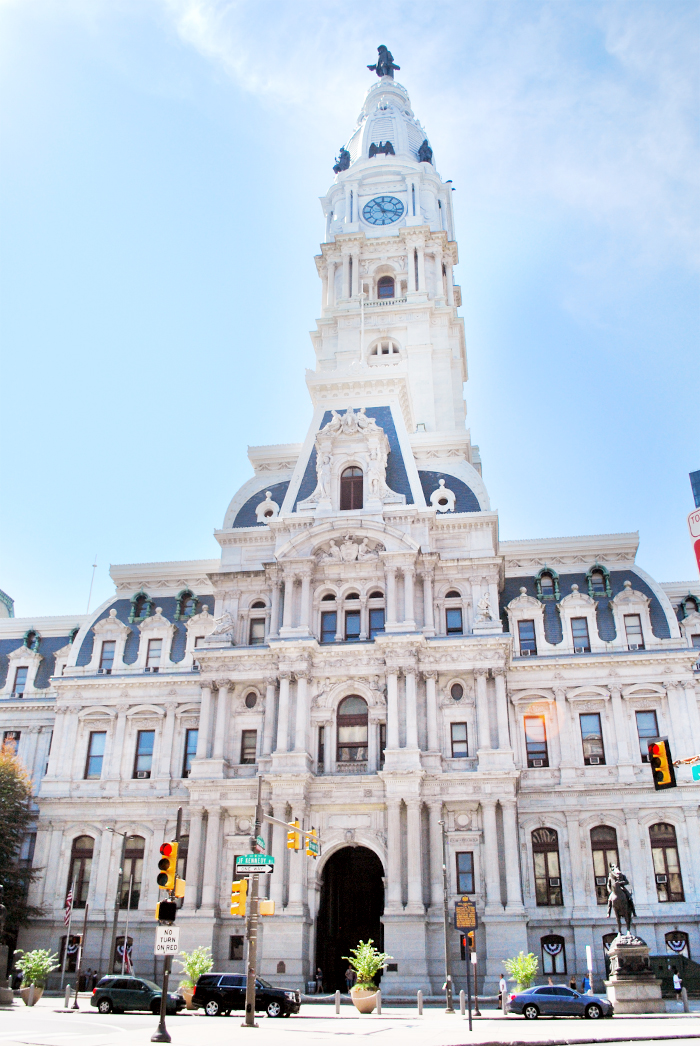 I'm so excited to finally share some photos from my trip to Philadelphia in August! Although Chelsea and I have seen each other a few times over the past year, we wanted to plan a weekend to meet somewhere in the middle for some one-on-one BFF time. Philly wasn't exactly the middle (she's living in NJ now), but it was a city I'd never visited and that she hadn't been to since she was young. I booked my Amtrak ticket, we found the perfect hotel (more on that below), and we started counting down to our weekend.
Despite a late start on my train here in Richmond, I arrived on time, late on a Friday night. Chels picked me up from the station and we went around and around on one way streets trying to find the parking garage she pre-paid for. Because my train home was leaving on Sunday around 1pm, we had just around 40 hours to spend together. I feel like that was plenty of time for us to explore the city, but I think I'd like to go back again sometime to see things I may have missed.
Philly's architecture was incredible, which is something I hadn't considered before. Everything was incredibly detailed. (See the photo of the Philadelphia Museum of Art toward the end of this post for amazing details!) We spent lots of time wandering around and snapping photos of City Hall and other buildings in the area.
Back to the perfect hotel, I really do feel like we picked one in the perfect location! We stayed at the Philadelphia Marriott Downtown and found ourselves centrally located for an unbelievable price. Our room on the 18th floor overlooked City Hall and had a fantastic view of the city lights at night. Reading Terminal Market was across the street to the east and the Philly Phlash bus stop was across the street to the south. This part of town was incredibly walkable, so we were on foot most of the time.
We started our first (and only) full day in Philly by walking to Elixr Coffee Roasters for pour overs and an almond croissant and breakfast sandwich. Yum! Elixr was recommended to me by Marla, who definitely knows how to pick them!
Next we headed to Reading Terminal Market. Being that we'd just had a light breakfast, we weren't quite ready for lunch, but I had a small cup of mac and cheese from Hunger Burger to hold me over while we wandered around and checked everything out. (That almond croissant didn't last me long!) Reading Terminal Market reminded me a lot of many similar market buildings I've visited in other cities: Granville Island in Vancouver, the Ferry Building in San Francisco, and Eataly and Chelsea Market in New York City. (Hey, even the Roanoke City Market Building is a miniature version of this concept!) We decided we'd head back in a while for a late lunch, enjoying burgers and fries from Hunger Burger that time around.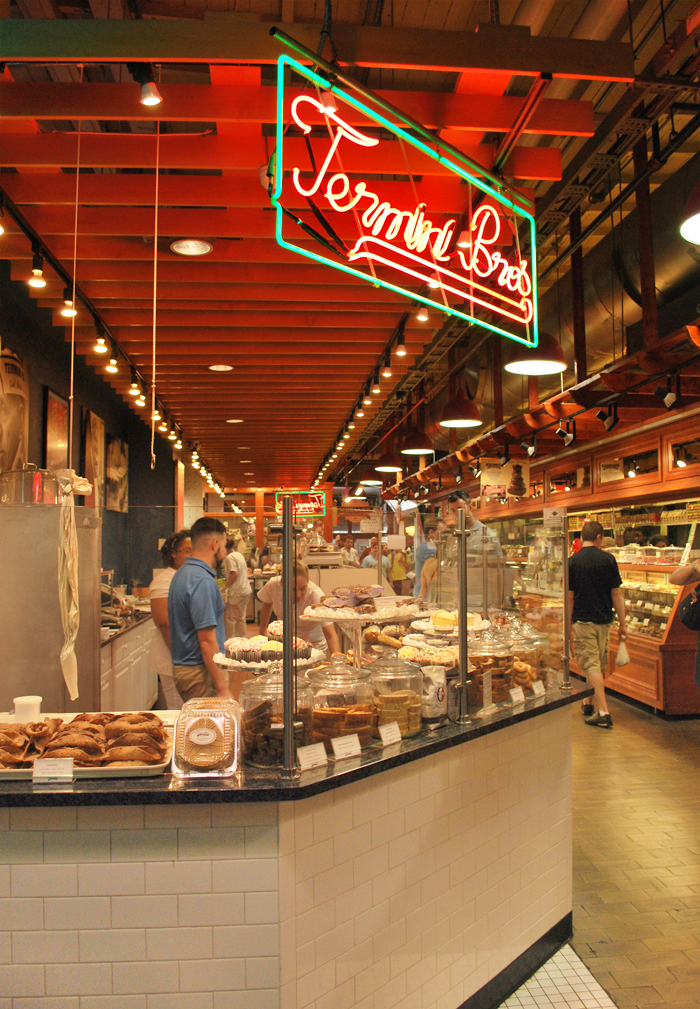 Our afternoon was spent seeing a couple of tourist attractions and visiting the Philadelphia Museum of Art. We used the Philly Phlash bus to reach these destinations, being that they were both a bit too far to walk and in opposite directions of each other. An all-day pass cost $5 and it was worth every cent for how convenient the stops were (and for how exhausted and sweaty we were from walking all over.)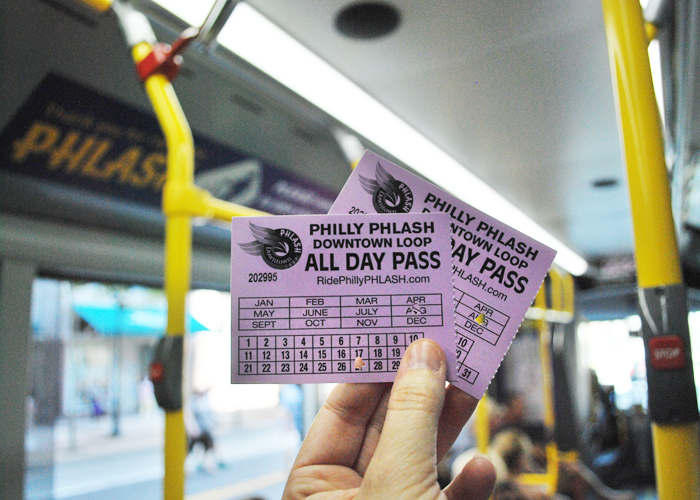 We didn't really feel like standing in lines to see things like the Liberty Bell or Independence Hall (something my mother "just could not believe" considering "we were right there!") but we did take a stroll down Elfreth's Alley and wandered by Betsy Ross' house. The cobbled Elfreth's Alley dates back to 1706 and is the oldest surviving residential street in the United States. The charming homes were once home to merchants and other artisans. I wondered what it would be like to live there now, in a home that holds so much history, but I don't think I'd care too much for all of the tourists wandering about in such a small space. As for Betsy, I had no idea she was buried in the yard, and there I was taking photos of this cat statue.
We topped off our afternoon at the Philadelphia Museum of Art, which was fantastic! I had no idea that it was one of the largest and most important art museums in the country. Their collections held countless pieces of artwork that I was familiar with from art history classes in school, with an incredible contemporary wing that even included Dadaist works, something I've rarely seen in person. Chelsea was excited to find there was an entire Jasper Johns room. If I ever go back to Philly, I will dedicate an entire day to exploring this museum next time.
For a late dinner we headed to a restaurant Chelsea's cousin had recommended, The Continental Mid-town. They had a great selection of entrees and the atmosphere was really unique. We sat in swinging basket chairs and were surrounded by fun lights and booths made of car seats.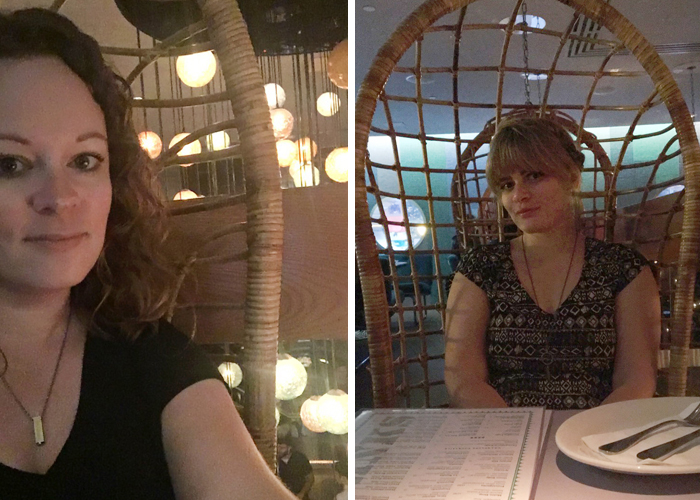 With only a few hours to spend on Sunday morning, we set out to find a really great brunch. We tried to go to the popular Green Eggs Cafe, but the wait was far longer than we anticipated. We walked a few blocks west to Rittenhouse Square and put our names down at the French restaurant Parc, shopping around in a nearby Barnes and Noble while we waited. We were seated at a small table on the sidewalk and had a fantastic meal! It was definitely worth the wait and is my recommendation for anyone heading to Philly soon.
Philly was pretty cool. I know we took it really slow and didn't do all of the things that you're "supposed" to do in Philly, but I liked it better this way…without an agenda, without timetables or ridiculous lines. It was wonderful to spend time like this with Chelsea again, too! She was my museum buddy while we lived together in California and I have missed exploring with her! This was the perfect little weekend getaway.