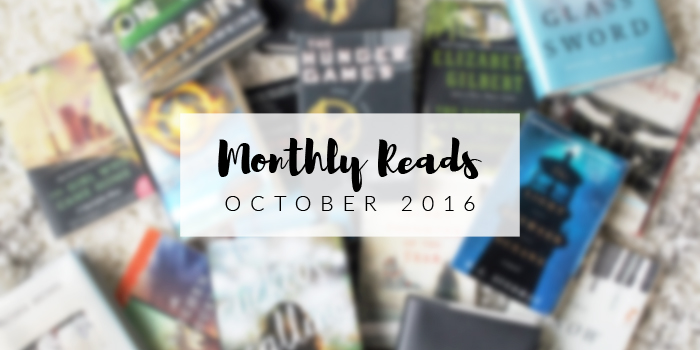 Most of this month's reading was quite fitting for October; it was all about magic! I have a new favorite series. After the magic, I managed to fit in one historical fiction at the end of the month that brought me back down to earth. I hope you'll find something new to read!
– – – – –
A Darker Shade of Magic by V.E. Schwab
I discovered the Shades of Magic series when Alanna raved about it back in August. Considering she gave it five stars and dubbed it "the best fantasy book [she'd] read since Harry Potter," I knew this was a series I would enjoy and could not miss out on. And Alanna was right…this book was amazing!
I fell into this story quickly, enjoying the concept of parallel universes—parallel Londons, with varying degrees of magic—and thrilled by the character and world development. I absolutely loved the world building, with new languages, cultures, and places to wrap my mind around as I drank it all in.
The main character of this series is Kell, a special "breed" of magician who lives in Red London and has the rare ability to travel between the other Londons—Grey and White—in service to his king, as a messenger to the other kings. Kell is soon entangled in something larger than himself that could destroy his (and every other) London, but he meets a sidekick in (magic-less) Grey London who should not have the abilities to help as much as they do. I really don't want to give any more away, but the action will have you anxious and rooting for Kell and his new friend as they struggle with secrets and danger.
I also fell in love with Kell as a character; the bond he has with the prince (as close to a brother as he's ever had) and the distance he will go to protect him depicts male brotherly love in a way I haven't seen depicted in other stories in a long while. A few more pros: this story is centered on action and not romance; this story does not pigeonhole its characters; the characters are all adults and face adult situations.
Victoria ("V.E.") Schwab announced earlier this year that ADSoM is being adapted for a TV limited series, and she's writing the screenplay! It's being compared to the way Game of Thrones was adapted, so I'm really excited!
– – – – –
A Gathering of Shadows by V.E. Schwab
I wasn't even halfway through A Darker Shade of Magic before I was navigating through Amazon to purchase the second book in this series. I had to make sure I had this one waiting on my bedside table the moment the first was finished!
This book picks up four months after the events at the end of ADSoM; we return to the world as the characters are beginning to settle into their new realities, but are still adjusting to the changes created by the last story's ending. (This is incredibly hard to write about without spoiling one or the other!) The world is expanded in this book, drawing in characters from surrounding countries for a triennial magic competition, similar to our Olympics. The competition is a delightful storyline in itself, but also serves as a grand distraction to darker things beginning to boil beneath the surface. The ending is sudden, but in the best way.
I have book three, A Conjuring of Light, on pre-order already! It comes out February 21, 2017, so you have more than enough time to read these two and then pout impatiently with me until the final book comes out.
– – – – –
Tulip Fever by Deborah Moggach
Another blogger reviewed Tulip Fever recently and I immediately added it to my "to buy" list. I do this quite often and I'm rarely disappointed, so publishers—take note, ha! (If you were the blogger who recently reviewed this book, please remind me in the comments! I have searched and searched but I can't find your review. Also, thank you for the rec!)
Tulip Fever takes place in 1630's Amsterdam during Holland's historic "Tulip Mania" (fascinating articles on this period here, here, and here,) but these ongoings seem to almost take a back seat when it comes to the rest of this story. Our main character, Sophia, has married young to an older, wealthy man in order to provide for her family. When her husband Cornelius hires local artist Jan van Loos to come and paint their portrait in their home, she falls in love with him. This begins a wild chain of events—an affair, a pact with her housemaid, a devious plan to escape her marriage—that could all come crashing down at any moment.
While I was not necessarily obsessed with the characters' storylines, the nods to Dutch history, art history, (Dutch art history,) and Amsterdam itself as a major character were enough to make me love this book overall. In fact, if you click on one of more of the links I included above you'll find several legends from the time of  tulip mania that the author effectively wove into her story…I love that! One art history student has even deduced that character Jan van Loos is a "composite figure, bringing together [artists] Vermeer, Nicolaes Maes, and Pieter de Hooch."
And of course, this movie has already been adapted as a major motion picture, something I found out about halfway through when I noticed that the cover said as much. (duh!) The trailer has already been released, but it won't hit theaters until mid-July 2017. I think it will be a romantic hit, even though the storyline already seems to be far different. (Who is this nun? And who is Cara Delevigne's character…was there a "Henrietta" in the book? At least I'll know all of this going in.)
PS – One website dubbed this upcoming film "an erotic thriller." Uhm, probably not. I will note that there are maybe three little parts in the book that are incredibly detailed and sexual, although I would never consider it to be or contain "erotica."