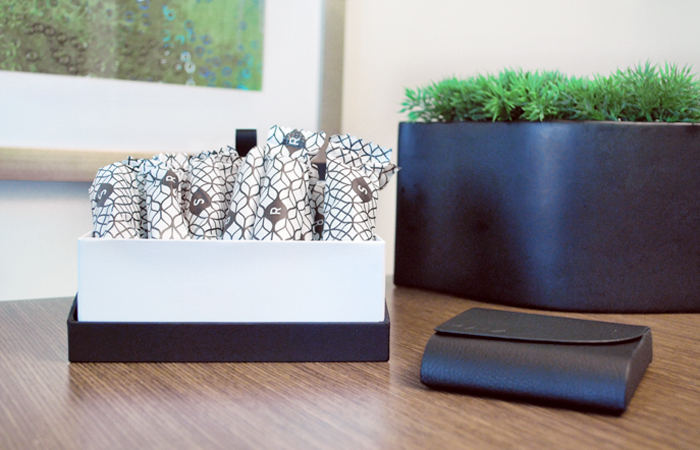 Several months ago the founders of Cora reached out to me to introduce me to their organic tampons and tell me more about their company's mission. I have been excited about this company ever since and have been waiting to give them a few trial runs before sharing my honest review.
Full disclosure:
A box of Cora tampons and the little black clutch were provided to me by Cora in exchange of an honest review. All opinions are completely, 100% mine. You can read my full disclosure policy here.
Let's Talk About Organic Tampons
Periods are still such a taboo subject, even though half of the population has a menstrual cycle. (On average, most females have one every month for around forty years of their lives.) I am definitely not shy about discussing periods, so that's what we're going to do today, friends.
Did you know that the tampon industry is relatively unregulated? While even a tube of lipstick requires a detailed list of ingredients, tampon companies are not required to disclose anything about the chemicals used during the making of tampons or found in the actual tampon or its applicator. While some companies are now offering some transparency, most of them are still leaving out some big details. Now more than ever, I am becoming more and more aware of what I eat and put in my body, but until the last couple of years I had never considered that tampons could come with some scary ingredients.
Enter: Cora
Founders Molly Hayward and Morgan Newman launched Cora this past February as a response to this heightened awareness of what is in the products we use and consume, offering women a safe, trustworthy product made of 100% premium organic cotton. (The compact, plastic applicator is also BPA-free.) Approaching the taboos surrounding using these products, Hayward and Newman also worked to make sure their products were also sophisticated and discreet.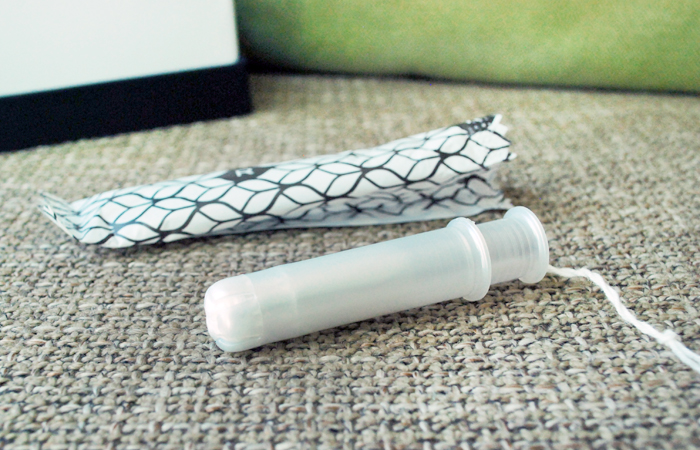 How Cora Changes the World
While many of us here in the United States are privileged enough to choose between these organic tampons and a variety of other products, women in many developing countries are not so lucky. While the taboos in the US tend extend to where and with whom we feel comfortable discussing our periods, some women in other parts of the world aren't even allowed to step foot in their own homes while on their cycle because they are considered "impure." The archaic, misogynistic ideas that drive these taboos lead to unnecessary shame, innumerable sanitary issues, girls dropping out of school, and the justification of gender inequality. (Learn more here and here.)
The makers of Cora not only share my passion for these women and young girls across the globe, but have made it their mission to help them. For every box of Cora tampons purchased, Cora helps women in these underdeveloped nations by doing more than simply donating product. Here is a breakdown of Cora's giving model, as quoted from their media kit:
"Cora has partnered with an organization in India that supports adolescent girls' education and produces an innovative, affordable and biodegradable brand of high-quality sanitary pads. They are produced in small women-owned and operated mini-factories that can be set up in low-income villages and communities. The mini-factories create jobs for women and a sustainable, affordable, local source of biodegradable pads for girls and women in the local community. Cora purchases pads from these mini-factories, generating revenue for them, and then, in turn, provides those pads at no cost to girls in local schools who otherwise couldn't afford them and would be left with no choice but to stay at home during their periods."

My Cora Experience
I'll be honest…I'm the kind of girl who finds something she likes and sticks with it. I was nervous to try Cora tampons after years of using only Tampax. I was nervous that I'd have an embarrassing accident, while I knew I could count on the other brand…you girls know what I mean. I had also just started a new job when Cora reached out to me…I really didn't want an embarrassing accident while sitting in a cubicle with three other dudes I barely knew.
When the time came, I was relieved to find that my Cora tampons worked better than I could have hoped. The best part, besides the fact that they did their job well and made me feel secure, was the knowledge that while using them my body wasn't absorbing unnatural and unknown chemicals.
Another thing I loved was the little black clutch that came with my kit. It was discreet enough to openly carry with me from my cubicle to the restroom at work instead of pulling on a jacket and shoving one up my sleeve. The clutch carries four tampons at a time, and even though I had never been a big fan of compact tampons before using Cora, they worked so perfectly in this clutch that I'm now a compact-tampon convert. The soft, quiet wrappers are also a nice touch.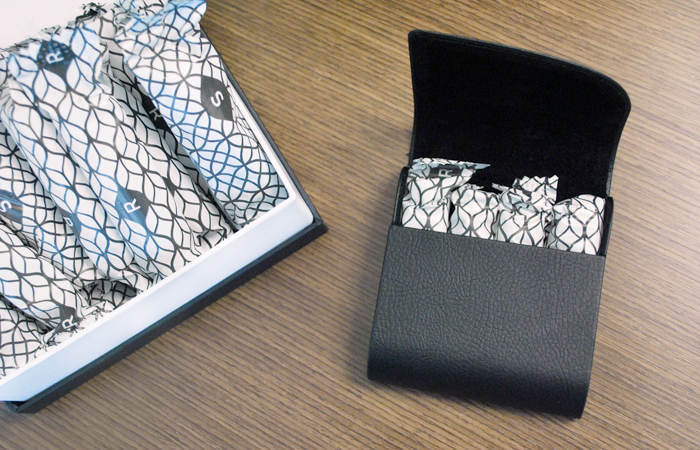 A Convenient and Discreet Tampon Subscription
Cora offers custom tampon subscriptions through their website, allowing you to customize a three month supply based on the number of tampons you need and absorbency level you desire. Your first shipment comes with the clutch, a storage box, and lipstick-sized "stowaways" (branded cardboard tubes) so you can stash an extra tampon in your bag in case a friend needs one. With this subscription, a new supply automatically arrives at your door every three months, saving you a trip to the store.
I simply love Cora (their products and their cause!) and encourage you to visit their website to learn more. If you'd like to give Cora a try, they're offering readers of Em Busy Living $5 off your first box with the code "CORA5EMILY".