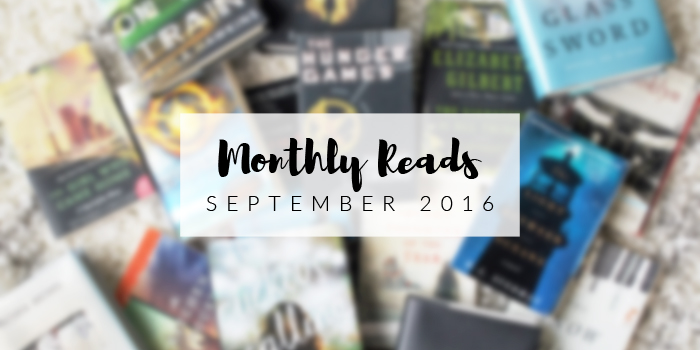 While I didn't read as much in September as I did in August, I did use my August reads as inspiration for this past month's choices. I fell in love with a couple of new (to me) authors that you'll see again below. You can follow along with my reading by following me on Goodreads!
* Post contains Amazon affiliate links *
– – – – –
Salt to the Sea by Ruta Sepetys
I finally came to the conclusion that Ruta Sepetys' novel Between Shades of Grey was my favorite read in August and I desperately wanted more. Salt to the Sea is Sepetys' third book, which (like BSoG) also deals with the horrors of World War II. I think she's my favorite author find of the year, which I don't say lightly.
Salt to the Sea follows the stories of several characters who all end up struggling to survive together on their mission to secure passage through the Baltic Sea on the doomed ship Wilhelm Gustloff. Their differing points of view made the first few chapters of this book a bit more difficult to get into than GSoG, but I ended up loving the differing thoughts, feelings, and backstories. I loved these characters—well, most of them—and this tragic story broke my heart. While the characters are mostly fiction (some are lightly based on stories of that time), this event did take place and is surprisingly not well known or talked about considering it was the largest loss of life in maritime history. I love when a book encourages me to learn more about history.
– – – – –
What Alice Forgot by Liane Moriarty
Another repeat author from August, Moriarty's books sweep you up in the mystery and drama surrounding her characters. I quickly ordered this second book by her, as well as a third.
What Alice Forgot is told from the point of view of Alice who comes to on the floor at a spin class and cannot remember the last ten years of her life. It was interesting to imagine (through Alice's eyes) what it would be like or what I would think of myself if that were to happen to me. Alice cannot remember her kids and cannot stand the person she has apparently become. When Alice's memory returned, I was slightly disappointed, but the twist at the end was more what I was expecting and hoping for. This isn't my favorite of Moriarty's books (out of the two I've read so far) but it was a really interesting concept to imagine.
What Alice Forgot was picked up about a year ago by director David Frankel, with rumors that Jennifer Aniston may star, but the press has been silent on it since. IMDB simply says, "In Development." I think this would make a fantastic movie, and Aniston would be perfect for the role.
– – – – –
Everything, Everything by Nicola Yoon
This book was definitely written for a younger audience than myself, but I really enjoyed it anyway. Written from the point of view of a young girl experiencing the wild emotions of young love for the first time, this book reminded me of what it felt like to be 14 or 15 and the soaring highs and excitement that come with a first boyfriend. The main character, Maddy, is 18 in this story, but she's very sheltered due to being allergic to literally everything and being quarantined to her home.
I really enjoyed that this book was designed a little out of the ordinary. Journal entries, emails, instant messages, drawings, and charts added to the experience of reading this book. There is also a major twist toward the end and the subject that this twist surrounds really fascinates me. I really wanted to write something here that would have been a big spoiler about this twist, but I don't want to spoil this sweet story!
Everything, Everything has been picked up by MGM and is being made into a movie, release date TBD. While casting is not complete, Amandla Stenberg (Rue from The Hunger Games) is set to play the main character Maddy, with Nick Robinson (Jurassic Park) as Olly and Ana de la Reguera (Narcos) as Maddy's loving nurse Carla.
– – – – –
The Husband's Secret by Liane Moriarty
I wasn't expecting to read another book by Moriarty so soon, but I was on quite a kick. I finished this one only last night, so I wasn't sure I'd fit it into my September reads.
Until about a third of the way (or halfway) into this book, I wasn't sure I liked it at all. I was having a hard time keeping up with the three separate storylines and continually wondering what any of them had to do with the others. It wasn't until "the secret" is revealed that I finally felt like I knew what was going on, or cared how it affected any of the characters. From that point the story moved quickly, with twists and turns that caused me to repeatedly change my mind about what I wanted the outcomes to be for everyone. By the end, everything was wrapped up in a surprising way, leaving me satisfied overall, but perhaps not ready to read anymore of Moriarty's books for a while. (I think three in six weeks is enough for now. Sometimes you really can burn out on something you enjoy.) I liked this one more than What Alice Forgot, but still not as much as Big Little Lies.
The Husband's Secret has been optioned by CBS Films, but no further info is available yet.