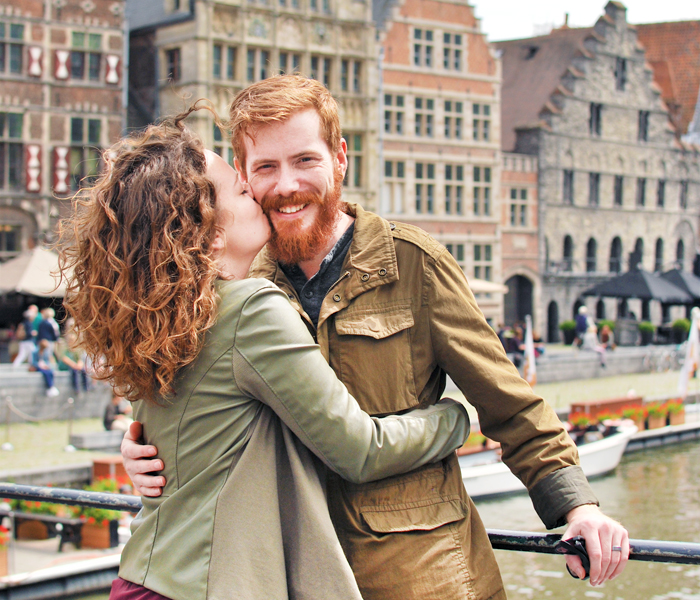 I have an obsession with anniversaries. I love marking special days throughout the year, looking back at whatever it was I'm celebrating, and thinking about what has changed since.
While Daniel and I celebrated nine years together back in June, yesterday was our actual wedding anniversary…it's been six years! We celebrated by visiting the Virginia Museum of Fine Arts on Saturday, followed by dinner at the well-loved and extremely popular local restaurant Comfort. We also spent hours lounging around and reading; this weekend was low key, but perfect.
Last year's anniversary was extra special in many ways. It was our fifth anniversary, which is a great little milestone, but it was also our very last day living in California. We celebrated by doing what any couple preparing to make a five day journey across the United States with a giant U-Haul would do…we went to Disneyland. We definitely felt the exhaustion the next day while loading boxes in 90˚ heat, but I wouldn't change it for anything.
One year ago today (see, another anniversary,) was the day we left that life behind. From California to Roanoke, then to New York City, then back to Roanoke again, then finally a leap to Richmond. If you'd told me a year ago this is where we'd be now I would probably be a little shocked. One year ago I believed that I had the perfect timeline laid out in my head; I knew how it was all going to work out. In reality, we barely had a plan and nothing seemed to work out at all, but I also wouldn't change any of that. I love that we had the opportunity to experience everything we did and were able to make hard choices about each next step.
We have been incredibly privileged along the way to have the opportunities to make these choices. I know that not everyone is in a position to drop one life and take off to pick up another on the fly the way we have so many times over the past three and a half years. I am so thankful to have such a willing and hardworking partner and best friend to share these exciting times (and the hard times) with through it all.
I'm still not over the fact that we've moved four times in the past 366 days. No other year of my life has held so many changes, but no other year has taught me so much about myself either. I've learned to let go: let go of the firm, set plans in my head; let go of the fear of failure; let go of caring what others might think of my choices. I've also learned to take ownership of these decisions and to know that when I'm making the best choice for myself (or we're making the best choices for ourselves), everything else falls to the wayside.
The truth is, I've grown accustomed to the flexibility and the idea of changing my mind. I've done it so many times, and it has worked out in our favor so many times, that I'm not sure how long it will be before we stop living like this. Will we move to another city again soon? How many jobs will I try out before one feels just right? What other major decisions will we make that will impact the trajectory of our lives from that point forward? Only time will tell. I'll check back in a year and let you know. 😉
In the end, as long as Dan and I are making all of these crazy decisions and changes together, I know everything will be just fine. I can't wait to see what our life looks like one year from now.
Related Posts: