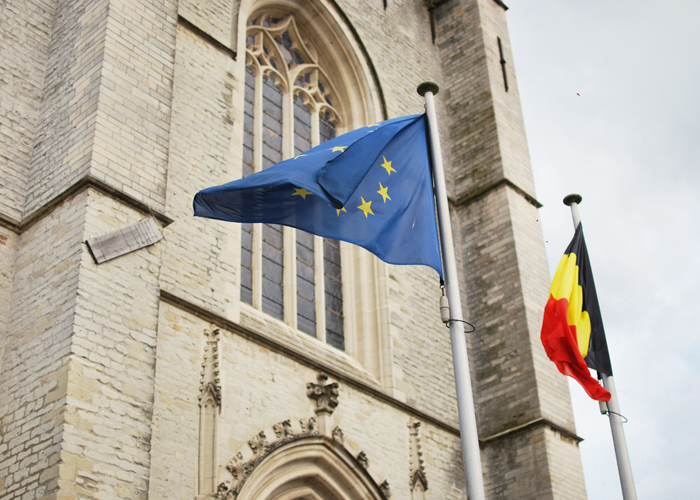 After five wonderful days in Wageningen exploring castles and windmills, Dan and I hopped on a train for a quick trip to Belgium. When we started planning our trip to Europe we knew we would spend half of our time with Diana and half of it on our own, elsewhere. When my friend Joke (pronounced "Yo-kah") found out we'd be in Europe she invited us to come visit her in Ronse, Belgium. We knew we wanted to spend some time in Amsterdam before heading home, but decided that 48 hours in Belgium would be a worthwhile detour.
Ronse is a small town in the Flanders (Flemish) region of Belgium that dates back to the 7th century (but with signs of human activity dating back to possibly over 12,000 years.) Belgium is bordered by The Netherlands to the North, France to the South, and Germany and Luxembourg to the East. Because of this, the southern half of the country tends to speak French and the northern Flanders region speaks Flemish, a dialect similar to (but different enough from) Dutch. Everything in Ronse was shown in both languages. In fact, "Ronse" is the Flemish name of the town, while in French it is "Renaix."
Visiting Joke and her husband Gary at their home in Ronse was an exciting first for both Daniel and myself…here we were on a train headed to a country we'd never been to, on our way to spend the night in the home of a couple we'd never met! Joke and I have "known" each other for probably around five years after stumbling upon each others' blogs. We can't even remember who found whom first. Since then we've connected on Facebook, exchanged Christmas cards, and cheered each other on from behind our computers. We were so nervous to meet them in real life, but we all clicked so well once we did!
We met Joke as she got off work in Brussels and joined her on her commuter train home. We chatted like old friends and felt like we'd known each other our entire lives. Gary met us at the Ronse station and we stopped at a local fry joint, Frituur Yves, to enjoy some Belgian fries and other traditional Belgian snacks. They drove us around town for a while, stopping to show us the amazing view of Ronse from above at Malander Park (intersection of Kruisstraat and Oudestraat). We also stopped by St. Hermes Church (Sint-Hermeskerk). We wanted to go into the church, and I would have loved to have seen the crypts, but a huge swarm of bees convinced us to keep our distance. We finally headed to their home where we sat and talked for hours around the kitchen table.
We were so grateful for Joke and Gary's hospitality, letting us stay at their home and showing us around their charming hometown. They're expecting their first child in October and that kid couldn't have better parents!