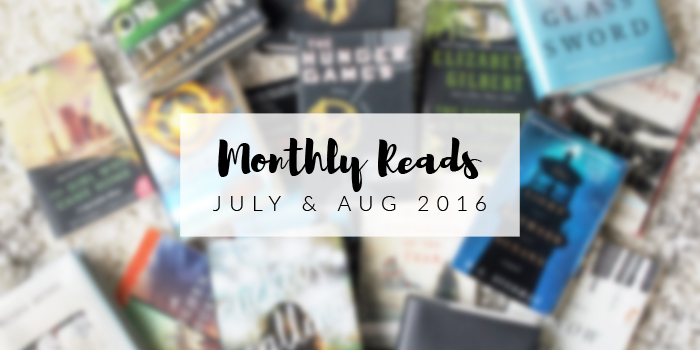 I haven't done a "Monthly Reads" post since January! I don't think I'm going to reach my goal of reading 30 books this year, but I've picked the habit back up now that I'm no longer working crazy coffee shop hours, so we'll see what I can accomplish in the next four months. I decided to combine my July and August reads since I started reading again at the very end of July. These books were all so different! I feel like there's a little something for everyone in this post.
* Post contains Amazon affiliate links *
– – – – –
The Last Star
 by Rick Yancey
This book had been hanging out in our apartment since May, reminding me daily that I wasn't spending my spare time reading. I'm so glad I finally picked this up and finished it and The 5th Wave trilogy. I love the way Yancey tells his stories, and I've been a big fan of this series since the start. The movie wasn't that great and was kind of cheesy, but it could be that I'm nearly 30 and it targeted teens…but the books are good reads.
With the first two books of this series, I found myself sometimes shocked by the intensity and depth of the simplest paragraphs—or my favorite—simple sentences that can say so much with so little. In this third installment, something changed. Maybe it's me—nearly thirty and with changing tastes—maybe it was the characters. In the past two books I felt like I could relate enough to the "young teen love" thoughts and emotions from my own experiences as a teenager, but this book had a few lines that I almost found embarrassing to read from the level of cheesiness. (According to other reviews on Goodreads, I'm not alone in these thoughts.) Regardless, I loved the series as a whole and I'm glad I had a satisfying ending to wrap it all up.
– – – – –
The Girl Who Came Home
 by Hazel Gaynor
I feel like I found this novel through someone else's review, but I can't remember who. I went through a major read-and-learn-everything-about-the-Titanic phase in the 90's, so when I saw that review I immediately added this book to my Amazon "Books To Buy" list. I started it in the spring and was disappointed that it did not capture my attention, but picking it back up in July did the trick and I read it in two days. Of course anything you read about the Titanic comes with automatic foresight, but that only made this book more intense a read for me.
Maggie and several other members of her small Irish community are heading to America to start new lives, of course by buying passage on the maiden (and only) voyage of the famed Titanic. The book hops back and forth from 1912 to 1982, between the stories of Maggie and her granddaughter Grace. Along with Maggie, you begin to know and love the characters aboard the ship, knowing their hopes and fears for their new and unpredictable futures in America, which only intensifies the anxiety you feel for them as the impending tragedy grows closer and closer. I highly recommend this one, but I warn you now—you might cry.
– – – – –
Big Little Lies
 by Liane Moriarty
This was my first book by Liane Moriarty and I wasn't disappointed; there is hype for a reason! This book successfully had multiple points of view, done in a way that wove the story and mystery together so well I didn't want to put it down. It centers around three mothers of children who all attend the same elementary school and you are quickly pulled into the drama surrounding their lives as well as the lives of the other parents at the school. "Interviews" with other parents by investigators head and end each chapter, alluding to a deadly crime from the start. There was a little bit of a twist at the end that I started to figured out before it was revealed, but that didn't ruin the ending for me. I loved trying to figure out what was going to happen and who these interviews were talking about.
I was excited to find out that HBO picked this up for a mini-series! It will be starring Nicole Kidman as Celeste, Reese Witherspoon as Madeline, and Shailene Woodley as the book's main character and young single mother, Jane. It also stars Zoe Kravitz as Bonnie, Alexander Skarsgard as Perry, and Laura Dern as Renata. I'm so excited and can't wait to watch it! I want it now!
– – – – –
The Boston Girl
 by Anita Diamant
This book was so simple and sweet. I loved the way the story was told, as the main character, Addie, telling her life story to her granddaughter. It flows easily, with a few moments throughout that remind you she's telling you this story of the past, and not as it's happening. I could see everything in my imagination and didn't want it to end.
Addie Baum was born in Boston in 1900 to Jewish immigrants. They were poor and were dealt a lot of bad cards, but Addie's optimism and willingness to take chances help her shine. She makes friends with and meets such incredible, progressive women, many who stay with her throughout her life. Addie's story doesn't include any huge climaxes or major turning points, but reminds us that even the quietest of lives are significant and beautiful.
– – – – –
The Ocean at the End of the Lane
 by Neil Gaiman
This book was nothing like I expected. All of the rules in the magical world were made up completely by Gaiman, keeping me on my toes for what was next and keeping my imagination in overdrive. Some of the things in this story creeped me out so much I was afraid I would have nightmares full of unexplainable creatures or moving shapes, but I continued to turn the pages and time passed so quickly that I lost track of it. I never did have nightmares, but the creepiness lingered for a while. In the end it wasn't that bad; I do not do scary movies or anything of the like, so if I can read this I imagine just about anyone else can.
I am unsure of how to describe this book's storyline besides a little unnamed boy meeting his mysterious neighbor, a girl just a few years younger than him in appearance with a timeless and otherworldly way about her. I highly recommend it just for the creativity, world building, and new rules of magic, if you can deal with some creepy imagery.
– – – – –
Between Shades of Grey
 by Ruta Sepetys
I bought this book last week to read on the train to and from Philly and ended up reading all but three chapters of it just on the way there. I drank this one in, not only from uninterrupted time, but by how intimately I felt I knew these characters and ached for their suffering.
This story is told from the point of view of sixteen year old Lina as her family is forcefully and inhumanely deported from their home in Lithuania in 1941, victim's of Stalin's terrifying reign. I'll be honest: I knew that Stalin was apparently responsible for more deaths than Hitler, but I was completely unaware of how, why, or what happened. Lena's story opened my eyes to the atrocities that Lithuanians, Estonians, Romanians, and so many more nationalities faced during this rarely talked about time.
This story was not "wonderful" or "great" in a sense that it was a charming storyline, but it was incredibly well written and researched. I feel like this should be required reading for anyone who is unaware of these events. The book even discusses why we know so much about the Holocaust, yet so little about this.
– – – – –
Have you read anything wonderful lately that I may enjoy reading in September?