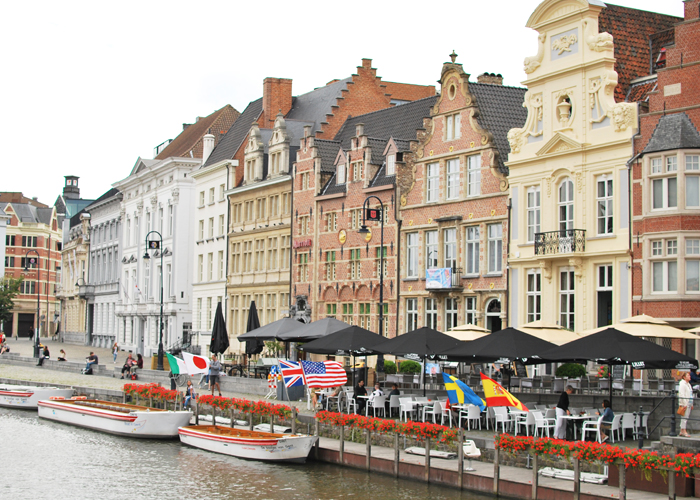 The morning after spending the night in Ronse with Joke and Gary they drove us into the nearby city of Ghent. Both of them used to live in Ghent; it's actually where they met and where they lived together when they first got married, so they have a serious love for the place and wanted to share it with us.
Ghent (also spelled "Gent") is the capitol of the East Flanders province and has been around since the Late Middle Ages. It even has its own medieval castle, surrounded by canals that lead into the city center. I won't go into a total history lesson, but I highly recommend reading up on it!
After lunch, a bit of wandering, and sharing liege wafels with Joke and Gary, they left us to head back to Ronse. Dan and I spent the remainder of our afternoon exploring St Bavo's Cathedral (and its crypts) before we headed to dinner and our hotel.
I'll share more about where we stayed, where we ate, and what I recommend seeing at the bottom of this post, if you ever make it that far. This one is really photo heavy! Everything was so beautiful, I couldn't help myself. I probably took more photos in Ghent than I did during the rest of our entire trip.
Lodging
We stayed the night at the Novotel Centrum Gent Hotel [Goudenleeuwplein 5], which is located right in the city center without the price tag usually associated with such a convenience. The rooms were modern, clean, and the beds so comfortable. The historic center of Ghent is extremely walkable anyway, but the location of this hotel could not be beat when it came to sightseeing.
Dining
De Orchidee, Vlaanderenstraat 105 | We had lunch here with Joke and Gary and I have been dreaming of it ever since. It's a "build your own bowl" Thai wok restaurant and everything seemed so fresh and healthy.
Ellis Gourmet Burger, Korenmarkt 12 | The burgers here were great, even if I was baffled by other guests eating them with utensils. ha!
Julie's House, Kraanlei 13 | Pastries and other treats. Breakfast opens at 9am.
Chez Albert, Sint-Veerleplein | This is where we got our tasty, traditional liege wafels. You can add all sorts of toppings. You can't go wrong with any combination here!
I really wish I could recommend a great breakfast place or café (Julie's House was recommended to us for breakfast), but we were out of luck with nothing open before 9am and instead had to grab something quick at the train station on our way out of town.
To See
St Bavo's Cathedral (Sint-Baafskathedraal), Sint-Baafsplein | Built over a thousand years ago on the former location of the Chapel of St. John the Baptist. Free to visit with varying hours, services, and available tours (with a fee). Be sure the visit the crypts! Home to the beautiful altarpiece "The Adoration of the Mystic Lamb" by the van Eycks, as well as various other incredible paintings and sculptures.
Gravensteen Castle, Sint-Pietersplein 9 | Medieval castle dating back to 1100. Open from 10am-6pm (summer) or 9am-5pm (winter), admission $6-$10.
Sint-Baafsplein | This large public square is home to St Bavo's Cathedral as well as Het Belfort van Gent, and NTGent theatre. Just on the other side of Het Belfort is Saint Nicholas' Church (Sint-Niklaaskerk), City Pavilion, and City Hall.
St Michael's Bridge, Sint-Michielshelling | For the best views of the city head to St. Michael's Bridge. You can see the city's beautiful architecture, spires of the cathedrals, glimpses of Gravensteen and more as you stand above one of Ghent's many canals. (The photos of Dan and I on a bridge were taken from the one next to De Bootjes van Gent.)
Graffiti Street, Werregarenstraat | Searching for "Graffiti Street" in Google Maps will bring you to this colorful alley worthy of a stroll and perfect for photo ops.
Transportation
We used the Korenmarkt 1 tram to get from the city center to Gint Sint-Pieters train station. It picks up going south near the corner of Veldstraat and Jan van Stopenberghestraat (near a McDonald's). This trip only took about 10 minutes and only cost €3 per person. I also noticed they ran frequently, so I wasn't watching the clock. The Visit Gent website has more information on the trams, maps, fares, and schedules.