We pretty much ate our way through Holland and Belgium, excited to try foods that were new to us and fall in love with things we knew we couldn't find at home. Of course, some of the foods we tried in Holland were things we'd had before, like stroopwafels, but that didn't mean we didn't eat all we could while we were there (and bring back as many as we could fit in our bags!) Here are a few of my favorite Dutch foods, some of which we ate in Belgium too.
Bitterballen
These bite-sized fried snacks quickly became one of my favorite things I ate on our recent trip. I refused to find out what they were made of until I knew I wouldn't be eating any more, fearing the truth about the mysterious filling would turn me off to them. In fact, they're simply filled with beef—usually veal—mixed with spices, blended to a thick, creamy consistency, and then battered and fried. Other meats can also be used (chicken, shrimp, etc,) but the name on the menu would signify that; the traditional and most common one found will be beef. Some places served them with mustard, but I enjoyed them plain.
Kroketten are pretty much the same thing, just shaped more like large mozzarella sticks and usually served on bread.
Pannenkoeken
Dutch pancakes are nothing like American pancakes! Besides being much thinner (though not as thin as a crêpe), these plate-sized pancakes are served more like a pizza, with sweet or savory toppings. During our trip, Di and Robbert took us to a local 'pannenkoeken huis' one night for dinner. My pancake was topped with bacon, which isn't too odd, but Dan's had tomatoes and onions. Very different!
Poffertjes
Poffertjes are little puffed-up pancake bites, served with powdered sugar. The Dutch love their finger food!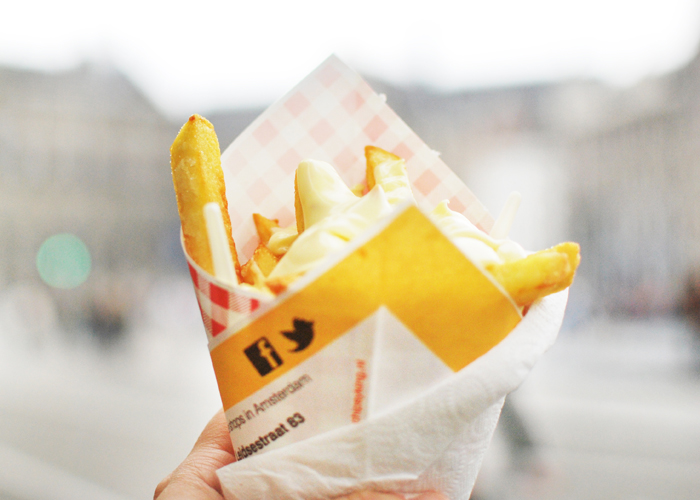 Friets & Mayo
Okay, so maybe these thick-cut fries actually originated in Belgium, but their Dutch neighbors adopted them and love them just as much. But what really makes them stand out from the fries you'll find in the US are the sauces, specifically their mayo. The mayo they use there isn't the same that you'd put on a sandwich here, but I can't begin to explain how. You'll just have to visit and try it yourself!
Pindasaus
Also called satay sauce, this peanut sauce is popular in Holland due to the large Indonesian population. I've only had this on chicken, but it's also popular as a topping on fries.
Hagelslag
Who could say no to chocolate for breakfast? Definitely not me, so I'm a huge fan of hagelslag—chocolate sprinkles—served on toast. I keep a box in my pantry and love to treat myself to toast with sprinkles…I might even be eating some as I type this!
Stroopwafels
These have been one of my favorite Dutch foods for a long time. Di sent me my first pack of stroopwafels in a gift box the summer after we left school in New York and I immediately asked her to send more! These thin wafers are made of a dense waffle that is sliced in half and filled with a thick caramel sauce. Laying one across the top of your coffee mug softens and warms them in a way you can't resist. I've now found you can buy these at World Market, so I always have some in the pantry.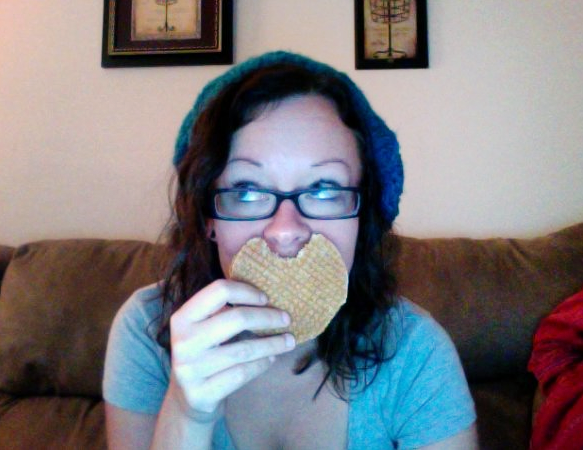 2010 Stroopwafel Photobooth Throwback
Have you tried any Dutch foods? Which ones would you choose to try if you could?