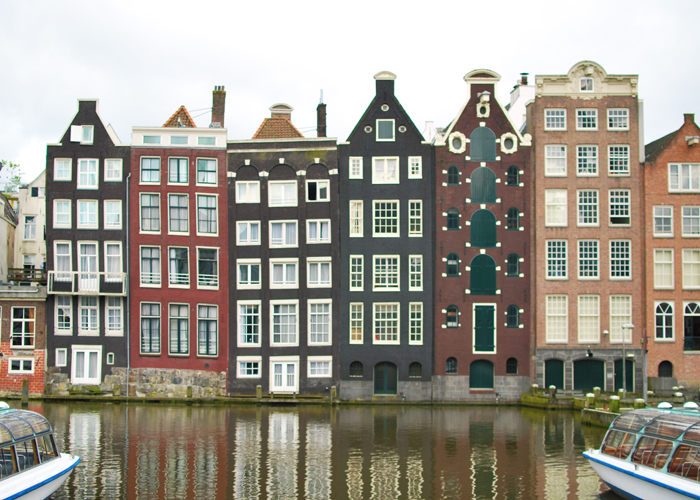 The last two nights of our trip to Europe were spent in Amsterdam. We arrived by train from our excursion to Belgium a little after noon on Thursday and left out of Amsterdam Schiphol the following Saturday around the same time. This gave us just a little under 48 hours to explore (given we had to be at the airport a few hours before our flight). We also happened to arrive on Daniel's birthday, so we were using our time there as a celebration of sorts.
Since our hotel let us check in early, we had the entire evening to wander around and see the sights. We had intentionally left our afternoon free of plans so we could just get lost and see what we might find. Amsterdam really is one of those cities where you can just wander for hours and never be bored. The architecture and canals make you feel like the entire city is a display in itself.
We headed north from The Albus (our hotel) and crossed the street toward the Bloemenmarkt. This floating flower market is the only one like it in the world and is usually high on lists of things to see when visiting Amsterdam. Honestly, I was a little disappointed; I found it to be marketed solely towards tourists, full of cheap knick knacks alongside the flowers and bulbs for sale. We did find a few things to bring back for friends (keychains, things like that,) but it's not something I would highly recommend going out of your way to see. (Also, buying bulbs can be tricky when it comes to customs.)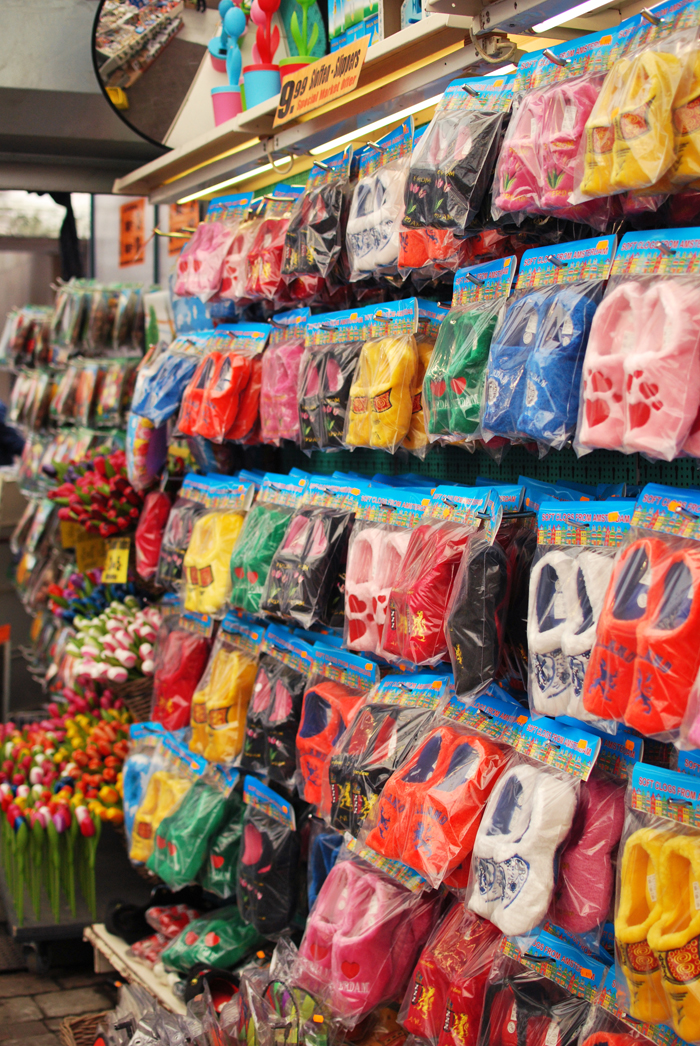 After a quick but delightful lunch of sandwiches and bitterballen at Luden, we headed a couple of blocks over to search for the entrance to Begijnhof. This old inner courtyard is frequently called one of Amsterdam's "best kept secrets," and I can understand why people consider it quite hidden. The non-descript entrance to this sanctuary can be found just to the right of the American Book Center. (Di and I shopped here and sat on the square having coffee when I visited in 2011 and we never noticed the entrance to Begijnhof or the steady stream of people going in and out.)
Begijnhof was built in the 14th century as housing for "beguines," which are holy women who live similarly to nuns, but without the formal vows. Today Begijnhof is still used as housing for single women, and though you can visit the inner courtyard and the English Church in the center, movement throughout is restricted for their privacy. Amsterdam's oldest surviving house (and one of the few remaining wooden facade houses) can be found inside the courtyard of Begijnhof, dating back to 1420.
We exited Begijnhof through Begijnensteeg Alley and found ourselves on Kalverstraat, a pedestrian-only street lined with local and international shops of all kinds. It had started raining so we slipped inside the Amsterdam Cheese Company for samples, ultimately leaving with more than one wedge to bring home for family. (Buying cheese can be tricky, just like buying bulbs. Be sure to purchase the kinds that pass the regulations required for customs in your country. Simply ask the cashier if the cheese you wish to purchase is pasteurized and meets US regulations.)
We walked north on Kalverstraat until we arrived at Dam Square. This area is crowded and busy, from the pedestrian and street traffic to the street performers. Dam Square is home to the Koninklijk Paleis (the Royal Palace) which is open for tours when not in use. (The royal family lives mostly in Den Haag, "The Hague.") Dam Square is also home to the National Monument, De Nieuwe Kerk (a cathedral turned museum), Madame Tussauds, and various shops and restaurants. I feel like this area is somewhat the "center" of the city, with everything else surrounding or branching off from this central point.
(PS – it's so bizarre to me to imagine the King and Queen looking down at Dam Square from their palace and seeing so many tourists eating junk food and holding shopping bags. It just seems so…common. But dude chills at trance shows, so he's probably a pretty cool king. PSS – nothing is more Dutch.)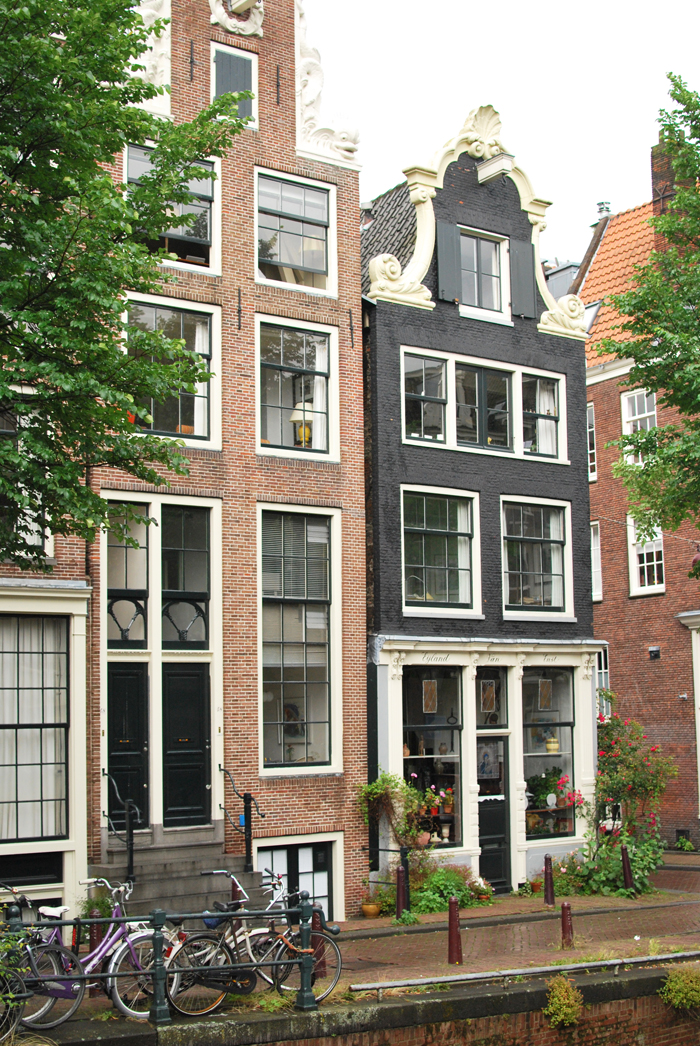 From here we continued walking north until we were back at Amsterdam Centraal Station. With hours to go before dinner, we figured it was the perfect time to do a canal cruise. Most general cruises run on frequent schedules, so we had no problem buying a ticket at a kiosk and waiting for the next boat to leave. I picked a basic cruise with Holland International Canal Cruises, but there were several other companies and styles of cruises to take, from wine and cheese cruises to full-on brunch cruises. (Next time I'm in Amsterdam, I'm doing the brunch cruise by G's!)
This canal cruise was hands down one of the most touristy things I've ever done in my life, but the things I learned about the city's history and architecture was unbeatable, not to mention the views. I may have to do a completely separate post with photos just from this tour because I took a ton. Touristy or not—definitely take a canal cruise of some kind if you ever visit Amsterdam.
I made reservations for dinner for Dan's birthday at the Italian restaurant Casa di David. I know that while in a another country you should eat as much of their traditional food as possible, but after seven days in Holland and Belgium we were craving something familiar. It's amazes me that when you're abroad some foods you expect to be the same, like sandwiches, can turn out so very different that what you're used to.
The next day (Friday) was our only full day to spend in Amsterdam and we intended to spend it wisely. We dressed early and headed out for a proper breakfast of American-style pancakes and coffee at Bakers & Roasters in the neighborhood of De Pijp. I found it highly recommended while researching for our trip and we were thrilled with everything we had there.
From there we walked only a few blocks to the Rijksmuseum. We took a few photos with the "I Amsterdam" sign and headed on in. It was only around 10am and there wasn't a line to get inside, but when we left a few hours later the line wound around the block. I had also purchased our tickets ahead of time, which saved us time once inside. I highly recommend purchasing tickets for any museum or point of interest in Amsterdam ahead of time. The collections at the Rijks were impressive and it was wonderful to see so many works of the Dutch masters all together in one space. I will admit that some of the more popular works were a bit crowded for my taste, but I imagine there are many people who visit solely to see those works.
Another place we visited where I was thankful we'd purchased tickets in advance was the Anne Frank House. I checked almost daily for weeks leading up to our trip and was sure we'd never get lucky enough to reserve any, until I was! I've heard several people talk about walking up to the door with no queue and being able to go in easily, but that is not the case in the middle of the summer. In fact, the only way you can visit now between 9am and 3:30pm is to have an online reserved time-entry ticket. Our reservation was for 2:15pm and we weren't even allowed in the queue until that time. Tickets for those without one went on sale after 3:30pm and the line to do that was already stretched down the block; tickets weren't even guaranteed for those who were sitting in the rain waiting and hoping to buy one. In other words: buy a ticket online or it just might not happen.
The Anne Frank House was a solemn place to visit. Photography was not allowed, but I don't think I could have raised my camera inside if I had been able to…it just wouldn't have felt right. Visitors walked quietly through the museum downstairs and then naturally formed a line to climb the stairs and weave through the annex. The walls upstairs still had newspaper and magazine clippings of celebrities and events pasted to the wallpaper in some places, covered with plexiglass to preserve them. It broke my heart to remember reading Anne's words and to see these reminders that they really had been there.
Regardless of personal thoughts on the issues surrounding prostitution (legal or otherwise), curiosity got the best of us and we wandered a little ways into the Red Light District. This section of the De Wallen neighborhood doesn't look much different than any other part of Amsterdam upon first glance, but anyone walking through here will notice that the shops sell quite a different type of merchandise than the other parts of town, from sex toys and movies to peep shows. It's also a bit shocking to look up and see scantily-clad women standing in the windows as you walk through the alleys here, especially in the mid-afternoon.
Afterwards we wandered through the streets until we ended up back at Dam Square. A favorite treat of mine from when Diana and I had visited were the fries from Chipsy King, so I had to have some—smothered with their traditional Dutch mayonaise of course!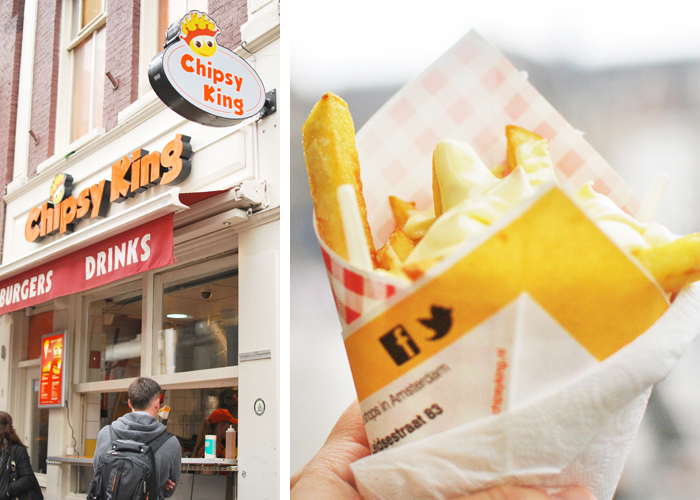 Being that we'd been on the go for nine days at this point, we were pretty much ready to turn in by dinnertime. We made a quick stop at a grocery store to stock up on stroopwafels and Dutch chocolate for friends, then wandered into Rembrandtplein to find something simple for dinner. We had fantastic personal pizzas at Pizzeria Firenze just off the square, then slowly walked back to the hotel in the rain while the football fans cheered in the bars around us.
---
**I wanted to include a little travel tip down here that I highly recommend for any trip to Amsterdam: buy a multi-day unlimited tram ticket. We each purchased a 3 day pass for €25 and were able to use the trams, metro, and ferry all over the city, plus it got us to and from the airport by train. Purchase this in advance and take your receipt to the AKO Bookstore at Amsterdam Schiphol Airport to pick them up; you can find an AKO Bookstore just outside of baggage claim at international arrivals.

Linking up with "The Sunny Side of This" for Wanderful Wednesday: